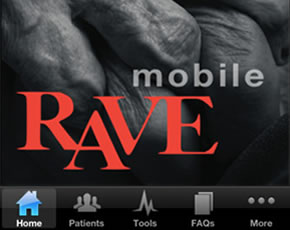 RAVE Mobile provides interactive, point-of-care, practice improvement tools for rheumatologists and other clinicians. It was developed in conjunction with The Johns Hopkins University School of Medicine as part of the Rheumatoid Arthritis Vital Education (RAVE) educational program.
For more information on how to use this app go to: www.dkbmed.com/apps/RAVE for a video tutorial.
Key features include:
The PATIENT CHART: an interactive single-screen overview of each patient featuring key lab results, prescribed meds, reported side effects, and case notes. The Patient Chart updates each time new information is added and can be emailed or printed directly from the app.
COMORBIDITY CHECKLIST: an interactive checklist of common comorbid conditions to assist coordination of treatment between the rheumatologist and primary care physician for safe and effective patient care. Input into the RAVE Mobile Comorbidity Checklist automatically updates the Patient Chart.
DIAGNOSTIC CALCULATOR: automatically calculates and reports each patient's classification score according to the 2010 ACR/EULAR Classification System and records it to the Patient Chart. The ACR/EULAR criteria set includes joint involvement, serology, acute-phase reactants, and duration of symptoms.
DAMs: provides RA disease activity measurement (DAM) calculators to monitor treatment efficacy, with results automatically updated to the Patient Chart. Calculators are included for CDAI, SDAI, DAS28-CRP and DAS28-ESR, as well as a historical-tracking feature to monitor patient changes over time.
RAVE MEDICATION GUIDE: documents each patient's medications and provides a handy point-of-care resource for commonly prescribed therapeutic agents. Includes information on common side effects as well as recommendations on baselines, monitoring intervals, special considerations, and REMS. Individual patient side effects can be entered and saved in the Patient Chart.
RAVE Mobile is supported by educational grants from Abbott Laboratories, Centocor Ortho Biotech Services LLC, Genentech, Inc., Pfizer, Inc.
We hope you find version 1.0 of this application useful and look forward to hearing your comments and suggestions for future enhancements.