There is no consensus on the criteria for the diagnosis of psoriatic arthritis (PsA), although the Classification Criteria for Psoriatic Arthritis (CASPAR) criteria publised in 2006 appear to be gaining increasing acceptance for both clinical research and daily usage in clinical practice because of their relatively high specificity (98.7%) and sensitivity (91.4%).  The classification of PsA based on the CASPAR criteria requires the presence of inflammatory arthritis (joints, spine, or entheses) with ≥ 3 points from 5 categories.  Current psoriasis is assigned 2 points, while all other clinical features are assigned 1 point:
Current psoriasis, prior history of psoriasis, or family history of psoriasis.
Nail psoriasis, including onycholysis, pitting, and hyperkeratosis.
Absence of serum rheumatoid factor.
Current or prior history of dactylitis.
Radiographic evidence of periarticular new bone formation (excluding osteophytes) on x-rays of the hand or foot.
Radiographic changes due to PsA, unlike those of rheumatoid arthritis, demonstrate characteristic bony proliferation and erosion.  A highly specific finding of erosive arthritis of PsA is the classic "pencil-in-cup" (image below)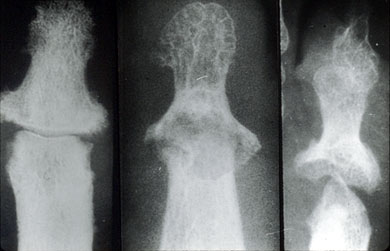 deformity in the phalanges, osteolysis, articular ankylosis, sacroiliitis (two images below)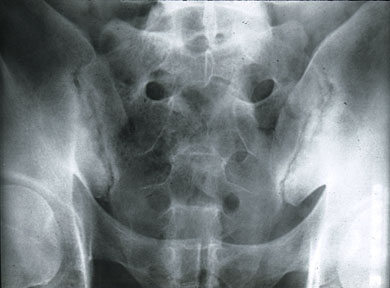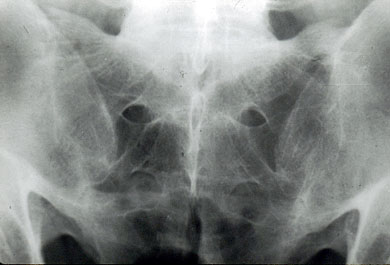 spondylitis (image below), enthesitis and periostitis.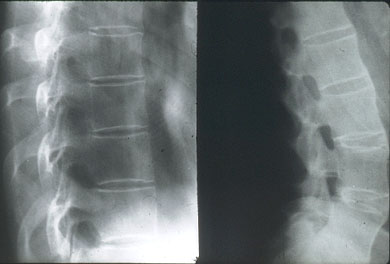 References
Willkens RF, Williams HJ, Ward JR, et al: Randomized, double blind, placebo-controlled trial of low dose pulse methotrexate in psoriatic arthritis. Arthritis Rheum 27:376, 1984.
Espinoza LR, Zakraoni L, Espinoza CG, et al: Psoriatic arthritis: Clinical response and side effects of methotrexate therapy. J Rheumatol 19:872, 1992.
Gupta AK, Matteson EI, Ellis CN, et al: Cyclosporin in the treatment of psoriatic arthritis. Arch Dematol 125:507, 1989.
Salvarani C, Macchioni P, Olivieri I, et al: A comparison of cyclosporine, sulfasalazine, and symptomatic therapy in the treatment of psoriatic arthritis. J Rheumatol 28:2274, 2001.
Sarzi-Puttini P, Cazzola M, Panni B, et al: Long-term safety and efficacy of low-dose cyclosporin A in severe psoriatic arthritis. Rheumatol Int 21:234, 2002.
Mease PJ: Etanercept in the treatment of psoriatic arthritis and psoriasis: a randomized trial. Lancet 356:385, 2000.
Mease PJ: Cytokine blockers in psoriatic arthritis. Ann Rheum Dis 60:iii37, 2001.
Iyer S, Yamauchi P, Lowe NJ: Etanercept for severe psoriasis and psoriatic arthritis: observations on combination therapy. Br J Dermatol 146:118, 2002.
Cauza R, Spak M, Cauza K, Hanusch-Enserer U, Dunky A, Wagner E. Treatment of psoriatic arthritis and psoriasis vulgaris with the tumor necrosis factor inhibitor infliximab. Rheumatol Int 22(6):227, 2002.
Antoni C, Dechant C, Hannis-Martin Lorenz PD, Wendler J, Ogilvie A, Lueftl M, Kalden-Nemeth D, Kalden JR, Manger B. Open-label study of infliximab treatment for psoriatic arthritis: clinical and magnetic resonance imaging measurements of reduction of inflammation. Arthritis Rheum 47(5):506, 2002.
Mease PJ, Gladman DD, Ritchlin CT, Ruderman EM, Steinfeld SD, Choy EH, Sharp JT, Ory PA, Perdok RJ, Weinberg MA; Adalimumab Effectiveness in Psoriatic Arthritis Trial Study Group.Arthritis Rheum. Adalimumab for the treatment of patients with moderately to severely active psoriatic arthritis: results of a double-blind, randomized, placebo-controlled trial. Arthritis Rheum 52(10):3279-89, 2005.
*Images within this article are from the American College of Rheumatology Slide Collection.