Mission
The mission of the Johns Hopkins Arthritis WebSite is to provide a high quality, interactive, educational program for health care professionals about diseases that cause arthritis and their treatments.
Focus
The Johns Hopkins Arthritis WebSite will focus primarily on rheumatoid arthritis and osteoarthritis since these diseases serve as prototypes for inflammatory and degenerative joint diseases, respectively. However, the editors may periodically add discussions of other types of arthritis (e.g., gout or spondyloarthropathies or psoriatic arthritis) as prompted by new therapies or other relevant issues.
Credits:
Director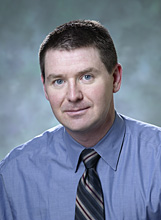 Clifton O. Bingham III, M.D
Founder and Past Director
Joan Bathon, M.D.
Editorial Policy
Information contained on The Johns Hopkins Arthritis WebSite is subjected to editorial review by Johns Hopkins faculty for accuracy, timeliness and relevance. Sponsors of this site are in no way involved with decisions regarding design, content, authorship, editorial policy, procedure, or practice. Commercial sponsorship notices on this site and links to commercial sponsors' own sites do not constitute endorsements of the companies or their products. Links are provided to other sites in order to provide ease of access to other information on the general subject matter. The editors make no representation as to the accuracy of the information on those sites.
This website does not accept or host advertisements.
Disclaimer
This web site is provided as a resource for physicians and other health care professionals in providing care and treatment to patients with arthritis. Physicians and other health care professionals are encouraged to consult other sources and confirm the information contained within this site. It is up to the individual physician or other health care professional to use that individual's best medical judgement in determining appropriate patient care or treatment because no single reference or service can take the place of medical training, education, and experience. Consumers are cautioned that this site is not intended to provide medical advice about any specific medical condition they may have or treatment they may need and they are encouraged to call or see their physician or other health care provider promptly with any health related questions they may have. Consumers should never disregard medical advice or delay in seeking it because of something they may have read on this web site.
In addition, the content contained within any site linked to The Johns Johns Hopkins Arthritis WebSite is not the responsibility of our authors and editors. Neither Johns Hopkins University nor the individual authors and editors are responsible for deletions or inaccuracies in information or for claims of injury resulting from any such deletions or inaccuracies. Mention of specific drugs or products within The Johns Hopkins Arthritis WebSite does not constitute endorsement by editors, authors, the Johns Hopkins Rheumatology Division, or the Johns Hopkins University School of Medicine. For specific drugs or products, physicians are advised to consult their normal resources before prescribing to their patients.
Permission Notice
Requests for permission to reprint, reproduce, and distribute documents and related graphics that appear on this website/are hosted on this server may be submitted by fax (410)-550-2625 or e-mail to Wes Linda. Please note this e-mail address is for web site inquiries only. Please direct all medical related requests to our center by making an appointment to see one of our physicians.
The names of the Johns Hopkins University, the Johns Hopkins University Rheumatology Division, the Johns Hopkins Arthritis WebSite or its faculty or staff may not be used in publicity or advertising without permission. Exceptions to this include listings on web indexes, search engines, and related systems.
The Johns Hopkins University, The Johns Hopkins University School of Medicine and/or its Division of Rheumatology and faculty and staff of the Johns Hopkins University cannot be held responsible or liable for errors or inaccuracies in transcriptions, translations, or any other type of reproduction, alteration or adulteration of material presented on any page of this web site (all pages filed under an internet addresses beginning: http://www.hopkins-arthritis.org, http://www.hopkins-arthritis.org, or http://www.hopkins-arthritis.org.)
Privacy Policy
This Privacy Policy lets you know how any personal information is processed and used. We will use your personal information only in ways that are compatible with this Privacy Policy. The following policies are only in effect for the pages of this web site (all pages filed under an internet address beginning: http://www.hopkins-arthritis.org, http://www.hopkins-arthritis.org, or http://www.hopkins-arthritis.org). Wherever JHU Arthritis Center collects personal information we make an effort to include a link to this Privacy Policy on that page. The following discloses our Privacy Policy.
Can I use JH Arthritis without providing any personal information?
Yes. All visitors are welcome to access the content of the JH Arthritis Web Site free of charge and free of any registration process.
What information are we collecting and how are we collecting it?
Every computer connected to the Internet is given a domain name and a set of numbers that serve as that computer's "Internet Protocol" IP address. When a visitor requests a page from within the JHU Arthritis site, our Web servers automatically recognize that visitor's domain name and IP address. The domain name and IP address reveal nothing personal about you other than the IP address from which you have accessed our site.
Our web site may use "cookies". Cookies are small computer files that we transfer to your computer's hard drive that allow us to know collect information. We use this information to examine our traffic in aggregate, but do not collect and evaluate this information for individuals. Aggregate information is non-personal information about you that does not allow you to be identified or contacted and that is combined with the non-personal information of other visitors. This information simply tells us about the activity on our web site, such as what pages within the site are most popular, how much time visitors spend on the site, and how often they return. JH Arthritis may provide this aggregate information to third parties, such as our sponsors. Our Web servers do not capture and record e-mail addresses of the visitors.
You can set your browser to reject all cookies. By using the help button in most browsers, instructions on how to reject and remove cookies can be found. Rejection of cookies will disable the ability of our web site to remember your password information when using our interactive forums, such as the Message Board and Rheumatoid Arthritis Activity Minder, and require you to input your login information each time you visit. Any photograph, or otherwise identifying information of a patient, faculty, or staff of the Center, appears on the Site only through consent of the individual.
What about the information collected through our interactive forums?
We may also request your e-mail address or mailing address (Ask the Expert, Message Board, Survey) for the purposes of conducting a survey or to provide additional services. Whenever we request the identity of a visitor, we will clearly indicate the purpose of the inquiry at the time the information is requested. We maintain a strict "No-Spam" policy, which means that we do not sell, rent, or otherwise give your e-mail address to a third-party. When you use our "Email a Friend" application, JH Arthritis emails the content you designate to your friend's email address and lists your email address as the sender. JH Arthritis uses your friend's email address only for the purpose of sending your email request and for no other purpose. If we were to change this policy, we would request your consent.
In addition, JH Arthritis will not send you email that you have not agreed to receive. We may from time to time send e-mail announcing new JH Arthritis information. You may change your mind at any time and remove your email address and "opt-out" of all future announcements.
What is the policy for the personal information I provide to the Rheumatoid Arthritis Activity Minder?
The JH Activity Minder collects only the personal information you voluntarily provide to us. We collect this information when you create your profile and complete each assessment.
Can my user name and password be linked to the medical information I provide when completing each assessment?
No patient/user identifiable information is transmitted when you complete individual assessments. This means that your data cannot be traced back to you, either during transmission or while stored on the database. The JH Activity Minder database is stored on a secure server. We cannot link the medical information provided by visitors when completing an assessment to a specific individual.
Why do you need my email address?
Your email address is requested only for the purposes of recovering forgotten login information and is not linked to your medical information. Should your login information be lost, there would be no way for you to retrieve any of the data from previous assessments that you submitted.
What about the security of my summary report that I print for my doctor? JH Arthritis stores the information you provide in the JH Activity Minder for the purposes of providing visitors the ability to maintain a record of their disease activity over time. The ability to generate a summary report is available. If you choose to print this report, the security and secrecy of the printed report is your responsibility. JH Arthritis is not responsible and does not control any third party that you choose to share this information with.
Does JH Arthritis use the medical information from these assessments?
JH Arthritis may use the medical information collected for the purposes of doing research about rheumatoid arthritis on the aggregate data. Data for this research is collected from the whole group and cannot be linked to specific individuals.
What is our policy on disclosure to outside third parties?
JH Arthritis will not disclose any personal information it gathers from you to third parties. However, JH Arthritis will disclose personal information when required by law or in the good-faith belief that such action is necessary to:
Conform to the edicts of the law or comply with a legal process served on JHU Arthritis Center,
Protect and defend the rights or property of the JHU Arthritis web site, or visitors to JHU Arthritis,
Identify persons who may be violating the law, the legal notice, or the rights of third parties,
Cooperate with the investigations of purported unlawful activities.
JH Arthritis uses reasonable precautions to keep the information disclosed to us secure. We are not responsible for any breach of security or for any actions of any third parties, which receive the information.
Other notes about online privacy
The JH Arthritis Web site contains many links to other Web sites. JH Arthritis is not responsible for the privacy practices or the content of such Web sites. This privacy policy applies only to the JH Arthritis Web Site. Please check with those sites to determine their privacy policy.
Posting information in a public forum (Ask the Expert)
Please be aware that whenever you voluntarily disclose personal information online within a public forum, that information can be collected and used by others. Therefore, any personal information you post online that is accessible to the public may cause you to receive unsolicited messages from other parties in return. Please use discretion when posting to any online forum.
Your consent to this agreement
By using our Web site, you consent to the collection and use of information by JH Arthritis as specified above. If we decide to change our privacy policy, we will post those changes on this page so that you are always aware of what information we collect, how we use it, and under what circumstances we disclose it.