Daniel J. Clauw, MD
Professor of Anesthesiology, Medicine (Rheumatology) and Psychiatry
Director of the Chronic Pain and Fatigue Research Center
University of Michigan
Disclosures:
Dr. Clauw has consulted or continues to consult with the following corporations and organizations:  Pfizer, Forest, Eli Lilly, Pierre Fabre, Cypress Biosciences, Wyeth, and UCB.
Dr. Clauw has provided research support to:  Pfizer, Cypress Biosciences, and Forest.
Dr. Clauw was the recipient of a one-time licensing fee paid to the University of Michigan by Eli Lilly.
Release Date: July 9, 2010
Expiration Date: January 1, 2011
Objectives:
After completing this activity, you will be able to:
Recall what has been learned about chronic pain in the last five to ten years, especially around fibromyalgia.
Judge if a paradigm shift is required in the approach to chronic pain patients from both a diagnostic standpoint as well as, and more importantly, a treatment standpoint.
Current Paradigms for Diagnosing and Treating Pain
Our current paradigms for diagnosing and treating pain are based on an antiquated view of pain mechanisms. It is increasingly clear that there is no chronic pain state where there is a good relationship between the degree of damage or inflammation in the periphery, and the amount of pain a person is experiencing. It is well known that there is a huge disparity in osteoarthritis of the knee with regards to the radiographic assessments and the pain being experienced––in the Baltimore Longitudinal Aging Study 30 percent to 40 percent of the subjects had a grade-3 or grade-4 on the Kellgren-Lawrence scale and had no pain, whereas 10 percent to 20 percent had normal radiographs and experienced severe knee pain.  The same is often true of subjects who have chronic lower back pain—the relationship between the x-rays of the subjects' backs and the amount of pain experienced is poorly related. Surprisingly, this is true of any pain state.  Even in the case of angina the amount of angina that people have is not closely related to a coronary angiogram.  Throughout all of medicine and its subspecialties there is a chasm between what is going in peripherally vis-à-vis damage and inflammation and what symptoms the patient is actually experiencing. Yet nearly all of the diagnostic paradigms are aimed at identifying the peripheral cause of pain.  When a patient comes in, it is typical to perform a careful examination of the area of the body where the pain is occurring, frequently through the use of imaging or a scope if it happens to be in a subspecialty that employs them.  An intensive investigation takes place looking for the peripheral pathology as the cause of the pain rather than thinking that the pain could be due to mechanisms other than something going on in the periphery. There is a historical tendency—in all subspecialties, because every subspecialty has its own equivalent of 'fibromyalgia'—that when there is no match between what is seen in the periphery and the amount of pain the patient is experiencing to blame the patient by concluding that "it's all in their head."  This, despite the overwhelming data that psychological factors only account for a relatively small percentage of the variance between structure inflammation and pain or other somatic symptoms the patient is experiencing.
Mechanistic Characterization of Pain
Rather than classifying patients into categories like, "lower back pain," "osteoarthritic pain," "rheumatoid arthritic pain," or "fibromyalgia pain," the movement in the pain field is towards asking this: "What is the underlying mechanism for the pain that they're experiencing?"  The reason for doing so is because there are three different types of pain that require three different types of treatment.
Peripheral (nociceptive)
most prevalent
most doctors are comfortable diagnosing and managing
primarily due to inflammation or mechanical damage in the periphery
responds well to NSAIDs and opioids, if NSAIDs and opioids don't work, procedures such as injections and surgery often produce results because they are aimed at eliminating or reducing peripheral pathology
broad examples include osteoarthritis, rheumatoid arthritis and cancer pain
Neuropathic
caused by damage or entrapment of peripheral nerves
responds to both peripheral and central pharmacological therapy
Central (non-nociceptive)
can be either entirely operative in a disease like fibromyalgia or it can play a role in subsets of people with peripheral pain
primarily due to a central disturbance in pain processing
responds to tricyclic and neuroactive compounds and behavior factors can be more prominent
examples include:  fibromyalgia, irritable bowel syndrome, tension headache, and idiopathic low back pain
Recently, in an article published in Arthritis & Rheumatism, it was shown that, in a large database of subjects with OA of the knee and hip, a single genetic polymorphism–a COMT Met/Val polymorphism—was highly predictive of whether or not an individual would have OA of the knee and hip.  In fact, that single gene was more predictive than the degree of peripheral pathology on the radiograph of the knee. Recent data presented at international pain meetings as well as a recent ACR (American College of Rheumatology) meeting showed that two drugs, the Pfizer nerve growth factor monoclonal antibody and duloxetine (Cymbalta), were shown to be quite effective for treating OA of the knee, even though one of them is clearly an adjusted serotonin neurepinephrine reuptake inhibitor and the other is a nerve growth factor agonist.  Despite the fact that OA is under the category of peripheral/nociceptive pain, it is becoming clear that, even in peripheral/nociceptive pain syndromes, central factors are playing a role in modulating pain.  Furthermore, these types of pains are better addressed at the central factors rather than the peripheral ones.
Paradigm Shift in Fibromyalgia
The ACR criteria for fibromyalgia are:
Discrete illness
Focal areas of tenderness
Psychologic and behavioral factors nearly always present and negative
Chronic widespread pain
Tenderness greater than or equal to eleven of eighteen tender points
There is some question as to whether these criteria are useful; for example, tender point count may have done more bad than good with regards to fibromyalgia.  It is still illuminating to understand what has been learned since these criteria were published in 1990.  In 1990, fibromyalgia was thought of as more of a discreet illness like osteoarthritis or rheumatoid arthritis.  It was thought that the tender points were the strongest diagnostic tool, and that if, for example, the patient also had pain at "control points" such as the thumbnail or the forehead, then that patient did not have fibromyalgia. Later research shows that this early assumption was not true.  The low pain threshold extends throughout the entire body of fibromyalgia patients and when, for example, a brain image is being conducted, the thumbnail push shows us that, relative to a healthy control subject, the fibromyalgic patient is as tender there as he/she is at other points in the body.  The tender points are where all people are more tender, fibromyalgia or not.  However, in 1990, this was not known.  Another misconception that was prevalent in 1990 is that behavioral and psychological factors were nearly always playing prominent roles in people with fibromyalgia.  Furthermore, it was also believed that they were playing negative roles. The more contemporary view of fibromyalgia and the entirety of the central pain field is that there is nothing wrong with thinking of fibromyalgia as being a disease or a syndrome.  But it might be more accurate to view the augmented pain and sensory processing that has been identified in fibromyalgia and other central pain syndromes as being a final common pathway.  This is more helpful clinically because then the clinician might start to come to realize that different patients would have different elements of these syndromes.  One patient may have a small degree of pain amplification, while another may have a larger degree.  It might be more useful in routine clinical practice to see fibromyalgia as being on a continuum.  Urologists largely ignored 1994 findings that showed interstitial cystitis patients were tender all over and had many symptoms similar to fibromyalgia. There is now a large translational research network studying interstitial cystitis and chronic prostatitis. Many are now starting to realize that the pain syndrome they are responsible for is probably due in large part to differences in how people transmit pain in the spinal cord and the brain.  And looking at the central nervous system's roles leads to more effective treatments.  In the case of fibromyalgia, this is precisely what happened – those in the fibromyalgia field moved relatively quickly to believing that fibromyalgia was more of a pain-processing problem because patients hurt all over but no inflammation could be found.  Other regional pain syndromes have been slower to move.  NIDDK has spent roughly ten times as much researching interstitial cystitis as NIAMS has spent on fibromyalgia, and it's only been recently that there's been a move in the field of urology toward interstitial cystitis being a central nervous system problem.  In fact, there will probably be a formal re-naming from "interstitial cystitis" to "painful bladder syndrome," much like "fibrostitis" became "fibromyalgia" and "spastic colitis" became "irritable bowel syndrome" and "TMJ" became "TMD."  Once the link to the peripheral pathology approach was severed, the "-itis" is dropped to recognize that while there is pain in that region, there is no inflammation there.
Overlap Between Fibromyalgia and Related Syndromes
One of the more confusing things about these conditions and illnesses is that an individual can go to ten different physicians in different subspecialties and get ten different labels for the same problem.  Every subspecialty, except nephrology and pathology, has at least one term for what rheumatologists would be most comfortable calling fibromyalgia; e.g., irritable bowel syndrome, idiopathic low back pain, tension headaches, etc. Furthermore, in tertiary care centers about 30 or 40% of people with one of these regional or widespread pain syndromes will have at least one identifiable psychiatric disorder.  There have been some well-designed twin studies done in the last couple years by Kado and others using a large Swedish twin registry of around 21,000 individuals.  It's clear that these are independent traits with overlap in the middle.  One set of traits seems to be pain and sensory amplification and another set of traits seems to be the psychologic disorders.  There is overlap in the middle probably because some of the same neurotransmitters that are involved in psychiatric disorders are involved in pain transmission.  For example, if a patient has a certain serotonin transporter, SNP, he will independently be at higher risk of developing a mood disorder and of developing fibromyalgia.  This is because serotonin is a neurotransmitter that's involved both in depression and in pain.  However, there are other neurotransmitters such as substance P and glutamate that have very little to do with psychiatric disorders or mood disorders.  Those genetic abnormalities might only put people at risk of developing the pain or sensory processing but not at risk of developing the co-morbid psychiatric disturbance. Going forward, we'll examine the data that have led many in the field to believe that the fundamental neurobiological problem in these central pain syndromes is that the "volume control" in the way the spinal cord and brain interpret pain is set too high.  This issue of "volume control" seems to be causing the pain and other sensory information throughout the entire body. What are the features of these central pain syndromes?  How, in clinical practice, can peripheral pain vs. central pain be distinguished? One of the best ways to make the distinction is that central pain rarely occurs in isolation–central pain often occurs with other somatic symptoms.  The ACR criteria for fibromyalgia really only require widespread pain and tenderness but typically when someone meets those criteria they often don't just have widespread pain and tenderness.  They usually also have fatigue, insomnia, irritable bowel syndrome, interstitial cystitis, and/or other somatic symptoms and syndromes. Likewise the same is true of interstitial cystitis, irritable bowel patients and such:  It's unusual for people with central pain to only have pain in one region of the body and it's also unusual for them to have it in isolation.  It's often, if not almost always, accompanied by other somatic symptoms and syndromes.
Shared features:
Characterized by multiple somatic symptoms and high rates of co-morbidities with other related syndromes
1.5 – 2X more common in females
Strong familial/genetic underpinnings
Triggered or exacerbated by "stressors"
Pain and/or sensory amplification most reproducible pathophysiological feature
Dysautonomia, neuroendocrine dysfunction, and neurogenic inflammation also commonly noted, but of unclear physiological significance
These disorders, in aggregate, are more common in women than in men but they're not exclusively occurring in women. The ACR criteria mistakenly led many to believe that this is an exclusively female disease.  Examining the population base studies, the rate of chronic widespread pain is 8% in men and 12% in women in almost every population that it's ever been studied.  It's a remarkably consistent from country to country and culture to culture.  The rate of having 11 tender points or more, however, is 10 times more common in women than in men in population based studies using any measure of pain sensitivity.  Women are simply more pain sensitive than men are.  The criteria unknowingly turned a syndrome that should be approximately 2/3 women and 1/3 men into one that's 95% women.  The historical case of ankylosing spondylitis is relevant:  until the epidemiological studies proved that ankylosing spondylitis occurred in roughly equal numbers of women and men, many physicians only diagnosed it in men. If doctors get away from the ACR-guideline of "eleven tender points" and give up the "almost entirely women" bias, they'll start to see that there are a lot of men that have the exact same problem.  Re-teaching that fibromyalgia occurs in both sexes will be critical; even now, many women are not believed that they have pain when they are diagnosed with fibromyalgia.  Men have an even worse fate because it is often assumed they simply must have a peripheral problem for pain—for example, after a series of lumbar surgeries that do not alleviate the pain, the surgeon will conclude that the back surgery failed, and not the original diagnosis.
Genetics of Fibromyalgia
One of the biggest revelations in the pain in recent years field is how strong familial predisposition is and how strongly genetic pain sensitivity is.  Pain sensitivity runs in families probably as strongly as any other measurable physiologic trait.  In addition to the genetic underpinnings each person may have a "starting point" that he/she was born with vis a vis the "volume control" setting.  Different things that happen to people over the course of their lives—for example, certain environment interactions can trigger the development of regional or widespread pain. Although pain and/or sensory amplification is the most reproducible pathophysiologic feature it is not the only one.  There clearly is dysfunction in the way the autonomic nervous system works in many people with these illnesses.  There clearly is also neurogenic inflammation, the kind of low-grade inflammation that seems to occur with the polarization of sensory nerves and release of substance P, CGRP and such.  This occurs in a number of conditions, including irritable bowel syndrome and fibromyalgia and others. There's also some data suggesting that neural and endocrine dysfunction might be playing a role, i.e. in abnormalities in how the hypothalamic-pituitary-adrenal axis works.  But it's not as clear what they seem to be causing as it is regarding the pain and/or sensory amplification. Arguably, it has been know that fibromyalgia was familial since the mid-1980's.  Jim Hudson produced some studies during that time that showed strong familial disposition not just of fibromyalgia but also to some of the other syndromes within the spectrum like irritable bowel syndrome and headaches and so forth.  Lesley Arnold's study was by far the most elegant:  she compared a group of probands with fibromyalgia to a group of probands with rheumatoid arthritis.  She brought in as many first-degree relatives of the fibromyalgia patients and the rheumatoid arthritis patients as she could.  The testers conducted structural interviews to see if they had fibromyalgia, if they had regional pain syndromes, and if they had psychiatric disorders.  With the relatives of the fibromyalgia patients, they also examined their pain sensitivity. What Arnold found was that if someone had fibromyalgia, the risk of one of his or her first-degree relatives also having fibromyalgia was 8-fold greater. She also found odds ratios that were four-to-ten times greater for a number of other regional pain syndromes.  Thus, not only did the family members have more fibromyalgia, they also had more irritable bowel syndrome, more headaches, more of the other central pain syndromes as well.  Arnold also showed that low pain threshold ran in families.  Family members of fibromyalgia patients had a lower pain threshold than family members of non-fibromyalgia patients, which of course suggests that pain sensitivity runs in families as well.  Having a low-pain threshold is a risk factor for developing one of these regional or widespread pain syndromes.  Finally, Arnold showed that there was a higher incidence of psychiatric disorders in the first-degree relatives of the fibromyalgia patients, but at an odds ratio of two. The risk of a fibromyalgia patient having a relative with pain was fair higher than the risk of that patient having a relative with an identifiable psychiatric disorder. Special genes that seem to be involved in fibromyalgia have started to be identified.  These genes have been found in at least two studies, and these are all candidate gene studies with ends of 200 to 300.  These are basically the low-hanging fruit with regards to the genetic underpinnings of fibromyalgia.  Many believe that one or more GWA studies of acute and chronic pain sensitivity are need because there are a lot of different genes that either increase or decrease the volume control setting in pain sensitivity.
Genetics of Pain
Conducting pain sensitivity measures in a group of people in the population, whether it be thermal or electrical or what have you, there's a huge variation between some people who are extremely insensitive to experimental pain and some that are extremely sensitive to it, that is to say, they have different places on the pain volume control spectrum.  In very visible and high-impact publications in recent years, three different sets of genes have been identified each of which independently seems to have a strong influence on pain sensitivity:  several genes involving the sodium channels (Nav 1.7) in the periphery, GTP cyclohydrolase 1 (GCH1), and Catechol-O-methyltranferase (COMT).  These all have been shown to be much higher in individuals with chronic pain than the individuals without chronic pain.  Of special interest is COMT, which has been shown to affect human pain sensitivity in a number of different ways.  It affects responsiveness to opioid drugs and this single polymorphism or haplotype might be responsible for 6% to 8% of the variance in human pain sensitivity.
Stressors
The data suggesting that psychological stress causing fibromyalgia is relatively weak compared to the data suggesting that other kinds of biological stress cause it.
Early life stressors

Children born in 1958 who had experienced a motor traffic accident or who were institutionalized were 1.5 – 2X more likely to have CWP 42 years later

Peripheral pain syndromes (e.g. RA, SLE, osteoarthritis)

Somewhere between 20% to 30% of patients with RA, lupus, or any established autoimmune disease will have co-morbid fibromyalgia (or whatever this should be called—they have pain and other somatic symptoms that look like fibromyalgia that doesn't seem to be responsive to the drugs that are attacking the immune system).

Physical trauma (automobile accidents)
Certain catastrophic events (war but not natural disasters)

After each war, looking at the actual medical records, there's a group of veterans that comes back from each war with widespread pain and fatigue.  It was called "Soldier's Heart" after the Civil War (because the heart was the thought to be the center of the body).  It was called "Shell Shock" after World War I and World War II because it was thought this was purely due to psychological stress.

Infections
Psychological stress/distress
Pain Sensitivity in the General Population
Like most other physiological processes, we (animals) have a "volume control" setting for how our brain and spinal cord processes pain and other sensory information (Mogil PNAS 1999)
This is likely set by the genes that we are born with, and modified by environmental influences
The higher the volume control setting, the more pain we will experience, irrespective of peripheral nociceptive input
Conditions Characterized by Widespread Secondary Hyperalgesia/Allodynia
Fibromyalgia
Temporomandibular disorder
Headache (tension > migraine)
Idiopathic low back pain
Vulvodynia/vulvar vestibulitis
Whiplash associated disorder
IBS
The terms that are used in the pain field for this heightened state of pain sensitivity are hyperalgesia, which means increased pain to normally painful stimuli and allodynia, which means pain to normally non-painful stimuli.  These have been identified in neutral sites away from where the person is experiencing pain in a lot of these central pain syndromes. One of the big advantages with being trained as a rheumatologist is the knowledge that higher levels of pro-inflammatory cytokines or lower levels of anti-inflammatory cytokines moved people to the right side of the bell curve of immunity towards hyperimmunity or autoimmunity. The exact same thing is true of pain processing–there seem to be certain neurotransmitters that have a tendency to facilitate pain transmission and there are others that have a tendency to inhibit pain transmission.  So if there are too high levels of substance P or glutamate or too low levels of norepinephrine or serotonin in your descending antinociceptive pathways, one will move towards the right side of the bell curve.
Supraspinal influences on Pain and Sensory Processing
Some of the supraspinal influences are at the synaptic level in different areas of the brain and some of them are via these pathways that descend from the brain that are called descending facilitary pathways.  These descending inhibitory and facilitary pathways essentially determine how open or closed the gate in the dorsal horn of the spinal cord is.  The "gate control theory" of pain that won a Nobel Prize was the first to propose that pain wasn't hardwired, but that it was very modifiable and it was a very nimble.  But what the original inventors of the gate control theory didn't know is how prominent these supraspinal influences were in determining whether that gate is open or closed. The reality is that everyone has a lot of nociceptive input all the time that isn't allowed to go up to the brain to be felt as pain because it wouldn't serve us any adaptive purpose.
What does this mean for fibromyalgia?
Looking at some of these neurotransmitters that increase the volume control setting, they're much higher in the spinal fluid of fibromyalgia patients than in control patients. Looking at some of these neurotransmitters that have a tendency to decrease pain transmission (norepinephrine, serotonin and dopamine) it is shown they are lower in fibromyalgia patients.  The only neurotransmitter system that's been studied in fibromyalgia to date that is not out of line in a direction that would cause an increased volume control is the opioidergic system.  It appears that the opioidergic system is actually working, as it should in people with fibromyalgia–there are high levels of endorphins and enkephalins in the spinal fluid.  Rick Harris in Dr. Clauw's has used PET imaging with a mu opioid ligand to show that at baseline fibromyalgia patients don't have nearly as many unoccupied mu opioid receptors in the brain as non-fibromyalgia patients.  This might be why opioid drugs don't work in these central pain states—the pathway is actually maximally activated already.  Giving someone a narcotic analgesic when there's no mu opioid receptors that are unoccupied in the brain isn't going to have an affect because the only way that can work is for the ligand to bind to the receptor.
Functional Neuroimaging of Pain
One of the other big advances in the pain field besides genetics and looking at neurotransmitter levels has been functional neuroimaging.
Functional MRI (fMRI) allows the examination of changes in blood flow (i.e. neuronal activation) associated with various tasks (e.g., giving a pressure or heat stimulus and viewing the response)
Variations also being used to examine "connectivity" between structures and subtle changes in brain volume
Other imaging techniques enable examination of level or binding of certain neurotransmitters
Pain Matrix' – Pain is Processed in at Least Three Domains in CNS
Sensory: where it is and how much it hurts

Primary and secondary somatosensory cortices
Thalamus
Posterior insula

Affective: emotional valence of pain

Anterior cingulate cortex
Anterior insula
Amygdala

Cognitive: similar to affective plus prefrontal regions
fMRI of Evoked Pressure Pain in Fibromyalgia and Related Conditions
A study in 2002 in A&R showed that the brain of a fibromyalgia patient getting low pressure looked almost identical to the brain of a healthy control getting high pressure – arguably the first objective evidence that the pain in fibromyalgia was real.  That's been replicated by four other studies.  There's really overwhelming evidence of hyperalgesia/allodynia in neuroimaging, not just in fibromyalgia but also in a number of other chronic pain states. Another study was published, again in A&R, that looked at the role co-morbid depression was having.  This was an interesting study because it showed that fibromyalgia patients without depression only had increases in the sensory regions of the brain and fibromyalgia patients with depression had increases relative to controls in both the sensory regions and the affective region.  What that really shows is, from a clinical standpoint, that pain and depression are somewhat independent physiologic processes and really need to be treated as such.  In fact, this is exactly what all the clinical trials have shown in fibromyalgia.  If a fibromyalgia patient is given a drug like duloxetine, which is an antidepressant, or a tricyclic drug, also an antidepressant, the studies have shown the exact same thing.  It doesn't matter whether someone is depressed or not they are equally likely to respond to that drug as an analgesic if they are depressed or not. Care should be taken about calling these drugs "antidepressants" because they really are "serotonin norepinephrine reuptake inhibitors" or they are tricyclic drugs.  They happen to originally be approved for depression but that isn't their mechanism of action.  In fact, the FDA wouldn't allow these drugs to be approved if it appeared as though they were acting by making depression better and thus making pain better as the FDA requires specificity of biological affect. Finding just how people think about their pain seems to change their volume control setting of pain.  As has been alluded, fMRI changes in idiopathic low back pain are almost identical to fibromyalgia but other groups have shown these same kinds of things in irritable bowel syndrome and a number of these central pain states, this augmented pain processing. Stimuli and Responses During Pain Scans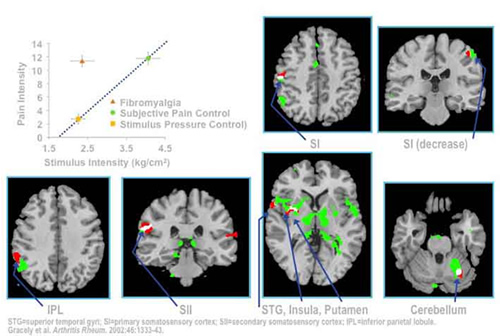 Specific Underlying Mechanisms in Fibromyalgia
When these patients come in they have pan-positive review of systems, having symptoms in every part of their body.  One might look more carefully at those symptoms next time.  What people are checking are sensory experiences.  They don't check all symptoms in all areas of the body; they check sensory experiences throughout their entire body. Look at all the imaging studies that have been done in fibromyalgia the most consistently hyperactive region of the brain is the insula.  What does the insula do in the human brain?  It's the part of the human brain that codes for the intensity of all sensory experiences.  It tells how bright lights are.  It tells how loud noises are.  Hyperreactivity of the insula could be responsible for the global increased sensory processing (interoception). A study a couple years ago showed that fibromyalgia patients were just as sensitive to the loudness of auditory tones as they were to pressure applied to their skin. Reduction in glu is associated with reduced experimental pressure pain in FM. This is getting pretty close to being a biomarker for central pain.  The glutamate in the insula is done with proton spectroscopy, a totally different type of imaging technique. Specific Underlying Mechanisms in Fibromyalgia It was alluded to the fact that one of the problems seems to be that a lot of people with these central pain states don't have enough descending analgesic activity.  And they're now in both fibromyalgia and irritable bowel syndrome.  The entire community of researchers has shown that about 2/3 of patients with fibromyalgia or IBS has an absence of descending analgesia based on experimental pain testing.  So again, a possible underlying mechanism.
Decreased descending analgesic activity

Absent or attenuated DNIC in FM and IBS
Brainstem activations with conditioning stimulus seen in controls but not in FM patient
Of the two descending analgesic systems it really seems to be the noradrenergic serotonergic descending system, not the opioidergic serotonergic system that is attenuated because opioids don't seem to work even though there's never been a randomized control trial.  Whereas any drug that raises both norepinephrine and serotonin has been shown to be effective in fibromyalgia whether it's tricyclics, tramadol, duloxetine, milnacipran–all the dual reuptake inhibitors work. There's a lot of work in the pain field using voxel-based morphometry and looking at actual structure.  And a lot of data is now suggesting that chronic pain patients may actually have atrophy of these regions of the brain that are involved in pain processing which may be why it gets so difficult to treat chronic pain patients that have had it for long periods of time.  There probably is real neuroplasticity and real structural changes when people have had chronic pain for long periods of time. This is not to minimize the role that psychological, cognitive and social factors have in pain.  They play a very big role and this is seen that when a fibromyalgia patient moves from just being someone in the population to someone seen in primary care to someone being in tertiary care they have more and more of these co-morbidities.  So the people seen with fibromyalgia at Hopkins are much different, like the ones seen at Michigan, than the ones that are in the general population and they have higher rates of these things because they're refractory to treatment. One of the really interesting things about being in fibromyalgia is that nearly everything that has been learned with respect to the underlying mechanism really actually maps to a treatment. There is a Deficiency of Descending Analgesic Activity in FM:  Which one?
Opioids

Normal or high levels of CSF enkephalins
Never been administered in RCT but most feel that opioids are ineffective or marginally effective
Harris recently used PET to show decreased mu opioid receptor binding in FM

Noradrenergic/Serotonergic

Low levels of biogenic monoamines in CSF in FM
Nearly any class of drug that raises both serotonin and norepinephrine has demonstrated efficacy in FM
Is Chronic Pain a Neurodegenerative Disease?
Apkarian was first to show that chronic pain may be a neurodegenerative disease, showing

Decreased gray matter density in DLPFC and thalamus
Related to length of pain

More recently seen in other pain states including

Headache (insula and ACC)
IBS (insula and ACC)
Fibromyalgia (multiple regions)
PTSD5 (insula)
FM:  From Mechanism to Treatment
| | |
| --- | --- |
| MECHANISM | TREATMENT |
| This is primarily a neural disease and "central" factors play a critical role | Treatments aimed at the periphery (i.e., drugs, injections) are not very efficacious |
| This is a polygenic disorder | There will be subgroups of FM needing different treatments |
| There is a deficiency of noradrenergic-serotonergic activity and/or excess levels of excitatory neurotransmitters | Drugs that raise norepinephrine and serotonin, or lower levels of excitatory neurotransmitters, will be efficacious in some |
| Lack of sleep or exercise increase pain and other somatic sx, even in normals | Exercise, "sleep hygiene," and other behavioral interventions are effective therapies for biological reasons |
| How FM patients think about their pain (cognitions) may directly influence pain levels | Cognitive therapies are effective in FM and have a biological substrate |
So How Do I Really Diagnose Fibromyalgia?
FAMILY HISTORY

Family history of other pain syndromes

SOCIAL HISTORY

Symptoms often triggered or exacerbated by "stressors"

PAST MEDICAL HISTORY

Regional somatic and visceral pain syndromes
Psychiatric disorders

PHYSICAL EXAM

Normal except for diffuse tenderness
Tenderness not just confined to the joints
Pharmacological Therapies
STRONG EVIDENCE

Dual reuptake inhibitors such as:

Tricyclic compounds (amitriptyline, cyclobenzaprine)
SNRIs and NSRIs (milnacipran, duloxetine, venlafaxine?)

Anticonvulsants (e.g., pregabalin, gabapentin)

MODEST EVIDENCE

Tramadol Selective serotonin reuptake inhibitors (SSRIs) Gamma hydroxybutyrate Dopamine agonists

WEAK EVIDENCE

Growth hormone, 5-hydroxytryptamine, tropisetron, S-adenosyl-L-methionine (SAMe)

NO EVIDENCE

Opioids, corticosteroids, nonsteroidal anti-inflammatory drugs, benzodiazepine and nonbenzodiazepine hypnotics, guanifenesin
Above is the evidence of what drugs work.  Tricyclics, SNRIs NSRIs and anticonvulsants would be the highest level of evidence and so forth. A lot of the nuances of treating people with fibromyalgia are to know how to use these drugs.  The biggest problem with pregabalin and gabapentin is tolerability of these drugs.  These drugs may be better tolerated at bedtime.  If given during the day, 2/3 of the dose at night and 1/3 during the day, they are much better tolerated than if given a pure bid dose.  And they are better tolerated starting at a low dose and going slowly. The most recently approved drugs–milnacipran or duloxetine–these drugs, like their older cousin effexor, will cause nausea in a high percentage of people that get them.  People should take them with food and be warned about the nausea as well as telling them that it usually goes away within five to seven days and to stick with the drug.  A lot of what is seen when people have come in and failed these drugs is they really weren't given adequate therapeutic trials.  But even having said that these drugs only work well in about 35 or 40% of people that take them.  Again, because this is not the same problem in everyone.
Nonpharmacological Therapies
| | |
| --- | --- |
| STRONG EVIDENCE | Education Aerobic exercise Cognitive behavior therapy |
| MODEST EVIDENCE | Strength training Hypnotherapy, biofeedback, balneotherapy |
| WEAK EVIDENCE | Acupuncture, chiropractic, manual and massage therapy, electrotherapy, ultrasound |
| NO EVIDENCE | Tender (trigger) point injections, flexibility exercise |
Above are the non-pharmacologic therapies that work. The single biggest problem in routine clinical practice is most don't use any of these.  Patients aren't given the education, they aren't encouraged to exercise, and there is no cognitive behavioral therapy.  Looking at the meta-analyses of the effect sizes of these treatments in any pain state, this isn't actually just fibromyalgia:  this would be low back pain, even things like OA and RA.  The effect sizes of these non-pharmacologic therapies often are greater by in order of magnitude than the effect sizes of the pharmacologic therapies.
Symptoms of Pain, Fatigue, etc.
Most believe that we have to start more aggressively using pharmacologic and non-pharmacologic therapies together because they actually are attacking totally different problems in someone with chronic pain.  Whether someone has chronic pain due to OA or RA of the knee or due to fibromyalgia if, as a result of that pain, they increase their levels of distress because they can't function normally as a co-worker, as a spouse, as a friend, and they decrease their activity levels, they become socially isolated, they start sleeping poorly or they develop what psychologists call maladaptive illness behavior (which really means bad habits that people lapse into) that makes their symptoms worse instead of better. The healthy college students that have any of these things happen to them get pain and fatigue.  All of these sorts of things that happen to people as a result of having pain can cause pain and fatigue.  There really ought to be more of a rehab approach and using drugs and perhaps devices or surgeries or injections and using non-pharmacologic therapies to treat this aspect of chronic pain because the dysfunction associated with it doesn't usually go away just by giving people a drug.  When these trials have been done in fibromyalgia with the drugs that are now approved, 30-40% of the people had a 50% improvement in pain but in a lot of those people that had 50% improvements in pain, their SF-36 didn't change at all from point A to point B because it wasn't intuitive to them that when they got an improvement in pain that they had to start getting more active, start doing more things.  It really seems that using the pharmacologic and non-pharmacologic therapies together is the best strategy for chronic pain patients.
KNOWFIBRO.COM
Knowfibro.com is a website developed with DOD money. In a single site trial, a website that gave individuals education on fibromyalgia and instructions on exercise and cognitive behavioral therapy had a much larger effect size than any of the drugs had in the multi-centered trials.  This prompted Lilly to license the website from the University of Michigan and make a much better version of the website which is now available to anyone.
Conclusions
Fibromyalgia and other "idiopathic" pain syndromes have strong neurobiological underpinnings
These are likely polygenic disorders characterized by pain and sensory amplification
There is evidence of increased levels of pro-nociceptive neurotransmitters (e.g. Substance P, glutamate) and decreased levels of anti-nociceptive neurotransmitters (e.g. serotonin, norepinephrine)
The condition can be easily diagnosed in clinical practice based primarily on the patient history