Peter K. Wung, MD
Division of Rheumatology
Johns Hopkins University School of Medicine
Dr. Wung has no relevant financial interest or relationships to disclose.
Release Date: July 9, 2010
Expiration Date: January 1, 2011
For CME credit,TAKE POST-TEST & EVALUATION
Objectives
After completing this activity, you'll be able to:
Discuss Glucocorticoid Induced Osteoporosis (GIO) – GIO is under recognized, under treated, and probably more importantly, under appreciated by the physicians treating these patients.
State Current and Future Drug Therapies for GIO
Case Report
A 56-year-old woman with a 10-year history of seropositive erosive RA presented to the Good Samaritan clinic. She had been on Methotrexate, Leflunomide and Etanercept. She didn't tolerate the Methotrexate or the Leflunomide that well, and was on Etanercept at the time.  Her disease had been moderately controlled and had required chronic Prednisone therapy of at least 10 mg a day for 10 years.  The best-case scenario: she had received approximately 37 grams of Prednisone in that 10-year period.  She had been postmenopausal for 4 to 5 years.  Her history included morbid obesity, status-post gastric stapling, reflux disease, hypothyroidism, anticardiolipin IgM and lupus anticoagulant positive, but without history of clots.
She was diagnosed with osteoporosis during her second visit in the fall of 2006. At that time her T/Z-score (-3.2) in the left femoral neck and (-1.0) L-spine were similar.  She was not on bisphosphonate, calcium or vitamin D.  The last recorded DEXA scan was from 2001.  Essentially, there was inadequate screening for the last 10 years while she had been maintained on Prednisone.  She was on Evista for postmenopausal symptoms for a year.  Bisphosphonates, calcium and vitamin D were encouraged by her prior rheumatologist, but not enforced.  She did not take the bisphosphonate because she had the reflux and gastric stapling, so she had a lot of GI side effects.  She told her rheumatologist, but her rheumatologist told her to take it, it's good for her.  In the late 2006 or early 2007, about a month or two after she first presented, she fell while riding a bike and sustained a fracture of her right clavicle, rib and pelvis.  About a month later, after a sneeze, she developed a vertebral fracture and after some light yard work, she developed another vertebral fracture.
Characteristics of GIO
It has been shown that long-term use of glucocorticoids (GC) cause a rapid decrease in bone mass, about 5 to 10% per year, especially in the first 2 years.  GC-induced bone loss is the most pronounced in the first 3 to 12 months of therapy.  It is more prevalent in the trabecular than in the cortical and bone compartments, which leads to more vertebral body fractures than femoral neck fractures because there is more trabecular bone in the vertebral bodies than in the femoral bones.  Several studies have shown that cumulative GC dose predicts bone mass loss.  So, it is not the initial pulse steroids or high-dose steroids, it is the overall long term GC dose that predicts bone loss. There are several studies that have shown that there is no threshold for inducing GIO.  Several patients have been on as low as 5 mg or less and have had GIO diagnosed on subsequent DEXA scans.
Overall mechanisms behind GIO
Current therapies don't target some of these mechanisms. GC induces bone loss and eventually fractures through apoptosis of both osteoblasts and osteocytes, and decreases apoptosis of the osteoclasts. GC also decreases function and differentiation of the osteocytes and osteoblasts.  All of these eventually lead to increased bone reabsorption, decreased bone formation and increased bone fractures.  GC also goes through the neuroendocrine system to decrease growth hormones, insulin-like growth fractures and sex steroids, all of which lead to increased bone reabsorption, decreased bone formation and thus increased fractures.  GC also leads to decreased calcium absorption in the intestines and increased renal excretion.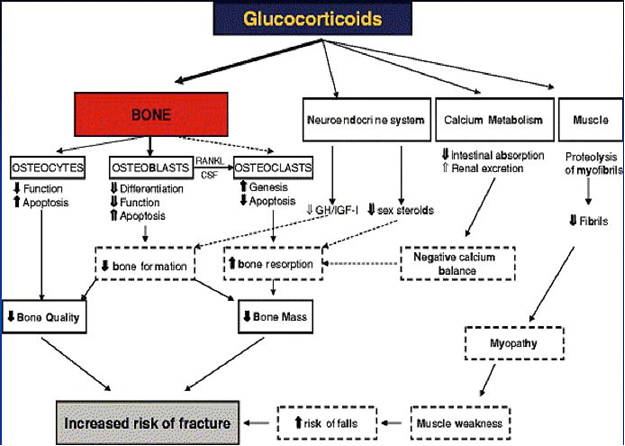 GC also induces weight gain or obesity, and that can lead to decreased mobility or increased sedentary lifestyle, and an increase in risk of bone fracture.
Therapies for Osteoporosis
Bisphosphonates

4 available and approved for use in the U.S.

Alendronate
Risedronate
Ibandronate
Zoledronic acid

Pamidronate, Etidronate, Clodronate (older and generally use din European countries)

Anabolic

Teriparatide (approved in 2002 as a peptide)

Other Antiresorptive Medications

Calcitonin
Hormone Replacement Therapy (HRT)
Selective Estrogen Receptor Modulators (SERMs)

Calcium and Vitamin D
Lifestyle modification (decreased alcohol intake, smoking cessation and decreased sedentary lifestyle)
Current and Future Drug Therapies for GIO
Bisphosponates
Alendronate 
| | |
| --- | --- |
| Design | Multi-centered, randomized, double placebo-controlled in Netherlands |
| Patients | 201 patients with rheumatic diseases (1/3 rheumatoid arthritis, 1/3 polymyalgia rheumatica, 1/3 other) who were started on GC therapy or had started GC therapy within the previous 12 weeks of at least 7.5mg prednisone daily |
| Medications | Alendronate 10mg/Placebo Alfacalcidol vs. Alfacalcidol 1ug/Placebo Alendronate daily |
| Follow-up | 18 months |
| Primary | % change in lumbar spine bone mineral density (BMD) |
| Secondary | % change in femoral neck and total hip BMD and incidence of vertebral and non-vertebral fractures |
| Source | De Nijs et al. N Engl J Med. 2006;355(7):675–684. |
In the alendronate trial, the mean age was 61, 65% female (85% postmenopausal).  The baseline BMD were normal to osteopenic.  Both groups received similar cumulative GC dose of about 5g during the 18 months.  At the main primary endpoints, the lumbar BMD and femoral and hip BMD had significant changes between the alendronate and the vitamin D group. The secondary endpoints looked at the fracture data and this was not significant, but the vertebral deformities and fractures were slightly lower in the alendronate versus the placebo.
Risedronate
Risedronate was also studied in multicenter randomized trial (Cohen et al. Arthritis Rheum. 1999;42(11):2309–2318). There were 224 patients with rheumatic and pulmonary diseases who were started on GC therapy.  The mean age was 61, 65% were women (70% were postmenopausal).  This trial looked at risedronate at 2 different doses and a placebo.  The placebo was really not a placebo, it contained vitamin D and calcium.  The 12-month trial looked at the change in lumbar spine BMD rather than fracture data, but it did look at fracture data in the secondary endpoints.
Patients' Disease Characteristics

Risedronate

Placebo

2.5mg

5mg

Rheumatoid Arthritis
31 (40.3)

30 (40.0)

27 (35.5)

PMR
19 (24.7)

19 (25.3)

25 (32.9)

SLE
10 (13.0)

12 (16.0)

12 (15.8)

Vasculitis
8 (10.4)

2 (2.7)

3 (3.9)

GCA
5 (6.5)

6 (8.0)

5 (6.6)

Asthma
0

3 (4.0)

2 (2.6)

Chronic ILD
1 (1.3)

3 (4.0)

1 (1.3)

Polymyositis
2 (2.6)

0

1 (1.3)

Dermatomyositis
1 (1.3)

0

0
Risedronate

Placebo

2.5mg

5mg

Mean % Change in Lumbar Spine BMD ± SEM
-2.8±0.5%

-0.1±0.7%

0.6±0.5%

Mean % Change in Femoral Neck BMD ± SEM
-3.1±0.7%

-0.4±0.7%

0.8±0.7%

Mean % Change in Femoral Trochanter BMD ± SEM
-3.1±0.7%

-0.2±0.7%

1.4±0.57%

Difference (Placebo-5mg), p<0.001

Incidence of Vertebral Fractures
9/52 (17.3%)
3/27 (11.1%)
3/53* (5.7%)
Ibandronate
Ibandronate is a newer bisphosphonate.  This was a perspective open-label parallel group study that looked at 115 GIO patients with at least 2 years of continuous, daily GC use of 7.5 mg of Prednisone (Ringe et al. Osteoporosis Int. 2003;14:801–807).  The study looked at intravenous ibandronate (2 mg every 3 months) versus oral vitamin D. The follow-up lasted for three years, and primary outcome looked at incidence of vertebral fractures.  Secondary outcome looked at changes in lumbar spine and femoral neck BMD. The ibandronate group had a significantly lower number of vertebral fractures compared to the vitamin D group (8.6% vs. 22.8%, p=0.043), and significantly less height loss. The ibandronate group decreased the lumbar spine BMD by nearly 10%, and femoral neck by about 2.5%.
Ibandronate is:
Only 1 of 2 IV bisphosphonate approved in the U.S. for treatment of osteoporosis
Dose and Routes

2.5mg oral daily
150mg oral monthly
3mg intravenous every 3 months

Advantages IV formulation

Bypass GI tract
Slightly safer renal profile than IV Zoledronic Acid
Zoledronic Acid
Zoledronic acid is the other IV bisphosphonate.  This was also studied in an international multicentered randomized trial (Lyles et al, N Engl J Med. 2007;357(18):1799–1809).  There were over 2,000 patients who had undergone hip fracture repair within the previous 90 days and they were unwilling or unable to take oral bisphosphonate.  Their mean age was 74, 75% were female and 41% actually had underlying osteoporosis.  The medications were intravenous zoledronic acid (5 mg) once per year versus a placebo.  The placebos were vitamin D, calcium, a SERM or calcitonin, depending on the investigators discretion.  They were followed for 3 years and the primary outcome was any new fracture, excluding facial, digital and abnormal bones, which meant bony metastasis.
Rates of fracture and death in the study groups*
Variable

Placebo

Zoledronic acid

Hazard ratio (95%CI)

P Value

Fracture—no (cumulative%)
– Any

139 (13.9)

92 (8.6)

0.65 (0.50-0,84)

0.001

– Nonvertebral

107 (10.7)

79 (7.6)

0.73 (0.55-0.98)

0.03

– Hip

33 (3.4)

23 (2.0)

0.70 (0.41-1.19)

0.18

– Vertebral

39 (3.8)

21 (1.7)

0.54 (0.32-0.92)

0.02

Death—no (%)

141 (13.3)

101 (9.6)

0.72 (0.56-0.93)

0.01
*Rates of clinical fracture were calculated by Kaplan-Meier methods at 24 months and therefore are not simple percentage. There were 1062 patients in the placebo group, and 1065 in the zoledronic acid group. Because of variable follow-up, the number and percentage of patients who died are provided on the basis of 1057 in the placebo group and 1054 patients in the zoledronic acid group in the safety population.
There was also the rise in pivotal fracture.  This looked at 7,700 postmenopausal women: mean age 73, 71% with osteoporosis and 65% of them had underlying vertebral fracture at baseline.  They were randomized to the same dose of zoledronic acid, followed for 3 years, and the primary outcome was assessing new vertebral or hip fracture.  Similar to the previous trials, they showed significant improvement in terms of vertebral fractures and hip fractures in the primary endpoints and also nonvertebral fractures, all with significant findings.
Adverse effects
Both the kidney function and renal profile were fairly safe, although the pivotal trial had a transient increase in serum creatinine within the first 30 days, but had resolved within a month.
Most patients, after the infusion of zoledronic acid or IV bisphosphonates, had a flu-like reaction. It usually resolved within the first 24 to 48 hours.
The zoledronic acid in the pivotal trial showed to have a slightly increased risk for adverse or serious atrial fibrillation of new onset.
Common questions (and answers) about the use of bisphosphonates
How do we dose the bisphosphonates for patients with renal insufficiency?
When there is a creatinine clearance of < 30mL/min, the IV bisphosphonate is contraindicated. There is no renal dosing for PO bisphosphonates.  Some physicians may decrease the dose by 25 to 50% for those with severe renal insufficiency.
IV Ibandronate safer than IV Zoledronic acid
What do we do with patients with GI symptoms?
Patients with dyspepsia, GERD/PUD, esophageal strictures, achalasia, malabsorptive states and gastric bypass were unable to sit upright for 30 minutes after taking bisphosphonates. These patients can be switched to:

IV bisphosphonates
Teriparatide
Combination therapies
What happens when the BMD worsened or they have recurrent factors being on bisphosphonates?
Secondary causes of osteoporosis need to be evaluated–gonadal sufficiencies and other medications
Teriparatide and combination therapies may be alternatives to bisphosphonates
Anabolic
Teriparatide
Teriparatide is a recombinant human parathyroid hormone (PTH). PTH is a modulator for calcium homeostasis in the body. Constant PTH causes bone reabsorption and increased renal calcium reabsorption. Intermittent PTH causes an anabolic effect rather than a catabolic effect with continuous PTH stimulation.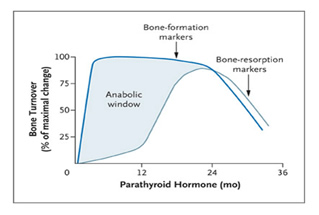 Daily doses of PTH stimulation can cause an anabolic window in the bones during the first 2 years of therapy.  After that, the anabolic effect seems to level out, if not decrease a little bit. The current therapy for Teriparatide is approximately 2 years for that reason.
Teriparatide was approved for osteoporosis treatment in November 2002.  It has a black box warning such as osteosarcoma.  Several animal studies in a case report showed that there is an osteosarcoma risk at a 2-year endpoint. The current dose of Teriparatide is 20 mcg daily for 2 years.  It is a costly medication; it costs about $8,400.00 per year.
Indications
Severe osteoporosis w/ multiple fractures
Intolerant of other therapies for osteoporosis
Non-responsive to other therapies
Contraindications
Growing children – open epiphyses
Bone metastases or who had skeletal irradiation
Paget's disease or unexplained elevated alkaline phosphatase
The treatment should be followed by anti-resorbed medications such as bisphosphonates, and then there is a transient hypercalcemia and hyperuricemia with Teriparatide.  If these are sustained, Teriparatide is also contraindicated.
The one main study that looked at Teriparatide in GIO patients compared Teriparatide to alendronate (Saag KG. N Engl J Med. 2007;357(20):2028–2039).  It is a randomized double blind control trial.  There were 428 patients with osteoporosis at baseline that had received at least 3 months of GC therapy of more than 5 mg.  The average age was 57, 80% were women and 80% were postmenopausal.  The dose was 20 mcg of Teriparatide versus 10 mg of alendronate, follow-up of 18 months. The primary outcome was a change in BMD in the lumbar spine.  The secondary outcome was change in BMD in total hip and incidence of fractures.
Most of the patients in the study had rheumatoid arthritis; many patients had SLE or PMR.  The primary endpoint looked at the BMD changes and there was a significant change between Teriparatide and alendronate at follow-up.  It was about 8% versus 4% and about 4% versus 2%, both were equally significant.  Looking at secondary endpoints (vertebral and non-vertebral fractures), only the vertebral data looked significant in terms of the radiographic evidence.  There was a decrease of about 6% in the vertebral radiographic evidence of fractures.
Antiresorptive Medications
Calcitonin
There have been a lot of studies looking at Calcitonin in osteoporosis.  In a meta analysis of non-randomized trials looking at prevention and treatment of GIO, Calcitonin appears to be more effective then placebo in preserving lumbar spine BMD at 6 months and also at 12 months. However, the fracture data did not show a significant difference.  There was not a difference between 2 doses of Calcitonin.  The subcutaneous formulation appeared to be slightly better than the nasal formulation.  Calcitonin did appear to be helpful in alleviating vertebral fracture pain in a lot of patients.  In a patient who has been on bisphosphonates, and has had vertebral fractures, it may be useful to add this medication as an adjunct in treating their osteoporosis.
Hormone Replacement Therapies
The Postmenopausal Estrogen/Progestin Interventions (PEPI) trial (JAMA. 1996;276(17):1389–1396) looked at 175 postmenopausal women who received:
estrogen,
the conjugated equine estrogen,
estrogen plus the progesterone,
estrogen plus different formulations of progesterone, and
placebo.
It was a 3-year trial and the primary endpoint looked at the changes in the spine and hip BMD.  The active regimens had an increase in spinal and hip BMD of about 3.5 to 5% in the spine and 1.7% in the hip at the end of the study.  The placebo group had a decrease of 1.8% and 1.7% at both places at the end of 3 years.  The estrogen, in a continuous progesterone group, had an increase in spinal BMD of more than 5% compared to those of the other 3 active regimens. This trial and several other similar trials lacked direct anti-fracture assessment, so it should be viewed with slight precaution.
The Heart and Estrogen/Progestin Replacement Study (HERS) and Women's Health Initiative (WHI) trial, indicated that estrogen and progesterone show the increased risk for CHD and thromboembolic events and also increase for breast and endometrial cancer. When using hormone replacements, this should be taken into consideration.
Selective Estrogen Receptor Modulators
Raloxifene is one of the SERMs available in the U.S.
Multilple Outcomes of Raloxifene Evaluation (MORE) Trial
Design
International multi-centered, randomized, double-blind, placebo-controlled
Patients
7705 postmenopausal women with osteoporosis (defined by DEXA or vertebral fractures) > 2 years
Medications
Raloxifene 60mg daily vs. Raloxifene 120mg daily vs. placebo
Follow-up
4 years
Source
Barrett-Connor et al, JAMA. 2002;287(7):847–857
With both doses, there was an increase of 2.1 to 2.4% in the lumbar spine BMD and also about 2.5% in the femoral neck BMD.  Both doses demonstrated significant decrease in vertebral fractures by about 40-45%, and there is no significant impact on the non-vertebral fractures.
There is very little data on treatment of GIO with HRT and SERM.  There is a lot of data on postmenopausal women but not on GIO.  SERM appears to be better than HRT in terms of cancer risks.  HRT is better than SERM to control postmenopausal symptoms. Both are equally associated with thromboembolic events. HRT and SERM can be recommended for selective use in GIO patients.  One should definitely consider replacement hormone in both men and women with gonadal deficiency secondary to GC use.  Gonadal hormones should be replaced as necessary in order to prevent another cause of GC induced bone fractures.
Calcium and Vitamin D
The one important trial in terms of GIO (Buckley et al., Ann Intern Med. 1996;125(12):961–968), looked at 96 patients with rheumatoid arthritis, 65 of them were receiving corticosteroids. The patients were randomized to receive calcium and vitamin D versus placebo, and they were followed for 2 years.  The primary outcome looked at change in BMD in the lumbar spine and femur each year.
Treatment
Patients
Annual Rate
Difference (95% CI)
P-value
Lumbar Spine
All
Prednisone
No Prednisone
96
66
30
1.78 (0.12, 3.44)
2.65 (0.73, 4.57)
-1.0 (-4.40, 2.40)
0.036
0.008
>0.2
Trochanter
All
Prednisone
No Prednisone
84
58
26
2.02 (0.45, 3.59)
2.08 (0.43, 3.73)
1.26 (-2.72, 5.24)
0.013
0.015
>0.2
Femur (All)
84
0.69 (-0.82, 2.20)
>0.2
The current recommended daily requirement of calcium is 1,000 mg per day; vitamin D is 400 IU per day.  For those with osteoporosis, it is recommended that the calcium increase to 1200–1500 mg per day.  The vitamin D should increase to 800–1,000 IU per day.  An 8 oz. glass of milk has 300 mg of calcium and 100 IU of vitamin D, but that needs to be supplemented.
Denosumab
Denosumab is a therapy that is up and coming that may be approved down the road for treatment of osteoporosis that has also been studied in several other rheumatic diseases. Denosumab is a fully human, monoclonal antibody that binds through RANK ligand, thus blocking the interaction between RANK ligand and RANK.  The RANK ligand is a protein expressed by osteoplastic stromal cells, and the combination of RANK ligand and RANK promotes the osteoclast differentiation, activation and survival.  The combination also induces increased bone reabsorption and thus leads to bone loss.
Trial
| | |
| --- | --- |
| Design | Phase II: Randomized, double-blind, dose-ranging study included eight double-blind groups, one open-label treatment group, one placebo group |
| Patients | 412 postmenopausal women who were osteopenic/osteoporotic, mean age 63. |
| Medications | Denosumab q3m (6, 14, or 30 mg) or q6m (14, 60, 100, or 210 mg) subcutaneous, open-label oral alendronate qweek (70mg), placebo – 46 patients per group. |
| Follow-up | 12 months |
| Primary | % change from baseline in lumbar spine BMD at 12 months |
| Source | McClung et al, N Engl J Med. 2006;354:821–831. |
In terms of the lumbar spine BMD, there was definitely a change compared to the alendronate or the placebo group with Denosumab: 3.2 to 6.7%.  There was also a change in the total hip BMD: about 2–3.6% versus less with alendronate or placebo.  Based on this trial, it looks like the doses of 30 mg every 3 months or 60 mg every 6 months provided the best biologic effect in minimum exposure dose ratio. Adverse events were similar in all 3 groups.  The dyspepsia was slightly more common in the alendronate group. The fracture data are very similar in the placebo, Denosumab and also the alendronate.
ACR Recommendation
Patients beginning therapy with glucocorticoid (prednisone ≥ 5 mg/day) with plans for treatment duration ≥ 3 months:

Modify lifestyle risk factors for osteoporosis.

Smoking cessation or avoidance
Reduction of alcohol consumption if excessive

Instruct in weight-bearing physical exercise.
Initiate calcium and vitamin D supplementation.
Prescribe bisphosphonate.
Patient receiving long-term glucocorticoid therapy (prednisone ≥ 5 mg/day):

Same as above plus:
Prescribe treatment to replace gonadal sex hormones if deficient or otherwise clinically indicated.
Measure bone mineral density (BMD) at lumbar spine and/or hip.
If BMD is not normal (i.e., T-score below -1), then

Prescribe bisphosphonate.
Consider calcitonin as 2nd-line agent.

If BMD is normal, follow up and repeat BMD measurement either annually or biannually.
These recommendations were last updated in 2001 and need to be updated, especially with the new medications available.
Summary
In summary, there are different mechanisms that work behind GIO.
Both men and woman need to be screened for GIO.
Bone loss occurs early in GC therapy and cumulative GC doses predict the degree of bone loss.
Several bisphosphonates are available with different formulations; consider a teriparatide, SERM, HRT or calcitonin and definitely have an adequate calcium vitamin D intake.
Questions can be answered by endocrinology collegues.
For CME credit,TAKE POST-TEST & EVALUATION
All information contained within the Johns Hopkins Arthritis Center website is intended for educational purposes only. Physicians and other health care professionals are encouraged to consult other sources and confirm the information contained within this site. Consumers should never disregard medical advice or delay in seeking it because of something they may have read on this website.