Hunter C. Champion, MD, PhD
Division of Cardiology
Department of Medicine
Johns Hopkins University Baltimore, Maryland
Dr. Champion has no relevant financial interest or relationships to disclose.
Other Financial Disclosures:  Speakers Bureau for Pfizer, GlaxoSmithKline, Novartis
Basic Science Grant to study PDE-5A inhibition in models of COPD: Pfizer
Release Date: July 9, 2010
Expiration Date: January 1, 2011
For CME credit,TAKE POST-TEST & EVALUATION
Objectives
After completing this activity, you'll be able to:
Discuss the basic science work that the Division of Cardiology, Department of Medicine, Johns Hopkins University is doing with human tissue.
Discuss some of the pathophysiology, particularly in rheumatologic diseases.
To study physiology, mice can be genetically manipulated and there are various ways to look at them, including isolated heart-lung preparations:
A right heart catheterization technique for mice to measure wedge and PA pressure, etc. in the intact-chest, spontaneously breathing mouse.
Right ventricular pressure-volume loops in animal models.
All the molecular techniques.
The physiology studied in mice needs to relate to patients. Kiche Sagawa was, essentially, the father of pressure-volume loop analysis. His approach was that we should think about individual cardiac myocytes working by themselves, how they interact within a single chamber and certainly how those chambers interact with each other. See his drawing below.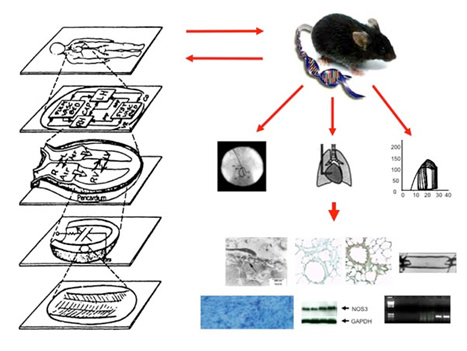 In particular, this article will focus on the right ventricle (RV) and how that chamber interacts with the vasculature.  This interaction is critical; most pulmonologists consider the heart to be a conduit by which the lungs get blood and most cardiologists consider the lungs to be the way a body holds the heart up in the chest and gives oxygen for the coronary perfusion.  But, then we also want to think about how this all interacts in our patients.  It is difficult to go back and forth between the two, and oftentimes find a mouse that recapitulates our human experience.
This is the JHH experience with pulmonary hypertension in patients with scleroderma.  This is a mortality curve compared with idiopathic pulmonary hypertension from 2001 to 2005.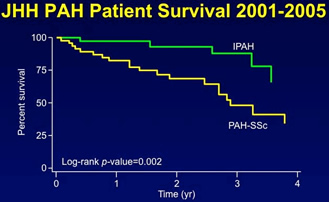 It may not surprise a lot of people that patients with scleroderma and pulmonary hypertension may die sooner, probably because their lung pressures are higher or maybe they have other problems. In reality this patient population had the same mean pulmonary artery pressure. So, despite the fact that the pulmonary circulation had the same pressure, these patients were dying quicker.  This group was not limited by their comorbid state.  Most of these patients actually died from RV failure or sudden cardiac death, which usually comes from the inability of the RV to promote forward flow.  And most importantly, all of these patients were being treated. All of these patients were on some type of therapy, whether it was prostacyclin therapy or Bosentan or other, at-the-time-investigational drugs (mainly Sildenafil or Viagra).
Thinking differently about the disease
Although many consider pulmonary hypertension to be elevated pulmonary vascular resistance and elevated lung pressure, these patients don't die from high lung pressure.  These patients die from the failure of their heart to compensate for those pressures.  Some patients survive many years with a very high mean PA pressure.  Some patients have a modestly elevated PA pressure and they die relatively quickly. It may be that very little, if any, of therapy has to do with the small arterioles. A lung biopsy of a patient with pulmonary arterial hypertension prior to death, and a lung biopsy of a patient on Flolan or an endophelin blocker at the time of death don't look different.  Therapy does not have a significant impact in terms of small vessel remodeling.  Patients on therapy usually live longer, but not because of small vessel remodeling. In reality, pulmonary hypertension is a condition of the heart and the lung. Because of this, Hopkins has integrated the heart-lung program to take note and try to treat the whole disease—not just the lung pressures.
Not just idiopathic pulmonary arterial hypertension

Diagnosis
Prevalence (per million)
% with P(A)H
Reference
IPAH
6
100
Humbert M. Am J Respir Crit Care Med. 2006;173:1023-1030
Group I PH
15
100
ESLD
1,260
2-5
Perez A. J Gastroenterol Hepatol. 2004;19:289-95
Budhiraja R. Chest. 2003;123:562-76
HF
20,000
1-2
(36 in class III/IV)
Butler J. J Am Coll Cardiol. 1999;34:1802-6
IPF
430
40-80
Raghu G. Am J Respir Crit Care Med. 2006;174:810-6
Gagermeier J. Chest. 2005;128(Suppl):601S
Nadrous H. Chest. 2005;1128:2393-9
COPD
40,000
1-2
(10 in advanced)
www.cdc.gov/nchs/nhis.htm
Naeije R. Proc Am Thorac Soc. 2005;2:20-2
CTEPH
15
100
Pengo V. New Engl J Med. 2004;350:2257-64
Tapson V. Proc Am Thorac Soc. 2006;3:564-7
Sarcoidosis
250
6
(74 in advanced)
Fisher K. Chest. 2006;130:1481-8
Ryu J. Mayo Clin Proc. 2007;82:342-50
Most people consider pulmonary hypertension to be a very rare disease.  In fact, the prevalence for idiopathic PH is around 6 per million.  But, there is a whole host of other patients that have pulmonary hypertension; particularly heart failure patients and end-stage liver disease patients. One of the main reasons why we don't transplant patients for their heart or their liver is because of pulmonary hypertension. A huge number of patients with obstructive lung disease have subsequent pulmonary arterial hypertension. Other conditions like sarcoid and connective tissue disease can have subsequent pulmonary arterial hypertension as well.
A January 2008 article in USA Today reported that hospitalizations are on the increase for a deadly lung disease (http://www.usatoday.com/news/health/2008-01-01-pulmonary-hypertension_N.htm). PH is one of the few diseases that no one cared about before there was treatment.  The thinking was as follows "We are not going to do anything about it, so why even do the right heart cath?"  Now, there are therapies and some of them are better than others but we are looking for PH a lot more frequently and more echocardiograms are giving the right ventricular systolic pressure.
The mean age for all pulmonary hypertension patients is almost 70 years old.  This is amazing considering 30 years ago PAH was taught as a disease of young woman, in particular.  In reality, pulmonary hypertension may be, in large part, a normal cardiovascular aging process.
Detection is getting better
Mean PA pressure in SSc patients 2002: 43.68 mmHg
Mean PA pressure in SSc patients 2007: 28.91 mmHg
Earlier treatment is having an impact
Pulmonary hypertension is being detected before profound right heart failure, partly as a benefit of having the Scleroderma Center. There is frequent screening for not just drop in DLCO and other PFT abnormalities, but also frequent echoes for right ventricular systolic pressures that are elevated.  Patients are also cathed a lot sooner. For example, if a patient has a RVSP of 40, and they have symptoms of shortness of breath, they should be cathed because, a lot of these patients have a significant amount of pulmonary hypertension (if not at rest, certainly with exercise). Therefore, the Scleroderma Center is cathing a lot of patients with exercise and finding that they augment their mean PA pressure with a little bit of increase in flow.
Five problems
PA = All PAH drugs have a modest effect on mPAP at best
All of the PH drugs have a modest effect on mean pulmonary artery pressure at best.  In the Sildenafil trial (80 mg dose of Sildenafil taken 3 times a day) the average lung pressure at the beginning of therapy was 54 mm/Hg.  The average lung pressure at the end of the treatment was 52 mm/Hg.  There was very little impact on mean PA pressure, which is important.  Developing new ways to look at echo as well as other diagnostic tools to try to be able to say if PAH drugs are effective is a critical next step.
RV=Difficult to measure given interdependence with pulmonary circulation
Right ventricular function is often difficult to measure.  In the past it has been difficult to measure, given that it is ejecting into a pulmonary circuit.  Because of this, how the heart interacts with the lung and the pulmonary vasculature is important.
The RV may not hold on while attempting to reverse remodeling of the pulmonary circulation
Even though RV dysfunction can be recognized, it may not be able to hold on while waiting for reverse remodeling of the pulmonary circulation to occur.  It is going to be many years before we know if treating a patient with a mean PA pressure of 25 and a relatively normal preserved cardiac index (but with some evidence of pulmonary vascular remodeling) will reverse remodel with therapy. Part of the reason this is something not seen now is because patients die too quickly.
There is a need to develop techniques to study RV-PA Coupling
Because of these three factors, there has been a dire need to develop new techniques to study not just right ventricular function, but how the right ventricle interacts with the pulmonary circuit.
There is a need to move away from the "looks OK to me" mentality
In the past, there has been a "looks OK to me" mentality about PA, and it is crucial to move away from this to develop new study techniques. Clinicians need to be a little bit more quantitative and a little bit more scientific during assessment.
(1st row) A mouse model of aortic banding – a normal mouse heart left ventricle weighs about 70 mg. If the aorta is banded, and the LV end systolic pressure is around 170-175, within 3 weeks it is a big heart. It is already dilated, it is showing some signs of remodeling, there is big left atria. At 9 weeks it is a truly heart-failure heart.  At this point, these mice have ascites, heavy lungs from the pulmonary edema, and they are very sick.
(2nd row) If they are concomitantly treated with a PDE-5 inhibitor, this remodeling effect is prevented and reversed, despite the fact that both these hearts had an end systolic pressure in the 170 to 175 range.
(3rd row) The M-mode echo for those mice.  Notice at 9 weeks there is very little movement at all in fractional shortening.  These are a lot like the patients in cardiomyopathy clinic waiting for transplant.
  (4th row) M-mode echo for the mice when they are being treated with active drug.
Is phosphodiesterase type 5 (PDE-5), the enzyme that Sildenafil works on, is it present in the heart and does it have a real impact from a molecular standpoint? Four years ago, no one thought that PDE-5 was present in the heart. What has been found is that it is present in the heart and it can be localized to the Z-band.  The Z-band is an important area because there are a lot of regulatory proteins present.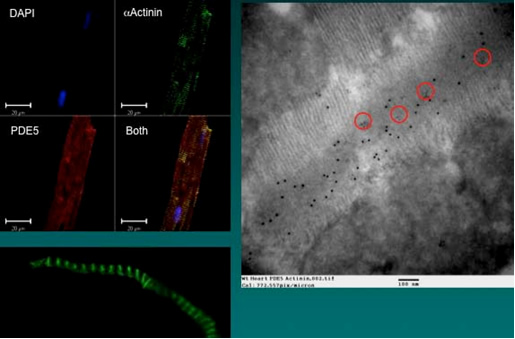 Immunohistic chemistry as well as immuno EM, looking at the presence of PDE-5. (Left) the large gold specks are alpha actinin, and then the small circle dots are PDE-5. (Right) A myofibular prep, protein stripped (with the exception of the Z-bands), PDE-5 lighting up along a kind of railroad track pattern in the myofibrils.
Are we actually having a direct impact on the heart as opposed to dilating the pulmonary circulation when treating patients for pulmonary hypertension with PDE-5 inhibitors?
To help answer this question, Anna Hemnis (a pulmonary fellow in the JH lab) essentially banded the pulmonary artery—just like we did the aorta. In order to try to take the lung out of the situation, the pulmonary artery was banded to create a constant pressure load on the right ventricle.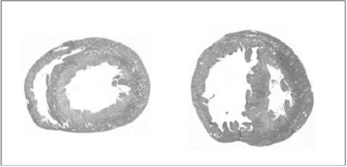 Under normal conditions (left), the right ventricle is kind of a sliver.  But, with a little pressure on it for a week or two, you see significant RV thickening as well as dilation of the right ventricle (right).
The figure above actually looks like a lot of our clinic patients; the D-shaped septum already bowing in when fixed in distention. Measurements are made with the little right heart catheterization technique, and indices of cardiac output by thermodilution. However, pulse wave Doppler is a much easier way to get cardiac output measurements. Recently, in order to assess direct right ventricular function, we have taken the teachings of Kiche Sagawa and Dave Cass and moved them over to the right ventricle. Instead of sticking the catheter in the left ventricle, where we get loops, we put it in the right ventricle. In the future, we are going to be looking at RV/LV interdependence and how they interact with each other with volume loading and the like.
What happens to these mice at a basic science level when the pulmonary artery is banded? There is a significant increase in total cyclic GNP dependent phosphodiesterase activity.  If inhibited with Sildenafil or Tadalafil, about 40% of all cyclic GNP catalysis takes place by PDE-5. When the pulmonary artery is banded, there is a significant increase in that PDE-5 activity suggesting, perhaps, that PDE-5 isn't an innocent bystander, but rather a mediator of disease.
PDE-5 inhibition can significantly increase PKG activity to downstream mechanism for cyclic GNP formation. After 2 weeks of pulmonary artery banding, there is fibrosis. If commonly treated with Sildenafil, that fibrosis can be prevented. Some recent data shows we can actually reverse part of the fibrosis. And, mice treated with PDE-5 inhibitor had the same end-systolic pressure (around 60).  But, despite that, there was significantly better systolic function when measured by power max normalized for end-diastolic volume, just a measure of systolic pressure-volume loop obtained systolic function.  And, more importantly, there was improvement in diastolic function.  So, there was a smaller artery, less fibrosis, and improved systolic and diastolic function. The mice lived longer when they were treated with PDE-5 inhibitor versus vehicle control.
If inhibiting an enzyme regresses hypertrophy, then up regulating that enzyme, we promote hypertrophy. Whereby, using adenoviral transfection with PDE-5, the total amount of cyclic GNP dependent phosphodiesterase activity increases two- or threefold. It also increases cell area and augments the hypertrophic response to neurohormones like angiotensin or endothelin. PDE-5 enzyme also organizes sarcomeres, which is a stress response in cardiac myocytes.
The RV:  "The evil side of the heart"
The right ventricle has been poorly understood with good reason. Most cardiologists are interested in pushing plaque away from coronary arteries, putting in stents, etc. They often consider the right ventricle to be the evil side of the heart, and in reality the right ventricle is actually quite important. As stated earlier, under normal conditions, the right ventricle looks like a sliver. With a little bit of pressure on the RV, it bows out.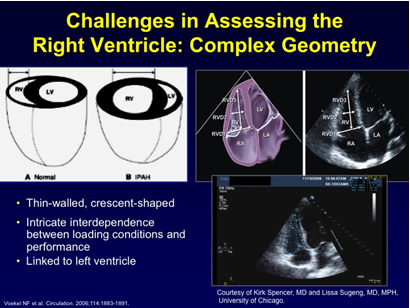 In order to try to capture the movement of a big right ventricle, some various measures other than just stroke volume of the right ventricle or ejection fraction of the right ventricle can be taken.  One of the most recent measurements used has been the curvature index—how much of the RV is going into the LV. After clots were removed, the curvature bowed back and resolved.
Testing options
RV biopsies of patients with pulmonary hypertension and scleroderma. On the macro level, remodeling is increasing the RV in end-diastolic dimension. On the micro level, the focus is primarily on fibrosis—MMP activation and such.
3D analysis — 3D echo. Multiple views of the echocardiogram are 3D reconstructed.  Most 3D reconstruction is done on infants or fetuses, but it can have some other applicability in the right ventricle, and give indications of regional wall motion and the like.
PET scanning. The metabolic demand and the metabolic utilization of fatty acid versus glucose in patients after therapy can be shifted.
The drawbacks to these newer testing models include expense, difficulty and time. In response, there may be something to do from a hemodynamic standpoint.
PDE-5A activity in human myocardium
(Top) the expression of PDE-5 in the nonfailing right ventricle, much like in the mice, lines up along that Z-band, and can overlay with a Z-band protein alpha actinin.  (Middle) Failing right ventricle myocytes, can still retain a significant amount of that alpha actinin localization, but there is also the diffuse pattern.  And, it appears that PDE-5, depending on nitric oxide synthase expression and activity, can move from the Z-band to the cytosol, and it may actually have some profound differences in terms of what it does when it moves.  (Bottom) For comparison, failing left ventricle.
Looking at the PDE-5 activity, comparing non-failing with failing isolated myocytes, there is about 50% higher PDE-5 activity.  And, looking at whole myocardium, there is two- to threefold higher expression of PDE-5 activity in hypertrophied and a failing heart.  This correlates very nicely with the protein level.
The higher the pulmonary vascular resistance is, the more likely a high PDE-5A activity for transpulmonary gradient and mean PA pressure. The lower the TAPSI score is (the tricuspid annular plane motion), the worse the heart failure. The higher the PDE-5 activity, the lower the TAPSI score is.
Expression of RhoA / ROCK in human PAH/SSc PAH heart biopsies
We looked at right ventricular expression on patients with scleroderma and pulmonary hypertension and looked at the right ventricular expression of rho-kinase (ROCK) and RhoA, a protein that activates ROCK. In patients with scleroderma as well as in idiopathic PAH patients, there is higher expression of RhoA activation compared to controlled patients. The controls tend to be donor hearts that were not used for transplantation and patients who were believed to have pulmonary hypertension but didn't have a mean PA pressure of greater than 25.
PKC-alpha activity (heart failure "switch")
Jeff Mulkenton and Lisa Cranius have recently published a paper suggesting that PKC-alpha is perhaps a heart failure switch; PKC-alpha is a major mediator of the heart signaling to go from hypertrophy to failure. PKC-alpha activity compared to the activity to control non-failing right ventricular samples showed that idiopathic PAH patients have about a twofold higher activity of PKC-alpha. The expression of PKC-alpha in patients with severe scleroderma and severe RV dysfunction shows a threefold higher activity of PKC-alpha.  For the scleroderma patients with mild RV dysfunction, it is still significantly higher than the control patients and closer to what we see with severe idiopathic PAH.  This evidence shows that PKC-alpha may be a reason why patients with scleroderma tend to manifest more RV dysfunction in the setting of lower PA pressures.
Scleroderma versus other forms of PAH
Data suggests that patients with scleroderma die from right heart failure quicker then patients with any other forms of PAH.  Is it because their pressure is higher, or because the arterial load is higher? No, the mean PA pressures are generally about the same.  Do they have more advanced RV dysfunction at baseline, or is it really just a combination of the two? Is it that the interaction between the RV and the PA is different in patients with scleroderma?
Common Misconceptions
BP is measure of afterload; BP results from interaction b/w cardiac function (ie, force of contraction/volume ejected) and arterial circuit (would make ventricle source of its own afterload).
Wall stress is afterload (PD/h): When? Wall stress is time-varying, with changes in chamber geometry and wall thickness through systole.
Resistance is only component of ventricular afterload: especially untrue in system  where pulsatility is exaggerated, ie, aging, HTN (systemic or pulmonary), COPD, hypoxemic diseases, and Scleroderma.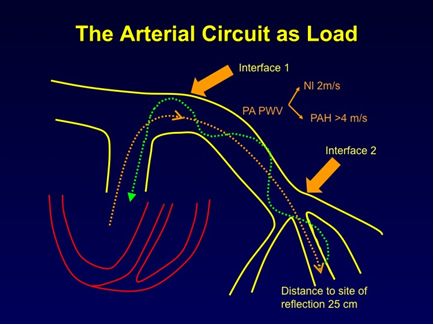 A cartoon showing the wave reflectance that Neko Westerhauf proposed many years ago.  As a fluid wave is sent through the pulmonary circuit, there is essentially a pressure wave that comes back.  The dotted lines give a graphic example of this dismounting wave reflection that comes back toward the heart.
Getting more from the RHC pressure-based measurements. The right heart cath pressure tracings can be run through a different computer analysis program to get pressure-derived measures of RV function. DPDT max can be used as an index of systolic function, especially when normalized for instantaneous pressure or diastolic function.
So, in all patients we can go back and get valuable basic RV function data from the right heart caths. Pulmonary artery input impedance can be measured by breaking the cardiac cycle down into a frequency domain. Using a right heart cath, a measure is made and the patient has PVR of 3 or 12 (essentially a single point).  Then it can be divided up in terms of the full frequency domain. So, instead of looking at small artery stiffness, we are looking at large artery stiffness. Normal human pulmonary artery stiffness is 2.3 or 2.4 hertz for a frequency of first minimal harmonic.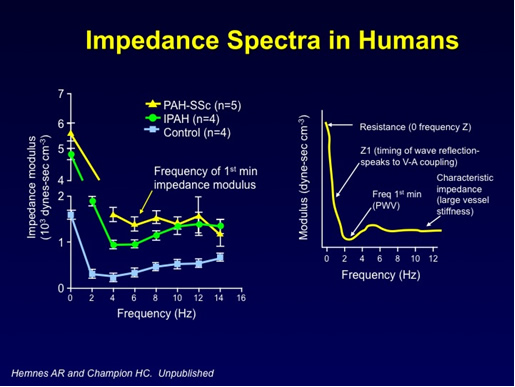 A normal patient with a PVR of <2 has their first frequency of first minimal harmonic right around 2.3 or 2.4.  In a patient with idiopathic pulmonary hypertension, that has shifted to upwards of 4. In patients with scleroderma, despite the fact that pulmonary vascular resistance is about the same, there is a significant shift in that large artery stiffness number (6 to 6.5). If these numbers are used as a measure of improvement with therapy, there is some decrease in this frequency of first minimal harmonic in the idiopathic patients.  There is a much bigger percent decrease in patients with scleroderma. Older patients can have a frequency of first minimal harmonic that is very similar to scleroderma.
Sildenafil patients 4 to 6 months after their treatment had a significant improvement in their systolic function when measured by 2 parameters (DPD TIP or power max normalized for EDV) and their diastolic function improved. Despite the fact that their mean PA pressure was no different, their RV function was better.  If the increase in pressure is normalized for the total pulse pressure, we get an augmentation index.
Differences Between IPAH and SSc-PAH
Indexes of Wave Reflection as Measured by Time-domain Analysis
| | | |
| --- | --- | --- |
| | IPAH (n=7) | PAH-SSc (n=8) |
| Pi (mm Hg) | 86 ± 11 | 74 ± 10 |
| Augmentation index (∆P/PAPP) | 0.09 ± .004 | 0.31 ± 0.06* |
| Ti (ms) | 125 ± 15 | 86 ± 12* |
| Ti/systolic time | 0.42 ± 0.04 | 0.29 ± 0.03* |
| Ti/BSA | 70 ± 9 | 41 ± 4* |
Future directions for treatment
In the future, treatment needs to focus not just on pulmonary hemodynamics, but also RV hemodynamics. By correlating this with other noninvasive measures, w will have something to offer to our scleroderma, lupus and rheumatoid arthritis patients.
Other procedures/goals to consider
Endomyocardial biopsy

Inflammation
Fibrosis
Plaquenil toxicity
Pathways of Disease

Correlating hemodynamics with noninvasive measures
Therapy for patients with mean PA pressures 20–25mmHg
Future changes in how we think about PH
RV/LV Interdependence
Determinants of RV Failure
Development of Treatments for RVH/Failure
Study of Differences in Signaling Pathways in RV and LV
For CME credit,TAKE POST-TEST & EVALUATION
All information contained within the Johns Hopkins Arthritis Center website is intended for educational purposes only. Physicians and other health care professionals are encouraged to consult other sources and confirm the information contained within this site. Consumers should never disregard medical advice or delay in seeking it because of something they may have read on this website.