Thomas A. Medsger, Jr., MD
Division of Rheumatology and Clinical Immunology
University of Pittsburgh School of Medicine
Dr. Medsger has no significant financial interest or relationships to disclose.
Release Date: July 9, 2010
Expiration Date: January 1, 2011
For CME credit,TAKE POST-TEST & EVALUATION
Objectives
After completing this activity, you'll be able to:
Discuss Serum Autoantibodies in Systemic Sclerosis (SSc)
Explain Rate of Skin Thickness Progression: A Guide to Prognosis in Early Diffuse SSc
Classification of SSc
SSc can be classified as diffuse disease, limited disease and either diffuse or limited disease in overlap.  Diffuse disease is indicated by widespread and rapidly progressive skin thickening above the elbows and knees.  Therefore, anything proximal to the elbows or knees, at any time during the course, is considered diffuse disease. These patients typically have a tendency to early internal organ involvement, particularly lung, heart or kidney.  Limited disease in contrast, consists of restricted and nonprogressive skin thickening, typically the distal extremities only, throughout the course of disease and more often includes late internal organ involvement. Interestingly, in overlap, the most common overlap is Polymyositis first, lupus second, and RA quite uncommon.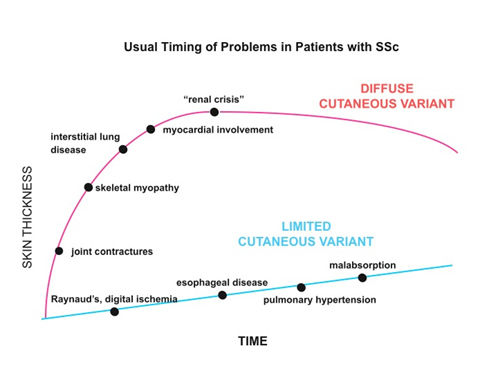 Patients with limited disease struggle with Raynaud's, digital ischemia, and a bad esophagus for a number of years; after 5, 10, 30 years serious internal organ involvement appears.  In contrast, patients with diffuse disease have rapidly progressive skin thickening early. Once one has reached a peak of skin thickening and it tends to improve, even spontaneously, there is very little risk of new internal organ involvement.  The most difficult distinction is when a patient has relatively recent disease and not much skin thickening. Practicing rheumatologists tend to say, "If the patient has sclerodactyly", or some involvement of the dorsum of the hand or maybe the distal forearm, "you have limited disease.  Come back in a year".  That is a mistake.  Because, early in disease things can progress rather rapidly, and early diffuse disease can be missed in this situation.  The clues are rapid progression: fingers, to the back of the hands, to the forearms, in a matter of several months. Early contractures and tendon friction rubs are warnings for diffuse disease. An autoantibody, which is associated with diffuse disease, is an additional warning.  It is crucial to have the patient come back in several months, to be sure what the evolution is, to decide whether or not any intervention is necessary, or to decide whether or not monitoring of one or another organ system is appropriate at that particular time.
There is also a serologic way to classify patients, which combines both diffuse disease on the left, limited on the right, and overlap below. Ninety-nine percent of patients with scleroderma have a positive ANA, but 90%, have at least 1 of the 9 antibodies listed below. They are not necessarily scleroderma-specific; they are scleroderma-associated in some cases, but scleroderma-specific in some.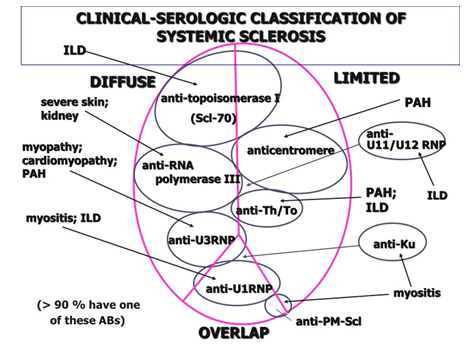 There are some limitations. First of all, not all these tests are available commercially.  The most recent test is an ELISA for anti-RNA polymerase III. Second, one can learn a limited amount from just ANA and staining pattern. An ANA that is positive with centromeric staining is probably anticentromere positive.  However, immunofluorescence is read by technicians and it is a vanishing art for technicians to be able to read immunofluorescence patterns.  So, fine speckles can be misread as anticentromere. There are two other things that may give a clue––high titer-speckled ANA (anti-U1 RNP antibody), and, if a patient has pure nucleolar staining with no other pattern, there are 3 that do it: anti-Th/To, anti-U3 RNP and anti-PM-Scl.  Those are the only 3 that have pure nucleolar staining.
These antibodies have MHC associations. In anti-Scl-70 versus population controls, HLA-DRb1-1104 is disproportionately represented among the anti-Scl-70 patients compared to the controls.  This is, perhaps, one reason why series of scleroderma patients differ depending upon what region of the globe they come from.  In 4 groups of patients, all of whom had serum studies, the profile differs according to where the patients come from.  Japanese patients have 2 dominant antibodies.  There are many articles about mixed connective tissue disease from Japan.  North American Caucasians have a mixed profile.  African-Americans have 2 dominant autoantibodies. Interestingly, in France, there is a disproportionate high frequency of anti-Scl-70 and a low frequency of anti-RNA polymerase III.  That may account for the fact that the Europeans say, "We don't see much renal crises".  One other interesting point, anti-PM-Scl is not found in the Japanese population; it's never been reported.  It turns out anti-PM-Scl is strongly HLA-DR3 associated, and that DR3 is virtually absent from the general Japanese population.
The newest antibody is anti-U11/U12RNP, which is an antibody directed against components of the minor spiclosomal complex.  Its specificity has been confirmed by immunoprecipitation, RT-PCR and southern blotting of snRNAs.  It has been found in 33 patients; only 3% in a consecutive series. It has not been found in other connective tissue disease. A high proportion, higher than antitopo-I, has interstitial lung disease, which is often severe and rapidly progressive.  Four of those patients progressed to lung transplant in a 1.5- to 2-year period of time. An Immunoprecipitation ban shows the U11 and U12 bans compared to other specificities.  There are many characteristics of patients which are not particularly different between anti-U3 RNP, anti-U11/12 RNP positive versus negative.  No demographic features separate them.  Classification is not different and none of the organ system involvements except pulmonary fibrosis distinguishes these patients.  Looking at pulmonary fibrosis in each of the autoantibody subsets shows that U-11/U-12 is quite different, 70% when one includes even the patients who have not had a chest x-ray or high-resolution CT scan of the lung as denominator, 70% versus much lower frequencies in all of the other autoantibodies including Topoisomerase.  The Ku business is probably just small numbers.
Childhood onset scleroderma seems to be part of the spectrum of systemic sclerosis in adults.  There's no bimodal distribution as one would find in childhood Dermatomyositis. A couple of years ago, we published our experience with a number of childhood onset patients accumulated over many years and compared them with younger and older adult groups:
111 childhood onset patients diagnosed 1960-2003; compared with younger and older adult onset groups
demographic features and classification subtypes (diffuse, limited, overlap)
organ system involvements
serologic studies (8 SSc-associated autoantibodies)
survival
The important thing is that patients with childhood onset have a much more frequent classification as overlap syndromes than younger adult and older adult patients.  This is in part because the autoantibody profile differs in the younger patients than it does in the older patients.  There are 2 antibodies that are disproportionately under represented in childhood–anti-RNA polymerase III and anticentromere.  In contrast, there are two antibodies that are over-represented in childhood–anti-U1 RNP and anti-PM-Scl, in which the frequency goes down. Antitopo 1, anti-Th/To and anti-U3 RNP are antibodies associated with overlap.  More than 1 of those autoantibodies is more frequent in childhood. In scleroderma, unlike lupus, there tends to be 1 antibody per patient.  Only 2% of patients have 2 or more of these scleroderma-associated autoantibodies, and none of those antibodies are more frequent in children.  Therefore, there must be other specificities that have not been identified in children or adults. ANA negative is somewhat more common, but even in childhood it's unusual to have a negative ANA in a patient with a clinical diagnosis of systemic sclerosis.
Known causes of death
There seemed to be a disproportionate frequency of cardiac causes of death.  And, this may not be unexpected because there are several articles which suggest that children have a greater frequency of cardiac involvement and a greater frequency of skeletal muscle involvement.  So, skeletal muscle and cardiac muscle are probably associated in their tendency to be a target for childhood disease. Bill Follansbee found, in patients who have both cardiac and skeletal muscle involvement, that there's a high frequency of sudden death–probably due to arrhythmia from fibrotic replacement of myocardium and conduction system. Another article (Quartier) suggests that myositis is associated with severe muscle involvement.
Rate of Skin Thickness Progression: A Guide to Prognosis in Early Diffuse SSc
Diffuse cutaneous systemic sclerosis (dcSSc) has a greater case fatality rate than any subset of patients among the connective tissue diseases. Serum autoantibodies in dcSSc include anti-topoisomerase I (topo I), anti-RNA polymerase III (RNA pol III), and anti-U3RNP. Rheumatologists and clinical researchers should understand the factors associated with different outcomes in these autoantibody subsets. Our purpose was to describe the rate of skin thickness progression as a possible association of survival and a possible association with the frequency and timing of internal organ involvement. There are multiple subsets of patients with diffuse disease.  They can have very rapid skin thickness progression, intermediate skin thickness progression, or slow skin thickness progression.
Methods/Study Population
all SSc patients with first Pittsburgh evaluation during 1980-2004
dcSSc at first visit (skin thickening proximal to elbows or knees)
skin thickening < 2 years from its onset
one and only one serum autoantibody identified
– anti-topo I
– anti-RNA pol III
– anti-U3RNP
– none of the above (other)
The skin thickness progression rate was evaluated using:
TSS at first visit
(date of first visit) – (date of skin onset)
The modified Rodnan method was used for measuring the score at the first visit, and skin onset was defined as the first appearance of swollen fingers that never again returned to normal size. These patients had less than 2 years of disease duration and their recall was quite good.  Physician documentation was used when possible, but only 3 physicians determined that date of skin thickness onset.  The skin thickness progression rate was defined as the score at the first visit divided by the time it took to develop that score. Therefore, if there was a score of 24 at the first visit, and it took 8 months to develop that, the score would normalize to a year and the skin thickness progression rate was 24 in 8 months or 36 in 12 months. Many different types of onset have been reported, particularly in clinical trials.  And, although this has some softness to it, it is much more uniform than what has previously been used in a multitude of clinical trials. The autoantibodies test was repeated in the same lab. Organ system involvement was defined as the date of first symptom attributable to involvement of an organ (confirmed by objective finding) or date of first objective finding in the absence of symptoms.
Outcome Measures
Organ Involvement

gastrointestinal tract, lung (ILD or PAH), heart, kidney (SRC)

frequency
severity (death due to involvement)
time to organ involvement
Survival

5-year cumulative survival rate (CSR) by Mantel-Haenszel method
Baseline characteristics of patient population at first visit
Six-hundred and sixty-eight patients satisfied these criteria.
| | |
| --- | --- |
| Mean Age | 46.4 yrs |
| Female | 75% |
| Race | |
| – Caucasian | 91% |
| – Black | 5% |
| – Other | 4% |
| Median Skin Duration | 0.8 yrs |
| Autoantibody | |
| – Anti-RNA Pol III | 42% |
| – Anti-topo I | 26% |
| – Anti-U3 RNP | 3% |
| – Other |  29% |
Results
The 668 patients were divided into tertiles and arbitrarily defined by rate of skin thickness progression; rapid, intermediate, or slow.
Rapid                   45+/year           (n=223)
Intermediate      25-45/year         (n=227)
Slow                 <25 year           (n=218)
Individual autoantibody subsets
Rapid
Intermediate
Slow
RNA Pol III
(n=282)
40%
40%
20%
Topo I
(n=172)
30%
30%
40%
U3 RNP
(n=20)
25%
25%
50%
Other Ab
(n=194)
27%
30%
43%
Baseline Values by Autoantibody
Skin Score
(mean)
Skin Duration
(median)
STPR
(median)
RNA Pol III
29.4
0.7
38.2
Topo I
25.6
0.8
33.5
U3 RNP
20.7
0.8
20.6
Other Ab
25.0
0.8
29.1
STPR and Survival by Autoantibody
Median STPR (units/year)
Mean
5-Year CSR
RNA Pol III
38.2
81%
Topo I
33.5
66%
U3 RNP
20.6
47%
Other
29.1
74%
Although they had the highest progression rate, anti-RNA pol III patients had the best 5-year survival.  Topo had intermediate, U3-RNP the worst survival.  Why is that?  Without renal crisis in an anti-RNA pol III positive patient, it's uncommon to get severe lung, heart, or GI disease.  Using the 5-year survival method, the rapid progression patients had a significantly worse survival than the slow or the intermediate, and the slower and intermediate are basically the same.
Autoantibody group
In the anti-RNA polymerase III antibody positive group, how frequent was renal crisis in the rapid versus the intermediate and slow combined, when did it occur, and how severe was it?  The severity classification dealt primarily with permanent dialysis or death from complications.
Renal crises tended to occur more frequently in the rapid progression patients (top left).  It occurred within the first year more frequently and it was more severe; but heart, lung and GI tract were not significant.  Even within the RNA pol III patients who had the best survival, those with the rapid progression had survival that was significantly lower than those with intermediate or slow skin thickness progression.
With Topo the frequency of interstitial lung disease did not differ, but it developed significantly earlier within the first year in the rapid progression Topo patients.  Renal crisis tended to have the same parameters as heart.  So, in Antitopo 1, patients are subject to interstitial lung disease, early renal crises and cardiac involvement.  This accounts for the difference between the survival in pol III and Topo patients.
What about the timing of interstitial lung disease?(left center) This is a small series but, 27 out of 27 patients with antitopo 1, who had rapid progression of skin thickness, developed their interstitial lung disease within the first year, and it did not occur in subsequent years, at least in this small series of patients. Anti-U3 RNP had marginal significance for cardiac involvement and reduced survival, and the other autoantibody patients probably a potpourri of specificities, no associations with internal organ involvement or survival.
After following these patients, it seems that this is the type of progression that one sees over a 2-year period of time: RNA pol III patients, rapid progression of skin thickness, they reach a peak and then they improve significantly.
Therefore, if a clinical trial began at a particular time, the expectation for skin thickness in the RNA polymerase III patients would be to improve over a 2-year period of time, but not so in the Topo or U3 RNP patients.  Suppose the clinical trial shifted and began earlier in the natural history of disease––making the onset of disease an important part of determining who gets into a clinical trial, then a different expectation would occur.  Anti-RNA pol III patients after 2 years may be expected to be considerably worse with regard to skin thickness.
What are the implications for clinical trials?
First of all, if a clinical trial recruits or enrolls different proportions of patients with these autoantibodies into the treatment and control arms, the expectations for skin score would be different at the end of the trial between those groups.  Therefore, the proportion and timing of internal organ involvement would be different and survival would be different.  This indicates that clinical trials are comparing apples and oranges. In the design of future clinical trials, stratifying patients according the their autoantibody subtype should be considered.
Conclusions
Rapid STPR at first evaluation in early dcSSc has significant associations with (1) frequency, severity, and rate of development of internal organ involvement and (2) survival.
Individual autoantibody groups have different profiles of association with STPR, internal organ involvement and survival.
Assessment of patients in the office and at clinical trial enrollment should take into consideration serum autoantibody and STPR.
The study's strengths:
Large, single-center, well-characterized inception cohort
A limited number of physicians made these determinations and they were prospective, and
A single lab did all of the autoantibody testing.
The study's weaknesses:
It is a single-center study; there is undoubtedly some referral bias
The date of onset of skin thickening is soft; although it's not as soft as many of the previously accepted onset dates in clinical trials.
Complete organ system involvement followup data as one would acquire in a clinical trial where everybody has certain tests done at 6-month or 12-month intervals is not available—there is missing information on death as well as organ system involvement, and
The number of U3 RNP patient studied is quite small.
This method of estimating skin thickness progression is not the only method that has been published.  This method basically takes skin thickness at the first visit and making some prognostic estimations based on whether it's rapid, intermediate, or slow.  The other method (published simultaneously, called the Linear Trajectory Method) takes the patient's skin score at the first visit, measures what happens between visits one and two, and rates progression at that time.
Differences between STPR models
Characteristic
Progression Rate Method 1
(Pittsburgh)
Linear Trajectory Method 2
(London)
dcSSc < 2 Years
+
+
Organ Involvement Defined
+
+
Disease Onset Definition Uniform
+
O
Can Calculate at First Visit
+
O
Requires Follow-up Evaluations
O
+
Proportion of Patients Classifiable
100%
58%
Autoantibodies Considered
+
+
Progression Patterns Described
+
+
Published articles
(Perera et al. Arthritis Rheum 2007; 56:2740-46)
Looking at one particular antibody, antitopo I, a similar rate of skin thickness progression division was performed.  There were five groups, patients with:
Diffuse disease classified as rapid (dc-r)
Diffuse disease classified as intermediate (dc-i)
Diffuse disease classified as slow (dc-s)
Limited disease present at first visit, but on follow-up they developed diffuse disease (lc to dc)
Antitopo I that never developed diffuse disease (lc to lc)
The questions we were trying to answer were:
What is the meaning of having antitopo I, which is typically associated with diffuse disease, but only having limited skin thickening?
Is there any prognostic implication of that association?
With regard to pulmonary fibrosis, there didn't seem to be much because patients who had lc to dc had high frequency of pulmonary fibrosis.  The lc to lc is a small group (approximately 14 patients), so it's difficult to make a conclusion there. There was no difference between dc-r, dc-i and dc-s in terms of the frequency of pulmonary fibrosis.  When examining cardiac disease, the highest rates were in the dc-r and dc-i group, making rate of progression meaningful in that circumstance.  Similarly, rate of progression affected frequency of renal crisis. Patients with limited skin thickening and antitopo 1 antibody did not develop renal crisis during followup.
Robyn Domsic has been looking at a way to develop a mortality model based on onset of skin thickening as the time of onset (Domsic et al. Arth Rheum 2007:56:S53-abstract):
Odds Ratio
95% Confidence
Interval
P-value
SRC
3.09
1.91 – 5.01
< 0.0001
African-American
2.95
1.43 – 6.12
0.003
Cardiac Involvement
2.11
1.33 – 3.35
0.002
Rapid STPR (>45)
1.63
1.10 – 2.42
0.01
Age at Symptom Onset
1.04
1.02 – 1.05
< 0.0001
Anti-RNA Pol III Ab
0.44
0.29 – 0.66
< 0.0001
Methods
Force vital capacity % Loss Rate (FVCLR)
calculated at first visit
time defined as years from onset of first SSc-related symptom to the first visit
FVCLR = 100% – FVC% predicted at first visit
time from symptom onset to first visit (years)
For example:
FVC% predicted at first visit = 85%
Loss of FVC = 100% – 85% = 15%
Taken as First SSc-related symptom (skin thickening)
The first scleroderma-related skin symptom was 9 months (0.75 years) before first visit
Therefore, the FVCLR occurred 3/4 of a year from the onset of the first symptom, or 20% per year.
Slow = <15% loss / year
Intermediate = 15-30% loss / year
Rapid = 30+% loss / year
Using these methods, the rate of loss distinguished between patients with a slow rate of skin thickness progression who had a better 5-year survival and patients with an intermediate and rapid rate of FVC loss––those patients had lower survival.
For CME credit,TAKE POST-TEST & EVALUATION
All information contained within the Johns Hopkins Arthritis Center website is intended for educational purposes only. Physicians and other health care professionals are encouraged to consult other sources and confirm the information contained within this site. Consumers should never disregard medical advice or delay in seeking it because of something they may have read on this website.