by Julius Birnbaum, MD
Fellow, Division of Rheumatology
Johns Hopkins University School of Medicine
Release Date: April 26, 2006
Expiration Date: April 26, 2008
Dr. Birnbaum has no significant financial interest or relationships to disclose.
For CME credit,TAKE POST-TEST & EVALUATION The ca
se is a 77-year-old Caucasian female with a medical history significant for diabetes and hypertension. She was transferred to Johns Hopkins for further evaluation of a myopathy occurring in the context of interstitial lung disease (ILD). The patient was a very active woman until about six months before admission, when she first experienced insidious progression of shortness of breath. A chest X-ray was suggestive of ILD, with a bi-basilar predominance of fibrosis. Over the ensuing months, the patient experienced substantial functional decline. She deteriorated from a baseline of ambulating two to three miles a day on a treadmill to having shortness of breath on minimal transfers from bed. Her initial CAT scan report showed severe interstitial fibrosis with honeycombing bronchiectatic changes throughout the lower lung fields. Pulmonary function tests revealed a mild restrictive defect by dynamic lung volume with a severely decreased diffusion capacity, down to 25% of predicted. One or two months before admission, even limited ambulation had precipitated desaturation.
Interestingly, one month before admission, the patient started experiencing weakness in a myopathic pattern. In subsequent weeks, she noticed a worsening difficulty arising from a seated position. By the time she was admitted to an outside hospital, she was actually bed-bound.
The initial physical examination at the outside hospital revealed her to be in moderate respiratory distress, requiring significant amounts of supplemental oxygen. There was little evidence of volume overload. The neck veins were flat. There was no edema. Diffused crackles were heard throughout all the lung fields. On neurological examination, she had a proximal gradient of muscle weakness, moderate weakness of the upper extremities, 4 to 4+, and she was unable to flex her proximal lower extremities against gravity. She had an unremarkable echocardiogram. There was no left ventricular dysfunction, no diastolic dysfunction, and no pulmonary hypertension. She was treated with a five-day course of Levaquin® and nebulizers without benefit. She had a non-diagnostic transbronchial biopsy, and after that she underwent an open lung biopsy. It was initially interpreted as consistent with a histological counterpart of idiopathic pulmonary fibrosis (IPF): unusual interstitial pneumonitis (UIP). In the days after the biopsy, the patient became even more dyspneic, gradually requiring 100% oxygen by face mask to maintain saturation above 90%. Without any rationale, she was empirically given Solumedrol (50mg IV, q12h), with no improvement in her respiratory status. Because of the diagnostic uncertainty underlying her pulmonary myopathic symptoms, she was transferred to Johns Hopkins Hospital for further evaluation.
She was initially admitted to the Pulmonary Service, where again she was noted in moderate respiratory distress with myopathic changes on exam. Her initial labs and serology showed a white count of 10.5 and hemoglobin of 8.5, which were consistent with her prior labs. Her UA was consistent with E. coli urinary tract infection. Sediment was not active. There were no casts or dysmorphic cells. Pertinent initial serological lab showed an RF of 913 and an ANA of 1:80 in a nucleolar pattern. Interestingly, there was normal creatinine kinase (CK) and aldolase, and inflammatory markers and the rest of the labs were all normal.
The initial CAT scan (shown below) was interpreted as consistent with IPF. It showed just the bibasilar predominance of fibrosis, with a thickening of the lobular septum.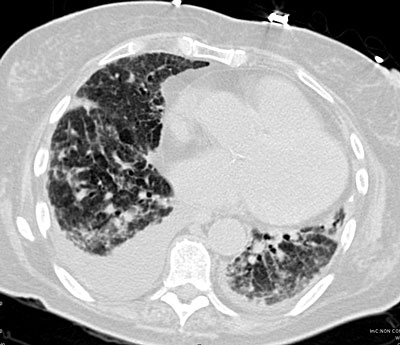 Atypical of IPF was the presence of bilateral pleural effusions, more right than left — all the more remarkable in the absence of any clinical evidence of congestive heart failure (CHF). Also atypical of this IPF was the apical extent of fibrosis. (shown below)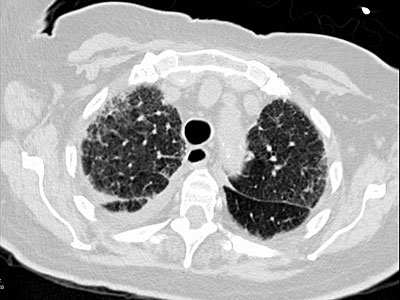 You actually could see the suggestion of some ground-glass inflammation. These were radiographic clues that perhaps the IPF diagnosis was suspect.
Presentation at Johns Hopkins
We were initially consulted on day 3 of her hospitalization. Due to a worsening myopathy in the context of ILD, with an elevated rheumatoid factor, a rheumatology consult was requested. Our exam was largely unchanged from prior exams, although at this point, interestingly, the patient was in less profound respiratory distress. Her oxygen requirements had dropped to 20% from 50%. We confirmed the presence of diffused inspiratory crackles; in particular, there was no cutaneous stigmata of dermatomyositis. There was absolutely no synovitis or joint deformity with reference to the elevated respiratory frequency titer. In her initial neurological examination, she had no bulbar dysfunction. Her neck flexion was about 4 out of 5. She had moderate weakness in the proximal upper extremities, 4 to 4+ out of 5. In her proximal lower extremities, she was unable to flex against gravity. She actually had impact reflexes throughout. Clinically, this is more consistent with a myopathy than any neuropathy.
Rheumatoid arthritis, lupus, scleroderma, mixed connective but undifferentiated connective tissue disease, and inflammatory myopathy are the rheumatologic disorders associated with ILD. But in this patient, upon transfer to Johns Hopkins, the evolution of myopathy in the context of ILD made it suspicious for an inflammatory myopathy, particularly in the context of a possible tRNA synthetase syndrome.
To further evaluate her myopathy, she underwent an electromyogram (EMG), which suggested mild myopathic changes, but without irritability. This, given normal levels of CK, pointed away from the diagnosis of inflammatory myopathy and more toward a toxic — for example, steroid — myopathy. What was interesting was that she was kept on Solumedrol, and by hospital day 6, serial neurological exam showed that she definitely had evidence of improving weakness, but specifically, she was now able to flex her thighs against gravity and she had graded improved strength in her deltoids. Functionally, which is always more important in moderate neurological status, she herself reported improvement in her ability to manipulate herself in bed. To further evaluate her myopathy, she underwent an MRI of her thighs. (shown below)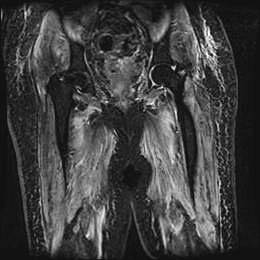 The MRI showed rampant, diffused, edema-like changes in all the thigh musculatures. In fact, the radiologist commented that there was not a single muscle group in the lower extremities that was spared.
This seemed to exhaust the initial differential diagnosis. The low levels of CK, not consistent with an inflammatory myopathy, and mild improvement on Solumedrol argued against a steroid myopathy. The incongruity between clinical and radiographic features suggested a very large burden of muscle inflammation, and laboratory and electrodiagnostic evidence, which showed little myonecrosis, prompted a skeletal muscle biopsy.
On hospital day 6, a biopsy of the left quadriceps muscle was performed. (shown below)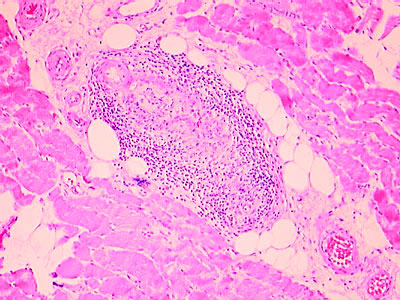 The findings were compatible with vasculitis. The official report noted: "multiple foci of perivascular inflammatory cells in the perimysium, with frank vessel wall invasion in one focus, consistent with vasculitis." It showed the perimysial vessel with inflammatory cells, and complete obliteration of the lumen. The serology results revealed that the patient was seronegative, but she was found to be pANCA positive, with a positive myeloperoxidase (MPO) enzyme-linked immunoassay (ELISA). cANCA and PR3 were negative.
Given the pANCA and MPO positivity, the case can be reformulated as follows: There is a subacute progression of a myopathy, which is secondary to skeletal muscle vasculitis, with serological evidence implicating a microscopic polyangiitis. What are the implications of identifying vasculitis in this case? We need to consider two questions:
How often does a systemic vasculitis present as a symmetric and a diffuse myopathy?
How tenable is the diagnosis of IPF, especially when seen through the prism of an established diagnosis of vasculitis?
Medium vessel vasculitis, particularly polyarteritis nodosa (PAN), can present with musculoskeletal complaints. Up to 70% of patients present with myalgia, and this, in fact, constitutes an American College of Rheumatology (ACR) criterion and is part of diagnosis. PAN presenting with significantly elevated CK is unusual in a medium-vessel vasculitis, but it is actually rare in small-vessel vasculitis. Our case and review of the literature show that when skeletal muscle vasculitis occurs in the context of a medium- or small-vessel vasculitis, the normal levels of CK suggest that there is functional ischemia without biochemical evidence of myonecrosis. What we frequently see in these inflammatory myopathies is EMG showing what is called an "irritable pattern." Mechanistically, this occurs when myonecrosis of muscle fibers leads to isolation or an effective denervation from the neuromuscular junction. In our patient, the normal level of CK and the action of what is considered electrodiagnostic irritability on EMG suggested that the mechanism of muscle weakness was not secondary to myonecrosis. This probably explains the rapid clinical response to steroids.
MRIs can play an important role. Although the edema-like changes on MRI are not specific, this case suggests that in the vasculitides, where myopathy does not appear to be due to myonecrosis and confronted with a normal CK and EMG, MRI might serve as a better paraclinical marker of disease activity. Just as in the inflammatory myopathies, MRI appears to be a valid adjunctive tool for assessing response to therapy, monitoring patients, and guiding sites for muscle biopsy.
Now that we have the presence of a skeletal muscle angiitis occurring with the serological pANCA and MPO positivity, we'll review the American Thoracic Society's consensus criteria for the diagnosis of the idiopathic interstitial pneumonia (IIP) and see whether the diagnosis of IPF is justified.
Again, the histopathological counterpart of IPF is UIP. Basically, UIP changes can be seen in many systemic inflammatory diseases. In this case, the preferred histopathological diagnosis is "UIP-like." Given the grim prognostic and therapeutic implications of a diagnosis of IPF, it really needs to be a constant, multi-disciplinary assessment for merging signs and symptoms, which would suggest a systemic disease and, therefore, would remove the so-called "interstitial process" from the rubric of an idiopathic disease. The final clinopathological diagnosis, including the issue of whether it is really idiopathic, can be made only after careful correlation with clinical and radiographic features — after the pulmonologist, radiologist, and pathologist have reviewed all the clinical, radiological, and pathological data obtained from the patient. In this case, the lack of interaction between pathologist and clinician hampered diagnostic clarity.
"Fibroblastic foci" as well as a "temporal heterogeneity" were mentioned– features that are characteristic of UIP. But there was something about the pattern and distribution of fibrosis that was discomforting. We need to carefully look for biopsy features that are incongruous with a diagnosis of UIP. Keep in mind that, although the pathology might be compatible with an IIP, the onus of diagnosing ILD as idiopathic really falls on the clinician.
To repeat, UIP is the pathological description; IPF is the diagnosis. Four important histopathological features of UIP are:
Fibroblastic foci, which are zones of active fibrosis, neurofibrosis, and acellular collagen
Geographic heterogeneity which is basically interstitial changes where there is a mixture of normal and abnormal lung
Honeycomb changes, which implies architectural distortions (which are irreversible)
Interstitial inflammation, which is mild compared with other IIPs.
This was what was identified on the first test at the outside hospital. Also, there were areas where fibroblastic foci were mixed with areas of normal lung, which is called "geographic heterogeneity," or abnormal lung mixed with normal lung.
This is atypical for a UIP. Something else that was absolutely atypical of UIP was a pink kind of rugged smooth muscle that was separated from the respiratory epithelium by a band of fibrosis. (shown below)
The band of fibrosis really should not be there. It is described in the pathology literature as "a nonspecific finding seen in the context of systemic diseases."
The other thing not commented on by the outside hospital was the hemosiderin-laden macrophages. (shown below)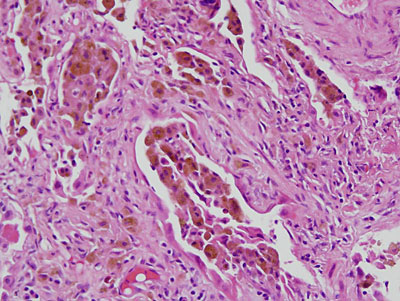 Their presence implied that there was a chronic hemorrhagic component. Again, nonspecific — but once you start getting a hint of an atypical story, it's a clue that something else is going on in this patients. Remember: IPF is a clinico-radiographic-pathological designation; diagnostic certainty fluctuates as information changes. In retrospect, diagnostic skepticism should have existed for the following reasons:
Radiographic and pathologic: Although fibroblastic foci and geographic heterogeneity were present, the bronchialocentric pattern of fibrosis showed an apical distribution as well as more bibasilar distribution of fibrosis.
Clinical: The emergence of extra-pulmonary features. Once there are any signs of extra-pulmonary disease, the diagnosis of IPF really should be called off.
ILD needs to be reevaluated in the context of skeletal muscle angiitis with pANCA and MPO positivity. The question here is: Can an ANCA-associated vasculitis initially present monosymptomatically with a pulmonary syndrome that is indistinguishable from an IIP, and only later become clinically transparent when presenting with an active disease in another organ? This is an important question because neither the APS consensus classification of ILD nor review articles describing ILD evolving in the context of connective tissue disease list vasculitis among the syndromes of rheumatologic disorders that can mimic the presentation of an interstitial pneumonia. Although it is unusual, there are reports of ILD presenting as a pulmonary manifestation of an ANCA-associated vasculitis.
Although uncommon, microscopic polyangiitis definitely can present with a syndrome of ILD, which can be indistinguishable from IPF. The coupling to renal disease is crucial in unmasking the presence of the vasculitis. Although pulmonary renal syndromes have been reported, our patient represented the first reported case of a pulmonary-muscle syndrome.
Reviewing the lung pathology, the diagnosis of IPF did not fit. There was evidence of vasculitis in the skeletal muscles emerging in the context of ILD. So, the challenge to the pathologist was twofold:
Was there subtle evidence of a small vessel pulmonary vasculitis that had been overlooked when the initial clinical and radiographic presentation was biased more toward the diagnosis of IPF?
Might any of these pathological findings suggest a mechanism of ILD in a p+ANCA vasculitis?
Looking at the lung biopsy another time, the pathologist was struck by the pattern of fibrosis — a respiratory bronchial, with a band of fibrosis interposed between the epithelial surface and the smooth muscle layer. He noted no airway disease, and preferred to consider it a constrictive bronchiolitis. Capillaritis is a very tough diagnosis to make pathologically. The sequence of events seen in capillaritis is fibrinoid necrosis, leukocytoclasis in the vessel walls, and rupture of red blood cells in the alveolar space. In this case, the entire spectrum may not be seen when there is less robust evidence of bronchoalveolar hemorrhage.
However, evidence of alveolar hemorrhage, hemosiderin-laden macrophages, right next to a fibroblastic bursa could be seen. This suggests the process of vasculitis or putative vasculitis and fibrosis really needs to be coupled. After about two hours of looking at the slides, the pathologist found leukocytoclasis. (shown below)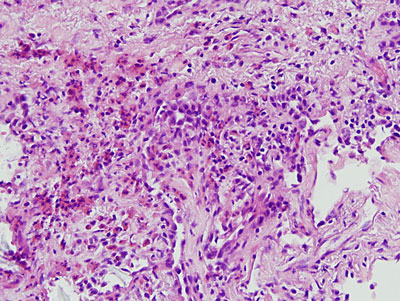 You could see the granulation of neutrophils, the so-called neutrophilic dust — suggesting the footprint of a capillaritis, even without finding active evidence of vasculitis. Keeping the pathologist in the loop paid huge dividends.
We learned several things from this:
A lot of patience and a huge level of clinical suspicion are needed to elicit subtle evidence of capillaritis. Capillaritis can be quite subtle and the finding of leukocytoclasis may require diligent scanning of different foci of interstitial fibrosis in the biopsy specimen.
A bronchialocentric pattern, in this case a constrictive bronchiolitis, should prompt a search for a systemic disease.
The juxtaposition of hemosiderin-laden macrophages and fibroblastic foci suggested that capillary hemorrhage can induce active zones of fibrosis with a syndrome of ILD similar to IPF.'
Finally, what about these hemosiderin-laden macrophages? Does this finding suggest a mechanism for how this causes ILD? Hemosiderin-laden macrophages have been recovered from bronchoalveolar lavage (BAL) fluid of vasculitic patients with alveolar bleeding, but hemosiderin-laden macrophages also have been recovered on some vasculitic patients without any overt evidence of alveolar hemorrhage (although recovery of cells on patients with other connective tissue diseases is reportedly rare). The question that emerged from this was whether a phenomenon of so-called "subclinical alveolar hemorrhage" occurs more often in patients with the small-vessel vasculitides rather than connective tissue disease? Was subclinical alveolar hemorrhage a viable syndrome to explain the progression of ILD in patients with no overtly manifest episodes of diffused alveolar hemorrhage?
The literature includes a report (Schnabel A, et al. Eur Respir J 1999; 14(1):118-24) where the percentage of hemosiderin-laden macrophages are used as a surrogate marker for subclinical alveolar bleeding. They compared the incidence of what they defined as high-level, iron-positive macrophages (< 5% of cells) recovered from the BAL in 49 patients with an ANCA-associated vasculitis with the incidence in 44 patients with various types of connective tissue diseases. They found that 53% of patients with ANCA-associated vasculitis had high-level, iron-laden macrophages in the BAL, compared with 27% of patients with connective tissue disease. When they compared the 53% of patients with ANCA-associated vasculitis that included high-level macrophages to patients with vasculitis that did not have them, they found that patients with higher levels of MPO in the BAL also had higher systemic indices of disease activity.
In other rheumatologic syndromes, endothelial cell damage, as part of a pulmonary microangiopathy, is hypothesized to drive pulmonary fibrosis. The severity of ILD in inflammatory myopathies has been correlated with so-called microangiopathic changes of dropout seen on nailfold capillaroscopy. In the ANCA-associated vasculitides, just as there is evidence for a pulmonary microangiopathy to induce interstitial fibrosis and other syndromes, a pulmonary microangiitis — either in the form of capillaritis or subclinical alveolar hemorrhage — might drive pulmonary fibrosis in the ANCA-associated vasculitides.
The patient was started on prednisone 60, and Cytoxan initially at 1 mg/kg, which eventually was increased to 1.5 mg/kg. Her response was dramatic. After two weeks, her supplemental oxygen requirement had decreased to 2 to 4 liters. She had recovered proximal muscle strength and was able to transfer from the bed with a walker. She was discharged to inpatient rehab and sent home after four weeks. By six weeks, she was ambulating around her home with a cane. After three months, she did not require any oxygen at rest, and she could ambulate around home without assistance. This was very gratifying to see. She has required readmission for hypoglycemia and deep vein thrombosis. The paraclinical burden of ILD (measured by follow-up chest CT and PFPs) has neither progressed nor improved.
In summary, this is apresentation of an MPO-positive case of microscopic polyangiitis presenting with a previously undescribed "pulmonary muscle syndrome." As this case illustrates, the fact that microscopic polyangiitis presents monosymptomatically with an isolated phenotype that is similar to IPF reinforces the importance of including the ANCA-associated vasculitides in a differential diagnosis of IPF. Although it was the first reported case of a pulmonary muscle syndrome, this reflects a possible underdiagnosis of muscle disease in vasculitides rather than disease rarity. People get thrown off by normal CKs and EMGs. In skeletal muscle angiitis, myalgias and myopathic weakness should be thought of as a spectrum of symptoms that are attributable to reversible ischemia rather than myonecrosis. The fact that there is no myonecrosis explains the normal levels of CKs and the so-called "non-irritability" seen on electrodiagnosis.
It's important to understand that this is a reversible ischemia because prompt treatment will prevent progression into myonecrosis. In the context of systemic vasculitis, the presence of even myalgias should raise clinical suspicion of skeletal muscle angiitis.
Valuable lessons can be gleaned from this case:
Although uncommon, there are potentially treatable cases — patients walking around with an ANCA-associated vasculitis — who are being misdiagnosed with IPF.
Clues exist that should lead us to suspect that ILD is mimicking an ANCA-associated vasculitis:

Clinically, there needs to be constant surveillance for extrapulmonary signs or symptoms.
Radiographically, as we saw, an apical distribution of fibrosis — although not in itself incompatible with IPF — should raise diagnostic skepticism.
On biopsy, a bronchialocentric pattern of fibrosis, although representing nonspecific findings, seems to be more commonly associated with ILD secondary to systemic disease than in UIP and should raise a red flag in the diagnosis of IPF.
There is a big role for the rheumatologist in helping assess when idiopathic pulmonary fibrosis is not truly idiopathic. This case suggests a mechanism for the development of ILD in the ANCA-associated vasculitides. Subclinical alveolar hemorrhage is a viable clinical phenomenon and probably can explain the progression of interstitial fibrosis. It really mandates a closer collaboration with physicians who specialize in ILD to identify these subsets of patients with an ANCA-associated vasculitis who are presenting with a monosymptomatic presentation of ILD and are initially being diagnosed erroneously with IPF — and not only diagnosed, but really indicted and condemned because of poor treatment. Although this is uncommon, there are patients thought to have IPF and myalgias who possibly would fall under the rubric of an MPO-positive pulmonary muscle syndrome, and might benefit from treatment of their vasculitis.
For CME credit,TAKE POST-TEST & EVALUATION