By: Gordon Lam, MD
Dr. Lam has no significant financial interest or relationships to disclose.
Release Date: March 20, 2009
Expiration Date: January 1, 2011
For CME credit,TAKE POST-TEST & EVALUATION
Objectives
To discuss an illustrative case of antiphospholipid syndrome (APS).
To evaluate molecular mimicry and its postulated role in autoimmune diseases.
To propose a conceptual link between molecular mimicry and the pathogenesis of antiphospholipid syndrome.
Case Report
29-year-old African American female from New York City
History significant for Crohn's disease
Blood cultures on admission grew Staphylococcus epidermidis and Candida albicans
Catheter was removed
Discharged to rehabilitation facility after a 2-3 week stay
A month after the patient was admitted for bacteremia, her right hand and left foot became acutely painful, swollen, and red. Over next two days, the tip of her right fifth finger and left fourth toe went from red to blue to dark blue. She presented to a second outside hospital, where they did an echocardiogram that showed a questionable right atrial thrombus. Given her prior history of septicemia, she was diagnosed with endocarditis with embolic phenomena and transferred to Johns Hopkins for further management. She was directly admitted to the Coronary Care Unit, where a transesophegeal echocardiogram (TEE) interestingly showed no evidence of thrombus or mass. In fact, all of her valves were pristine.  The interatrial septum was intact, and there was no patent foramen ovale.  By Doppler and bubble studies, no shunt physiology was observed, and the aortic root and arch were normal. A trace pericardial effusion was noted.
Patient History
The patient's past medical history was significant for Crohn's disease, for which she had been treated with prednisone, hydrocortisone enemas, and mesalamine.  Remicade (dose unknown) had been initiated recently. In 2003, she had a hemicholectomy and cholecystectomy. She reported extra-intestinal manifestations of mucocutaneous ulcerations only.
The patient reported allergies to sulfa and morphine—they cause nausea and vomiting. She is a native of New York City.  She is single without children, and she was unemployed at the time of her evaluation. She denied any tobacco, alcohol, or illicit drug use. She had no history of sexually transmitted diseases or other high-risk behaviors. Her family history was significant for hypertension and diabetes (mother). No other rheumatic diseases were noted in the family.
Medications on Admission
Vancomycin (Day #27/42)
Fluconazole (Day #22/42)
Hydrocortisone enemas twice daily
Ciprofloxacin (Day #26/42)
Metronidazole (Day #26/42)
Lovenox 30 mg
Protonix
The patient experienced an unintentional, 30-pound weight loss during the four weeks prior to her evaluation. She had other constitutional symptoms including fatigue, malaise, and decreased energy. She reported sun sensitivity, but no photosensitivity, and oral ulcerations, although she did not have them at presentation. She noted postprandial abdominal pain that she thought was related to the Crohn's disease. She reported two prior miscarriages, one at 19 weeks in 1999, and another at nine weeks in 2004. She did not have malar rash or other cutaneous manifestations. She denied arthralgias, sicca symptoms, bloody or crusty nasal discharge, ocular inflammation, urinary changes, neurologic phenomena, or myalgias.
Physical Examination
On exam her blood pressure was 146/93. The remainder of her vital signs was stable. She did not have conjunctival hemorrhage or signs of ocular inflammation. Her nares were unremarkable, and her oropharanyx was clear.  Her lungs were without crackles, wheezes, or rhonchi.  A careful cardiac exam demonstrated no murmurs or rubs on auscultation. She complained of right-sided abdominal tenderness to palpation but no rebound. Her extremities demonstrated an edematous right hand and left foot, although it spared the forearm and the pretibial plateaus. She had an ischemic-appearing right 5th finger and left 4th toe.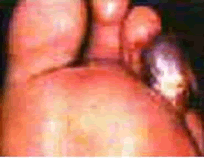 Fig 1. Plantar view of her left foot with an ischemic left 4th toe. She had 2+ radial and popliteal pulses. Her dorsalis pedis pulses were dopplerable. Osler nodes and Janeway lesions were absent.
Laboratory and Radiographic Findings
Initial laboratory evaluation was notable for a leukocytosis with 85% neutrophils. Her hemoglobin and hematocrit were 9.8 and 31, respectively. Her direct Coomb's assay was negative. She did not have platelet abnormalities. Her creatinine was 2.1 on admission (BUN 13). A urinalysis showed trace protein and trace hemoglobin pigments with 5 to 10 RBCs per high-powered field. A spot urine protein-to-creatinine ratio was 0.6. Inflammatory markers were elevated with ESR of 93 mm/hr and a CRP of 44.7 mg/dL. Her coagulation studies were abnormal with an activated partial thromboplastin time of 98 seconds and a prothrombin time of 48 seconds. Her D-dimer was elevated at 16.00 mg/L, and her fibrinogen was elevated at 563.  These were drawn while the patient was on enoxaparin.
An initial autoantibody screen was negative, which included an ANA, double-stranded DNA, RNP, Smith, SSA(Ro)/SSB(La), ANCA, and rheumatoid factor. Her complements were within normal limits. RPR was non-reactive. Hepatitis B and C antigens were negative. A toxicology screen was unremarkable.
Chest X-ray, plain films of the joints, and CT showed diffuse subcutaneous edema, but no joint involvement or bone involvement.
Differential Diagnosis
The differential diagnosis for this patient's presentation includes:
Antiphospholipid syndrome (APS): embolic phenomena, abnormal coagulation studies, history of spontaneous abortions.
Systemic lupus erythematosus (SLE): oral ulcerations, pericardial effusion, renal insufficiency.
Vasculitis: weight loss, HTN, ischemic digits, postprandial abdominal pain, renal insufficiency, oral ulcerations.
Coagulopathy.
Thromboembolic phenomenon.
Further Workup
Subsequent studies to elucidate her underlying etiology included the following:
| | |
| --- | --- |
| Blood, urine cultures | |
| HIV | negative |
| HBsAb, HBcAb | negative |
| Cryoglobulins | negative |
| Factor V activity | |
| Factor VIII level | normal |
| Protein C/S | normal |
| Heparin inhibitor | negative |
| Opthalmology exam | no ocular manifestations of rheumatic disease |
| CTA head, neck, chest, abd, pelvis | no vascular abnormalities, no evidence of vasculitis |
| Anti-cardiolipin ab | negative |
| Anti-β2 glycoprotein I ab | Negative |
| Lupus anticoagulant: | |
| – PT | 44.7s      (9.5 – 11.7) |
| – 1:1 mix | 13.1s |
| – aPTT | 74.9s      (23.5 – 34.0) |
| – 1:1 mix | 44.5s |
| – dRVVT | 103.5s    (27.0 – 45.0) |
| – 1:1 mix | 48.8s |
| – confirm ratio | 1.5 |
Anticardiolipin antibodies and anti-β2 glycoprotein I antibodies were negative. However, we found the presence of a lupus anticoagulant. Her PT, aPTT, and dRVVT were markedly prolonged and did not fully correct with mixing studies.  Confirmation studies supported the presence of an inhibitor.
Diagnosis
Taken together, APS was strongly suspected, as it met American College of Rheumatology classification criteria of vascular thrombosis, pregnancy complications, and the presence of laboratory criteria.
Antiphospholipid syndrome and infection
Antiphospholipid syndrome has been associated with preceeding or concurrent infections.  Multiple studies and case reports have linked APS and viral infections, including Epstein Barr virus, human immunodeficiency virus, HTLV-1, parvovirus B19, varicella, cytomegalovirus, and adenovirus.  Elbeialy and colleagues reported a correlation between leprosy and APS. Amital, et al. theorized that a patient's refractory leg infections induced catastrophic APS. Likewise, anticardiolipin antibodies were found in various bacterial, rickettsial, fungal, parasitic, and spirochetal infections, some to a frequency of 80%.
Molecular Mimicry
Molecular mimicry is a postulated mechanism of autoimmunity whereby antigens from infectious agents are structurally similar to self-antigens and produce an immunologic cross-reaction against self.  This response may be sustained if the immune system is unable to completely eradicate the microbe (such as in states of immunosuppression or compromise), thus leading to autoimmunity.  Even if the immune system is able to degrade a microbe, a point of resistance to further degradation may develop, for example, at the level of lipopolysaccharide or peptidoglycan.  Thus, antigen persistence evolves, which may also lead to self-cross reactivity and the development of autoimmunity.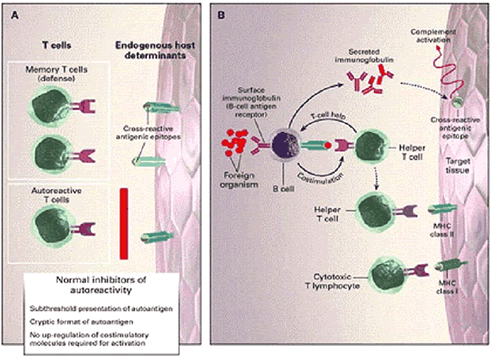 Fig 2. Immunologic tolerance and molecular mimicry. The left panel demonstrates a model of immunologic tolerance.  Autoreactive T cells are normally negatively selected at the level of the thymus. However, a few may escape to the periphery. Tolerance to these autoreactive T cells may develop by different mechanisms. For example, antigen may be present in subthreshold amounts; the antigen may have a cryptic format precluding recognition by the autoreactive T (leading to a state of T cell ignorance); or a co-stimulatory signal may be lacking, thus precluding activation. The right panel demonstrates a postulated mechanism of molecular mimicry. Foreign antigens that are structurally similar to self-peptides react to lymphcytes. B cell binding will lead to excretion of immunoglobulins, complement activation, and presentation to T cells via MHC, which leads to T cell activation.
Molecular mimicry can act at the level of both B cells and T cells. Mimicry involving antibody-recognized epitopes requires a contiguous region of homology to form an epitope. For example, Klebsiella and HLA-B27 share a six-peptide sequence of perfect homology. This has led some people to speculate that an association exists between infections, specifically with Klebsiella, and spondyloarthropathies. However, mimicry involving T cells does not require a stringent degree of homology. T cell recognition and MHC binding requires just a few critical residues. For example, myelin basic protein, a molecule found in the central nervous system and associated with multiple sclerosis, shares the same critical determinants as EBV protein and influenza (phenylalanine, lysine, tyrosine). Therefore, it has been speculated that multiple sclerosis may be caused and/or exacerbated by viral infections.
Many more models have been proposed for molecular mimicry and its role in autoimmune diseases. Perhaps the most cited is that of rheumatic fever and its association with the M protein of group A β-hemolytic streptococcus: some purport that the degree of homology between group A Streptococcus and cardiac mysin may account for the cardiac manifestations following streptococcal laryngitis. In Lyme disease, the outer surface protein A of borrelia has been shown to have homology to LFA-1, thus accounting for some of the rheumatic manifestations of Lyme disease. Grave's disease, type I diabetes and myocarditis are thought to be associated with yersenia, coxsackievirus, lymphocytic choreomeningitis virus, and Chlamydia.  Lastly, in rheumatoid arthritis there is a five amino acid sequence that has perfect homology with the E.coli dnaJ protein, also known as the 65 kD heat shock protein.  Likewise, the 65 kD heat shock protein in mycobacterium tuberculosis shares a degree of homology with 65 kilodalton human heat shock protein. These molecules play pathophysiologic roles in stress and immunologic responses.
Molecular mimicry in APS
In 1999, Blank and colleagues in Tel Aviv created various monoclonal antibodies to β2-glycoprotein 1 from patients who had APS. They then used these monoclonal antibodies to screen a hexapeptide phage display library that contained 200 million clones. Through various analyses they were able to identify three hexapeptides as potential target epitopes for antibodies to β2-glycoprotein 1: LKTPRV, TLRVYK, KDKATF. These three hexapeptides are noted in domains 1, 3, and 4 of the β2-glycoprotein 1 molecule (Fig 3).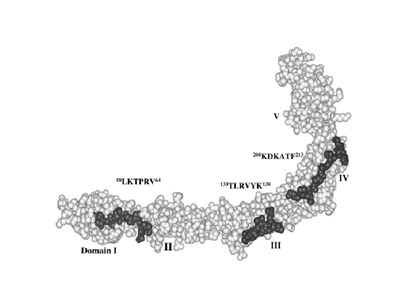 In their experimental model of APS, antibodies to β2-glycoprotein 1 bind the protein and stimulate downstream mechanisms of disease.  Endothelial cells are activated and expression of cellular adhesion molecules is upregulated, which causes monocyte adhesion. Monocyte adhesion is thought to be one of the main pathogenic mechanisms in APS. However, when these three hexopeptides (Fig 4) were introduced, they inhibited activation of endothelial cells by directly binding these antibodies.  Thus, these hexapeptides appeared to inhibit APS.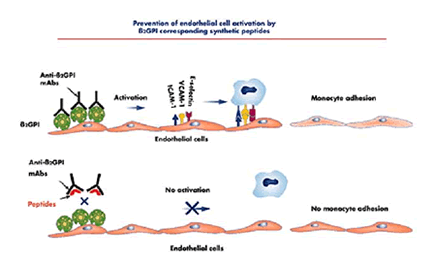 Using the Swiss protein database, the researchers found degrees of homology between the 3 hexapeptides and various bacteria, viruses, and yeast that were associated with APS
To prove molecular mimicry, they immunized mice with various bacterial pathogens and affinity- purified the antibodies against β2-glycoprotein 1 after isolatating IgG from the immunized mice. They then were able to recapitulate APS by infusing naïve mice with these antibodies: these mice had increased fetal loss, thrombocytopenia, and prolonged aPTT times. They concluded that bacteria homologous to β2-glycoprotein 1 can induce generation of anti-β2-glycoprotein 1 antibodies, and that these antibodies can lead to APS in naïve mice. While these researchers declared that a mechanism of molecular mimicry for APS was established, it is important to note that this may be just one possible component to the pathogenesis of APS.
Controversies in the theory of molecular mimicry and APS
There are many unresolved issues regarding molecular mimicry and autoimmune diseases.
Infections are common, but autoimmune diseases are not. Researchers need to further delineate the pathways by which specific infectious microbes cause specific autoimmune diseases, and conversely, why autoimmune diseases are not elicited in all infections.
Since the industrial age, sanitation and hygiene have improved dramatically, and the prevalence of infection has decreased.  Yet, the incidence of autoimmune diseases has increased.  Likewise, since the onset of vaccination efforts in the 1960s, there has been a precipitous decline in infections diseases.  Yet, a dramatic increase in the prevalence of autoimmune diseases has been noted in the same period (Bach, NEJM 2002). This paradox has yet to be explained.
Prevention of, and treatment for, infection are adequate, yet the same efforts are not for APS.  Antibiotics can effectively eradicate an infection, yet they have not been demonstrated to prevent or cure APS.  Additionally, some postulate that vaccination may cause autoimmune diseases as the immunizing peptides may trigger a cross-reactive immune response. Given vaccination's known effectiveness, this potential risk must be weighed against its benefit.
Genetic factors have yet to be elucidated. In all autoimmune diseases, it is hypothesized that rheumatic disease is trigged in a genetically susceptible host by an environmental trigger.  While infection may represent the environmental trigger, the genetic predisposition in afflicted individuals needs to be better delineated.
Despite these issues, there remains an intrinsic appeal of molecular mimicry, as it provides a conceptual link between a physiologic response (i.e. defense against infection) with a pathologic process (i.e. autoimmunity).  Hense, molecular mimicry continues to emerge time and again over the past 30 years since its concept was first described.
Acknowledgements
I thank Drs. Antony Rosen, Helina Kassahun, Steven Schulman, Sanjay Desai, and Martin Britos-Bray for their clinical assistance with the patient in this case study.
References
Abbas AK et al. Cellular and Molecular Immunology 4th ed. WB Saunders Co: Philadelphia. 2000, 487.
Albert LJ, Inman RD. Molecular mimicry and autoimmunity.New Engl J Med 1999;341:2068–74.
Amital H, Rubinow A, Langevitz, et al. Refractory leg infection as an inducer of the catastrophic antiphospholipid syndrome. Ann Rheum Dis 2004;63:1004–1006.
Asherson RA, Cervera R. Antiphospholipid antibodies and infections. Ann Rheum Dis 2003;62:388–393.
Asherson RA, Shoenfeld Y. The role of infection in the pathogenesis of catastrophic antiphospholipid syndrome—molecular mimicry? J Rheum 2000;27:12–14.
Bach JF. The effect of infections on susceptibility to autoimmune and allergic diseases. New Engl J Med 2002;347:911–919.
Blank M, Shoenfeld Y, Cabilly S, et al. Prevention of experimental antiphospholipid syndrome and endothelial cell activation by synthetic peptides. Proc Natl Acad Sci 1999;96:5164–5168.
Blank M, Krause I, Fridkin M, et al. Bacterial induction of autoantibodies to b2-glycoprotein-I accounts for the infectious etiology of antiphospholipid syndrome. J Clin Invest 2002;109:797–804.
Cervera R, Asherson RA, Acevedo ML, et al. Antiphospholipid syndrome associated with infections: clinical and microbiological characteristics of 100 patients. Ann Rheum Dis 2004;63:1312–1317.
Elbeialy A, Strassburger-Lorna K, Atsumi T, et al. Antiphospholipid antibodies in leprotic patients: a correlation with disease manifestations. Clin Exp Rheum 2000;18:492–494.
Hochberg, et al. In Rheumatology 3th ed. Mosby:New York. 2003, 846, 1048.
Janeway,et al .In: Immunobiology 6th ed. Garland Science Publishing: New York. 2005, 586–587.
Leder AN, Flansbaum B, Zandman-Goddard G, et al. Antiphospholipid syndrome induced by HIV. Lupus 2001;10:370–374.
Ramos-Casals M, Cervera R, Lagrutta M, et al. Clinical features related to antiphospholipid syndrome in patients with chronic viral infections (hepatitis C virus/HIV infection): description of 82 cases. Clin Infect Dis 2004;38:1009–1016.
Shoenfeld Y, Blank M, and Krause I. The relationship of antiphospholipid antibodies to infections—do they bind to infecting agents or may they even be induced by them? Clin Exp Rheum 2000;18:431–432.
Shoenfeld Y. Antiphospholipid syndrome from a systemic disease toward the infectious etiology. Rev Med Interne  2004;25:S10–S11.
Shoenfeld Y, Blank M, Cervera R, et al. Infectious origin of the antiphospholipid syndrome. Ann Rheum Dis 2006;65:2–6.
Sorice M, Pittoni V, Griggi T, et al. Specificity of antiphospholipid antibodies in infectious mononucleosis: a role for anti-cofactor protein antibodies. Clin Exp Immunol 2000;120:301–306.
Uthman IW, Gharavi AE. Sem Arthritis Rheum 2002;31:256–263.
von Landenberg P, Lehmann HW, Knöll A, et al. Antiphospholipid antibodies in pediatric and adult patients with rheumatic disease are associated with parvovirus B19 infection. Arthritis Rheum 2003;48:1939–1947.
For CME credit,TAKE POST-TEST & EVALUATION