Round 19: Lupus Nephritis Screening and Diagnosis: Is Change Needed?
Round 19: Lupus Nephritis Screening and Diagnosis: Is Change Needed?
By: Derek Fine, MD
Division of Nephrology
Johns Hopkins University School of Medicine
Dr. Fine has no significant financial interest or relationships to disclose.
Release Date: March 3, 2009
Expiration Date: January 1, 2011
For CME credit,TAKE POST-TEST & EVALUATION
These rounds will focus on some of the research we are doing in lupus patients with kidney involvement. Our ultimate purpose as nephrologists is to get patients into our care who need it. By doing so we can figure out what is going on in the kidney and intervene early and appropriately to hopefully affect a better outcome. Accurate screening, therefore, becomes essential. What is the best approach regarding screening and making diagnoses, specifically with lupus nephritis?
Objectives:
Discuss appropriate screening strategies for lupus renal disease, particularly in the assessment of proteinuria
Recognize the role of kidney biopsy in those with low levels of proteinuria
Describe practice patterns amongst American rheumatologists
Case Presentation

Clinical History
This is a 20-year-old college student I saw a couple of years back with lupus and proteinuria. A referral was made because she had proteinuria. She presented in February of that year with joint pains in the fingers, knees, elbows, and wrists. In June she had an ANA of 1:1280, she was double-stranded DNA positive, and she had a low white blood cell count (2.9K). She was diagnosed with lupus. In August she was treated with 8 mg methylprednisolone. Her joint symptoms actually did quite nicely on a fairly low dose of corticosteroid. In October she started to develop other symptoms including fatigue, alopecia, low-grade fever, and mild joint pains. Her blood pressure was normal. Her pulse was 60. She was thin woman, but not extremely thin. Her exam is unremarkable otherwise.
Laboratory Evaluation
Normal electrolytes
BUN/Cr = 12/0.5
WBC = 4500
Hemoglobin = 11.0
Platelet = 167,000
C3 = 48, C4 = 7
Urinalysis = trace protein; 5–8 RBC/hpf, 3–5 WBC/hpf
24-hr urine protein = 680 mg
Think about the urinalysis findings you are seeing here. Many rheumatologists will see just such results. Think: "Is this someone in whom you are really worrying about renal disease? Is this someone you would even consider checking a 24-hour urine protein on with only trace protein in the urinalysis?" This woman had 680 mg protein on a 24 hour test. Normal 24 hour proteinuria is 300 mg or less, so that 680 not very high. What is the significance of the normal creatinine?
Now that the level of proteinuria has been assessed, the question that comes up with this patient is: "Do I biopsy this patient?" Many would say, "No, watch this patient." Some of the literature says, "It's okay. See what happens. If anything gets worse, then biopsy and then base management on findings at that point." We, however, know what the worst outcome can be, and that is what we are worried about.
Case presentation questions
What diagnoses do we find in patients with low levels of urine protein? There is literature out there about silent lupus nephritis. There are people that say that any level is important, but it may not be what is being practiced, and certainly there are people who do not biopsy at low levels without any blood in the urine or without a rise in creatinine.
How good is the dipstick urinalysis? Remember this patient's urine protein on dipstick was "trace". Do we trust it? Do we know what to do with it? Is it helpful?
What is the practice among American rheumatologists regarding proteinuria? They are the ones sending their patients to the nephrologists; patients do not come to us because they know that they have proteinuria. Therefore, it is important to know what criteria rheumatologists use to refer patients to us.
SLE and Renal Disease

Lupus nephritis has a highly variable clinical presentation. The cardinal feature is proteinuria. Patients presenting with no proteinuria may still have lupus nephritis, but it is not going to be clinically significant—proteinuria is the cardinal feature. Twenty-five percent of patients present with proteinuria at the time of the diagnosis, while sixty percent at some point during their illness. About 45–65% will present with nephrotic range proteinuria. Clinical presentation does not significantly predict the histopathologic findings, nor does it predict outcomes. Early diagnosis improves outcome. There are some studies that show this is not unique to nephrology or rheumatology. This is important when screening – the screening needs to be done with a good test that is going to identify the patient earlier. The lower the protein level is at the time of diagnosis, the better the patient does with the renal outcomes. The lower the creatinine level is, the better they do with the renal outcomes. Now, it might just be that patients who have low levels of protein and creatinine, have mild disease. Or, it could be that we are diagnosing potentially severe disease earlier. This is difficult to figure out because it would be hard to justify doing randomized studies in these patients to answer this question.
The logical choice would seem to be to make a definitive diagnosis sooner rather than later. We certainly at times see patients presenting with a gram of protein and two months later with six grams. Maybe, if we treat them when they have one gram of protein, they will do better than when they are at six. We cannot predict whose disease is going to behave in this way.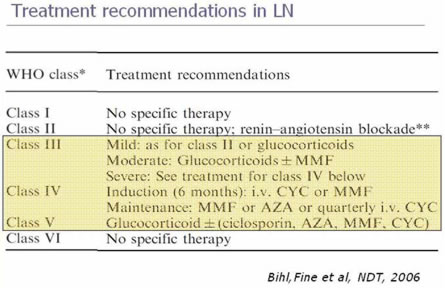 Lupus Survey
A survey done at JHUSOM (Siedner MJ, Christopher-Stine L, Astor BC, Gelber AC, Fine DM. Screening for proteinuria in patients with lupus: A survey of practice preferences among American rheumatologists. J Rheumatol. 2007;34(5):973–977) assessed what is going on in the United States as far as screening patients and then referring them to the nephrologist before the workup. Members of the American College of Rheumatology were surveyed by e-mail through surveymonkey.com. It is a very nice tool, very easy to use if anyone wants to do surveys. IRB approval was given to survey as many members of the American College of Rheumatology as possible. The surveys were sent in alphabetical order to 2667 members with a goal of 500 respondents. The response rates were not bad—499 out of 2667. There were questions about demographics and practice characteristics—very brief with 12 or 13 questions to get targeted answers. The rest of the questions were about proteinuria screening methods: what protein thresholds are being used, what methods rheumatologists are using for screening of proteinuria, and who is using what tests (qualitative vs. quantitative).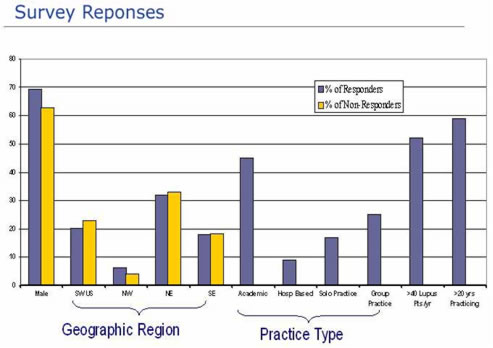 There was a fairly large demographic distribution, the non-respondents and the respondents seemed to distribute evenly, at least based on region. The assumption is that they are very similar. The majority of people have seen more than 40 lupus patients a year. The majority has been in practice for more than 20 years.
Sample questions
If a 24-hour urine is obtained on a patient, at what minimum level of new proteinuria (assuming a stable creatinine and NO hematuria) do you refer the patient for evaluation for a kidney biopsy?
If a 24-hour urine is obtained on a patient, at what minimum level of new proteinuria in a patient with hematuria (assuming a stable creatinine) do you refer the patient for evaluation for kidney biopsy?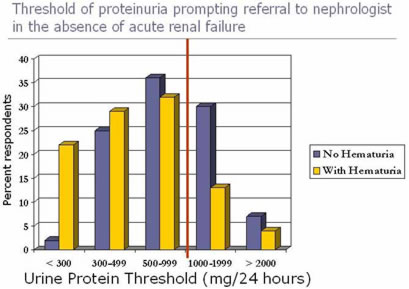 The first interesting finding was that most respondents chose a cutoff point of 500 mg or greater. There were people would refer even at lower levels, and yellow represents hematuria. Not surprisingly, with hematuria, the cut-off protein levels at which they would refer were lower. The red line signifies the patient that presented with less than 1,000 mg. It turns out that without hematuria; about 37% of the respondents would not have referred that patient to a nephrologist. Even with hematuria, 16-17% of rheumatologists would not have sent this patient to a nephrologist for further workup.
Another question asked was which method do you use to screen patients? We specifically said screen, not diagnose. By which methods do you screen patients with lupus and proteinuria? When you are screening using the dipstick, what is the cutoff you will take seriously? Again, think of the patient presented with trace proteinuria. This is how it breaks out: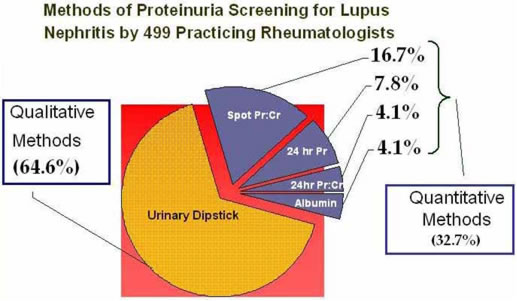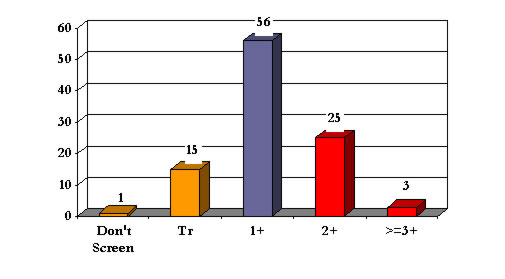 When we look at cutoff levels used to determine whether referral should be made to a nephrologist, most rheumatologists are using 1+. Amazingly, 28% are using 2+ or greater dipsticks, and 3+ no one or various people are using it. But remember, this will remain the criteria for diagnosis of renal involvement in lupus in the ACR criteria, 3+ protein, or 5 –10 mg of protein.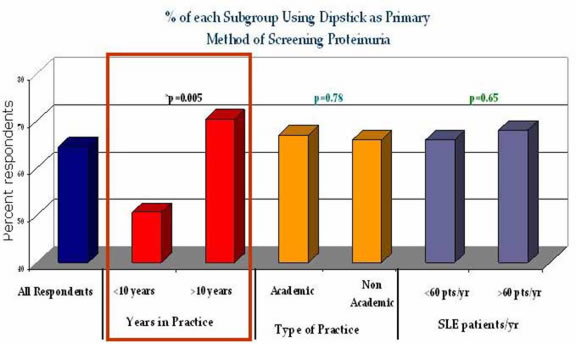 When we looked at who is using quantitative vs. qualitative measures—or protein quantitation vs. the dipstick—the only variable that predicted who was using what was how many years in practice. The longer you are in practice, the more likely you are to use the dipstick. Therefore, those who have been in practice for less time are using quantitative measures. There is literature out there that would suggest that up-to-date methods and techniques tend to be used by recent graduates.
Survey Summary
Protein quantification. If no hematuria, 37% would not refer until 1 g or greater proteinuria. Even in the presence of hematuria, 17 % would not refer until > 1g protein.
Dipstick. Sixty-five percent of American rheumatologists use the dipstick for proteinuria screening. Eight-six % use a 1+ or greater cutoff for further workup (28% are using 2+ or greater)
Interestingly fewer than 5% use 3+ or greater despite the fact that this remains a criterion for diagnosis of lupus by the ACR criteria
Renal Biopsy Outcome in Patients with Low Levels of Proteinuria
What diagnoses do we find in patients with low urine protein levels? What are we finding when we biopsy these patients? We went ahead and looked at some, and
Retrospective analysis of biopsied patients
21 SLE patients with < 1000 mg/24 hours proteinuria
No acute renal failure (creatinine and eGFR not changed from baseline)
Hematuria defined as >= 5 RBC/hpf
The patients were not quite demographically representative of the lupus center.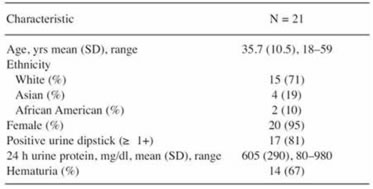 Most of these patients were biopsied either because of hematuria, proteinuria or both.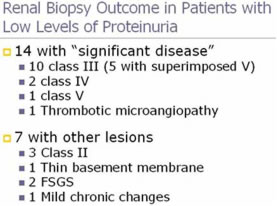 Many of these patients had real disease that deserved treatment, and most of these patients actually had a change of therapy. Whether with the addition of CellCept in many of the cases, some got steroids and some got ACE inhibitors. Having the biopsy data helped to determine these therapy changes.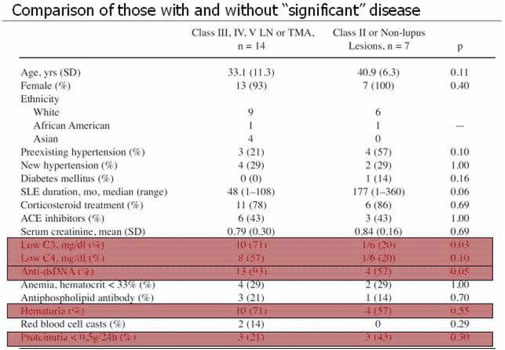 Complement Levels.
When we compared these two groups was there anything that could help us make a decision? The complement levels are highlighted pink; the majority of those that had active lesions had low complements. If the complement is normal, it was less likely that renal disease would be present. Nevertheless, there are people in both groups with renal disease. Complement level does not necessarily help; who is that one patient that has normal compliment but has active disease? There were four patients above, for example, that had normal C3 levels.
Double-stranded DNA.
Double-stranded DNA is also helpful. There was only one patient with a significant lesion that had both negative double-stranded DNA and normal complement levels. However, we can't predict who that one patient is going to be; therefore, we need to biopsy all those people to identify. One could possibly judge by watching that patient. The concern is, "When do we stop watching? When they have a problem?" Time and an early diagnosis would be lost in that situation.
Hematuria.
Hematuria did not help predict who was going to have a significant lesion. Even though the American rheumatologists say if there is no hematuria, we take it less seriously, they should be vigilant even in the absence of hematuria. Four out of the seven patients who had no hematuria still had significant lesions; many of them had quite active disease. Therefore, the fact that there is no hematuria does not indicate the lack of disease.
Summary
We cannot predict sufficiently who has "significant" disease using these standard measures. Patients with < 1 g proteinuria frequently have lesions requiring intervention. Those with "significant" lupus related disease have lower complement and positive dsDNA titers. Even in the absence of hematuria significant disease may be present (4/7). Even at lower levels of proteinuria (<0.5g) there may be significant disease.
How Good is the Urinalysis?
There are patients with low complement and positive double-stranded DNA in whom dipsticks are being used to screen them—will patients like the patient in this case be identified by dipstick to make the right intervention?
Using the Johns Hopkins Lupus Cohort (280 pts), Ohio SLE Study (84 pts)
All 24-hour urine collections and dipstick proteins obtained within a week of 24hr collection
3 dipstick assays assessed
– OSS – Manual Multistix (Bayer)
– Hopkins – < 2002 – Clinitek (Bayer)
– Hopkins – > 2002 – Atlas (also Bayer)
For all urines 24 hour pr:cr ratio used
Ratio > 0.5 (0.5 g or 500 mg/ 24 hour equivalent) considered positive
There were three assays that were assessed.
Clinitek
Atlas
Bayer Manual
Many labs around the country at academic centers are still using this Clinitek. Hopkins uses Bayer, and sometimes Atlas. At Ohio State, interestingly, they were doing dipsticks manually. Three people looked at the thing against the light. People are not doing that as much anymore because administrators will not allow it, but there are people probably in offices that are doing it or maybe they have new patients do dipsticks at home. We used the 24-hour protein/creatinine ratio. We know that it does not correlate exactly with your total 24-hour, but probably over time is a more valid measure. It gets rid of the inaccurate urine collections. We looked at a ratio of greater than 0.5 as being significant proteinuria based on what rheumatologists think is significant, and what the literature would suggest is important. In addition, 500 in 1,000 range is where we think we find significant disease. We want to know what is going on there. A 1+ or greater dipstick was also considered to be positive.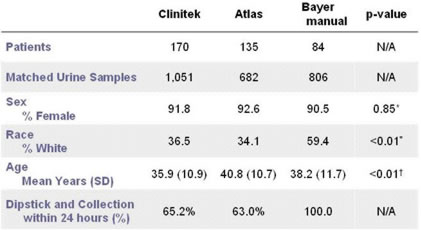 Samples / Patient Demographics (above)

We included all the assessments. You can argue that there is an issue with using the same patient over and over that more likely there are the same inaccuracies. However, we thought that was a fairly realistic representation of what is going on in our clinic: mostly women; distributions were more or less the same; ages were similar; 100% of their dipsticks were done within a week of the 24-hour collection; and we had about 65% done on the same day, and it goes up to about 70% on two days apart, and it was 75% to 80% on 3 days apart.
Proteinuria can fluctuate over time; certainly, in lupus it can. Interestingly, the ranges of protein/creatinine ratios at each level of dipstick were all over the place. The dipstick just does not give a number that is sufficiently useful.
Manual assay—Positive on the protein-creatinine ratio is greater than 0.5, and 1+ dipstick is considered positive. This is just a 2X2 table to point out sensitivity/specificity, 84.5 might sound okay; however, a lot of patients with a possible predictive value are missing. Basically, the manual assay is not performing very well.
Clinitek did not do very well either—Everything was close to the 80's. One could argue that it is probably okay; however, lupus is an aggressive disease, and 20% to 15% of your patients who have real proteinuria could be missed by using a dipstick.
Atlas—interesting because the sensitivity is excellent. Its specificity, however, is not great, and the problem with that is that patients have a huge number of false positives.
False positives are also important because you are going to have to bring the patient back in now to get reassessment. When we look at the different assays, (in red are the false negatives and blue are the false positives) the false negative rate with the manual assay is about 20%. In Clinitek, which is the assay that Hopkins was using until 2002, there were over 30% false negatives in this range of proteinuria. That was not a very good assay to find these patients. Atlas does great, on the other hand. It is very sensitive. It will pick up almost all disease. This is what Hopkins uses now. From a sensitivity standpoint we can argue that we are doing better; at least we are going to find our patients.

Summary of Dipstick Data
Dipstick assays lack adequate accuracy as screening tools. It may be important to know which assay is being used because manual assay is not adequately sensitive and Atlas assay too sensitive – specificity poor for both. Additionally, the ACR criterion for dipstick is of little utility in determining renal involvement.
Conclusions
Biopsy should be performed even at low levels of proteinuria.
Dipstick protein is insufficiently accurate to detect proteinuria in this high-risk population.
Better methods (quantitative) for proteinuria assessment are necessary to detect early and mild disease.
ACR criteria for renal involvement should be reassessed.
Proteinuria assessment in the American rheumatology community may be suboptimal.
For CME credit,TAKE POST-TEST & EVALUATION