By Assil Saleh, M.D.
Release Date: November 1, 2007
Expiration Date: November 1, 2009
I want to share with you some of our research on osteoarthritis and vascular disease — exploring the link, mainly looking at data from the Baltimore Longitudinal Study of Aging. The objectives are:
To appreciate the magnitude of the problems of osteoarthritis and vascular disease;
To consider shared elements of pathogenesis as a basis for a link and as a potential target for therapeutic intervention; and
To share our investigations of the study data, addressing the idea of a potential link.
Over the past few decades, our understanding of osteoarthritis has evolved to what we now call the common clinical phenotype of pain related to use and structural abnormalities of tissues of the synovial joint, including the cartilage, subchondral bone, synovium, capsule, and ligaments.
Why should we care about OA? About four decades ago, J.H. Kellgren said, "New knowledge of osteoarthrosis must be gained if the later years of our lengthening lives are not to be plagued by increasing pain and disability."  OA is a huge problem. It is actually the most common form of arthritis, affecting 1 in 13 Americans, or approximately 20 million people. It is the leading cause of disability in the United States, with more than $50 billion in direct medical costs. Aging is the fuel. And it is a global phenomenon. Life expectancies continue to rise worldwide, and OA is highly age-related. Certainly in the United States this is going to be made worse by the baby boomers. We often view OA as minor aches and pains that are just an inevitable part of aging. But frankly, OA is the forgotten stepchild of rheumatology. In fact, at last year's American College of Rheumatology meeting, there were four times as many arthritis posters on rheumatoid arthritis as on osteoarthritis.
Turning to cardiovascular disease for a moment: It is the leading cause of death in the Western world, involved in about 40 percent of deaths each year. It kills just less than 1 million Americans a year, or approximately 1 person every 35 seconds. About 17 million Americans currently live with cardiovascular disease. This costs the country more than $400 billion a year.
OA is far more complex than we used to think.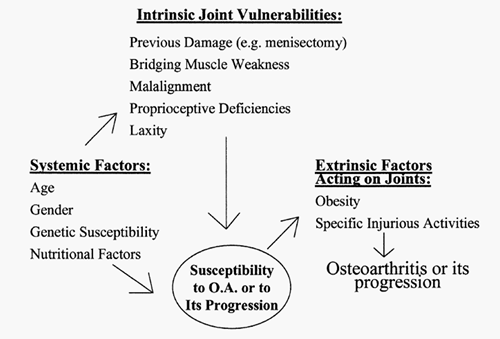 OA Susceptibility
Not all individuals, even in higher risk groups, develop overt disease as currently defined. There are multiple risk factors for the development of OA, with age and obesity among the stronger ones. These risk factors can interact at different levels and contribute to initiation as well as progression of the disease.
OA is actually a heterogeneous disease with different symptoms and structural damage, and variable rates of disease progression. In terms of pathogenesis, the precise pathophysiology of joint degeneration that leads to the clinical manifestations of OA remains poorly understood. [INSERT slide #17 here] For the last couple of decades, the articular cartilage has been the main focus of OA research. Recently, animal and human studies have confirmed the importance of subchondral bone in disease progression. Progressive loss of articular cartilage leads to attempted repair, remodeling and sclerosis of the subchondral bone, and finally osteophyte formation. We have known for a while that articular cartilage is an avascular structure and that it obtains its nutrition from the subchondral bone or the synovial fluid. Subchondral bone, on the other hand, is richly vascularized tissue. Microvascular changes are very well-described pathologic features of early osteoarthritis.
We have focused attention on hand osteoarthritis for many reasons, but perhaps most importantly because hand OA is less associated with the phenomenon of wear and tear than is, for instance, knee OA. Thus, it might be an indicator of a more systemic disease. The Framingham study revealed that 13 percent of men and 26 percent of women over age 70 had at least one hand joint with symptomatic OA. The prevalence of radiographic hand OA, on the other hand, was much higher: 90 percent in men and 94 percent in women. Interestingly, about a third of adults older than 30 had radiographic evidence of OA in at least one joint.
Vascular stiffness is a surrogate for cardiovascular disease. It increases with age and with conditions that directly increase cardiovascular disease, such as hypertension, diabetes, hypercholesterolemia, and end-stage renal disease. Vascular stiffness may be a marker or contributor to the development of future atherosclerotic disease.
The question we need to ask, then, is this: Are osteoarthritis and vascular disease linked? Some epidemiologic data has shown evidence for diminished survival in OA patients first described in the 1970s. However, the early mortality actually was thought to be due to the use of NSAIDs, and more recently to the use of COX-2 inhibitors. Both of these diseases are highly prevalent. Recently, there have been suggestions that patients with OA have more prevalent cardiovascular risk factors as well as cardiovascular morbidity. Furthermore, cardiovascular mortality has been found to be directly proportional to the extent of radiographic evidence of OA.  In a large Finnish study, OA in any finger joint (a marker for generalized OA) predicted cardiovascular death in men.
Could vascular disease, then, be a cause or contributor to OA progression? Most early OA lesions appear to be contained and asymptomatic. However, in some patients they do progress, leading to severe joint destruction. Risk factors for OA progression may differ from those for OA initiation. Vascular disease may contribute to progression of OA to severe joint damage. Vascular disease in the subchondral bone may be accelerated in OA, or it might actually accelerate OA by altering the cartilage nutrition and by direct ischemic effects on bone; multiple small bone infarcts are common in advanced OA.
As I mentioned earlier, aging is the fuel for both OA and arterial stiffness. Both of these processes show elements of similar pathogenesis, raising the possibility that these two conditions may be linked rather than just merely independent features of aging.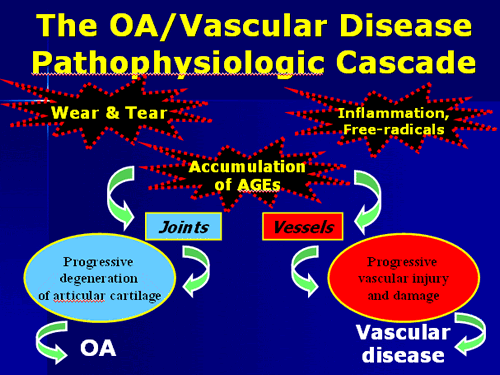 OA / Vascular Disease Pathophysiologic Cascade
On a more basic note, potential pathogenetic links include
Inflammation;
Advanced glycation end products (AGEs);
Matrix metalloproteinases (MMPs); and
Cartilage oligometric matrix protein (COMP).
We will start by talking about inflammation. OA is certainly not considered an inflammatory disease historically. It is quite distinct from inflammatory arthritides such as RA. However, inflammation and angiogenesis are now recognized as contributing to the symptoms and progression of OA. In a recent sample of 104 patients with OA who were about to undergo joint replacement, nearly a third of them showed histological evidence of severe inflammation with angiogenesis. Also, the angiogenic growth factor VEGF (vascular endothelial growth factor) has been localized to inflamed synovium in OA patients. Resulting angiogenesis is thought to be a likely contributor to the inflammation in OA.
Histological and serological evidence of synovitis may be a feature of early OA, not just in end-stage patients undergoing joint replacement surgery. How about vascular disease? We all know that there has been a paradigm shift in our understanding of vascular disease from vessels being mere conduits of blood to substrates for inflammation. Underlying coronary artery disease, ischemic brain syndrome, and peripheral arterial occlusion is chronic inflammation of the arterial wall. Multiple mediators of vascular inflammation can exert their effect on different end organs.
What about AGEs? Could there be a link there? Non-enzymatic glycation is a common process of post-translational protein modification. There is covalent bonding between amino acids and reducing sugars followed by a series of chemical reactions that ultimately lead to the production of AGEs. It is a fairly complex, non-enzymatic process, leading to the production of multiple AGEs.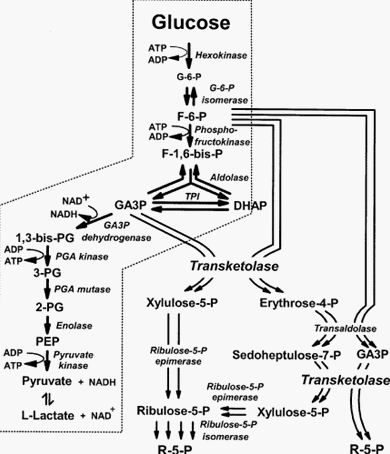 Production of AGEs
AGEs accumulate with advancing age, particular in human cartilage. They attack the long-lived proteins, especially collagen; there is cross-linking, which stiffens the proteins and damages their 3-D structure, inhibits their function, and triggers inflammation.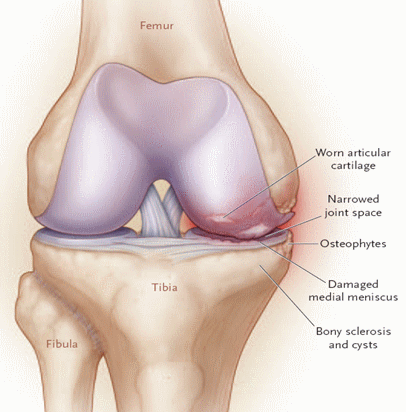 AGEs
They exert adverse effects on the cartilage metabolism and mechanical properties, compromising the matrix integrity. It is interesting that no bodily enzymes are capable of breaking down AGEs.
There is also upregulation of RAGE, or the receptor for AGEs. AGEs are thought to trigger proliferation of RAGE on chondrocytes, which increases metabolic activity, leading to cartilage degradation, which could be a mechanism for the development or progression of OA. The articular chondrocytes express functional RAGE; however, RAGE levels are much higher in OA cartilage, compared with the controls. Interestingly, RAGE ligands stimulate chondrocyte inflammatory mediators and MMP-13 production, suggesting that chondrocyte RAGE signal may play a role in OA.
So could AGEs be the link? What's with AGEs and vascular disease?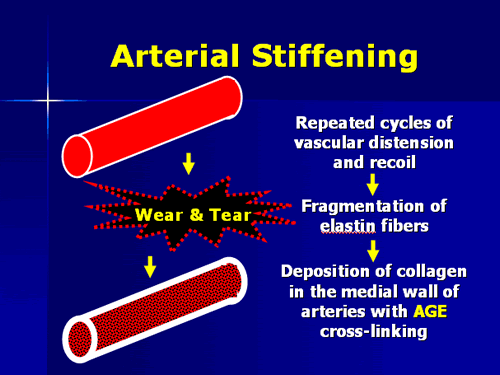 Arterial Stiffening
Over time, arteries are repeatedly exposed to the effects of AGEs. This leads to cross-linking of adjacent collagen fibrils in the medial layer of vessel walls. It also markedly increases the tensile strength of these fibrils and, thus, stiffens the arterial wall. Interestingly, RAGE and RAGE signaling also have been implicated in athrogenesis.
Shifting gears to MMPs: Could a link be there? MMP-3 is produced by chondrocytes and synovial membrane cells. It hydrolyzes numerous macromolecules in the extracellular matrix of cartilage, and there have been noticeable increased levels of MMP-3 in the synovial fluid as well as in blood samples from patients with knee and hip OA. Levels of MMPs also correlate with disease activity or with OA severity. The serum levels of both MMP-3 and MMP-9 are significantly increased in patients with rapidly destructive hip OA vs. less severe hip OA. MMP levels may be of diagnostic value in predicting aggressive OA.
Most components of the vascular wall are substrate form MMP activity. MMPs are enzymatically active in atherosclerotic plaque. MMP-3 genotype, interestingly, may be an important determinant of the vascular remodeling and age-related arterial stiffening. There is a common polymorphism in the promoter region, and those with 5A alleles have been associated with acute coronary events and aortic aneurisms, both of which may reflect increased matrix degradation. Those with the 6A allele have been associated with carotid intima-media thickening and progression of coronary disease in post-bypass patients. Interestingly, the heterozygotes for MMP-3 polymorphism exhibit delayed large-artery stiffening.
Whether there is an optimal balance between matrix accumulation and deposition is a very interesting question. The role of MMP-9 and vascular disease is that the levels of MMP-9 have been noted to increase in isolated systolic hypertension and correlate independently and significantly with aortic stiffness measured by pulse-wave velocity. MMP-9 inhibitors may diminish the development of arterial stiffness and cardiovascular risk.
Finally, COMP is a large glycoprotein found in the ligaments, meniscus, tendons, synovium, and osteoblasts. It is secreted by chondrocytes and is a member of the thrombospondin family. It binds collagen and contributes to endochondral ossification. It is a marker of cartilage catabolism. Serum levels of COMP are elevated in OA patients and increase with increasing OA burden. Elevation of serum COMP levels at baseline predicts progression of symptomatic hip OA. Rising levels of serum COMP are predictive of progression of knee OA. Serum COMP levels rise with advancing age, irrespective of ethnicity. COMP levels are higher in patients with hand OA than in those without hand OA.
In vessels, COMP localizes in the fibrous tissue adjacent to the media, underlying lipid core of advanced atheroma. The arterial location of COMP at sites of calcification is similar to location in cartilage, which suggests that a cartilaginous matrix may be present in the atheromatous plaque. Alternatively, COMP may regulate matrix mineralization. Interestingly, COMP is not seen in normal aortic and coronary arteries or early intimal fibrosis without atheroma.
Consequently, our hypothesis is that OA and increased arterial stiffness, a surrogate marker for vascular disease, are related to one another independent of the aging process.
To address this, we interrogated the Baltimore Longitudinal Study of Aging (BLSA), a multi-disciplinary, normative study of aging that was initiated in 1958 and is administered by the National Institute of Aging. The participants are community-dwelling, healthy volunteers, predominantly white, middle- and upper-class, ranging in age from 19 to 93 at enrollment. More than 80 percent of them rated their health status upon entry as excellent.  Our investigations looked at:
Pulse-wave velocity (PWV);
Pulse pressure (PP); and
Single-photon bone-mineral density (BMD).
With PWV, an ultrasound probe is applied to the common carotid artery.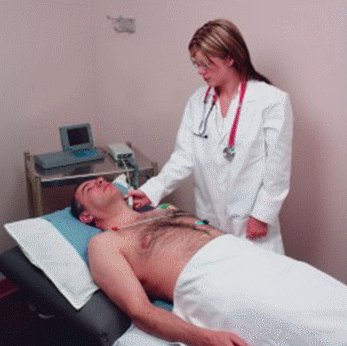 PMV Ultrasound
The pulse wave is detected, and the time of the velocity that it takes for the pulse wave to travel to the femoral artery is calculated. It is a simple length-divided-by-time measurement.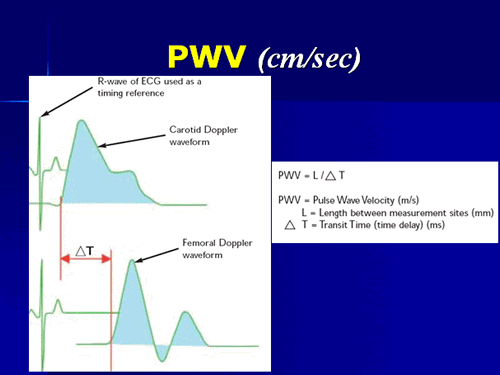 PMV
The stiffer the vessels, the longer it takes for the wave to travel. The higher the pulse wave, the stiffer the vessels are. Pulse wave has been shown to be a very good predictor of cardiovascular morbidity and mortality. A recent article from investigators in a Rotterdam study showed that an increase in totals of PWV was associated with an increase in risk of cardiovascular disease. We looked at 256 participants without known cardiovascular disease who had undergone pulse-wave assessment and for whom hand X-rays were available. None of them were taking vasoactive medications. X-rays were obtained between 1984 and 1991 and were read using the Kellgren-Lawrence (K-L) scale.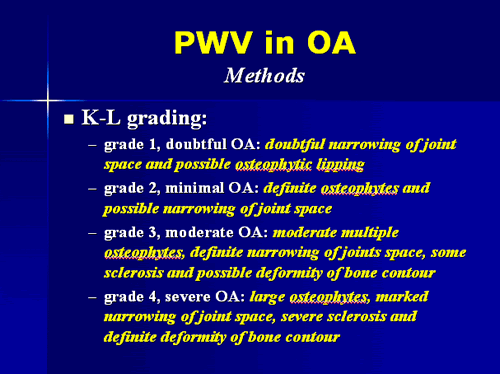 PMV in OA
(According to this grading system of 1 to 4, grade 1 is scored as doubtful OA; there is doubtful narrowing of the joint space and possible osteophytic lipping. Grade 4 is rated as severe OA, where there are large osteophytes, marked narrowing at the joint space, severe sclerosis, and definite deformity of the bone contour.) Twenty joints across the three joint groups (10 DIPs, 8 PIPs, and 2 first CMC joints) were assigned a K-L grade. OA was defined in the following manner:
OA was present in any of the joints if their K-L was 2 or higher.
OA of the joint group was present if at least 1 of the joints in that group had OA.
OA of the hand was present if at least 2 of the 3anatomic hand sites (DIP, PIP, or CMC) had OA.
Other parameters that we looked at for hand OA were the total number of joints with K-L grade 2 or higher and the total of all K-L grades across the 3 joint groups.
Our PWV analysis,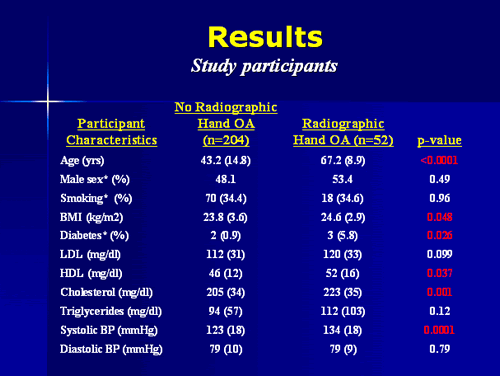 Study Results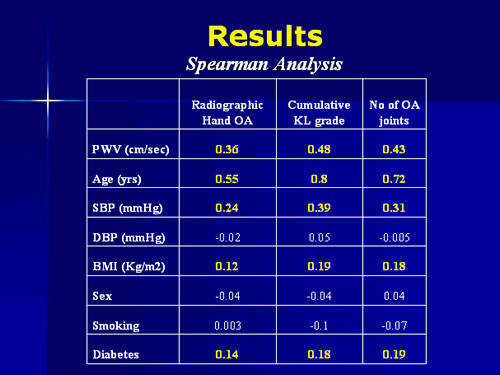 Spearman Analysis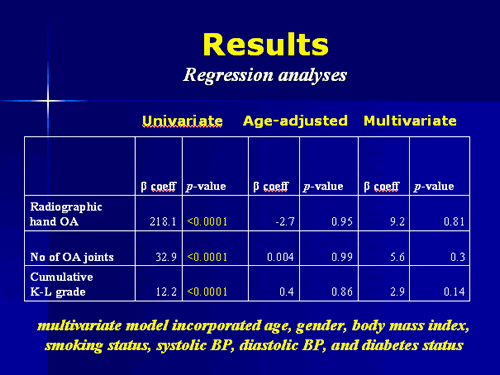 Regression Analyses
comparing radiographic hand OA with no radiographic hand OA, showed statistically significant differences in age, BMI, diabetes, HDL, cholesterol, and systolic blood pressure. Spearman correlating experiment analysis showed that PWV correlated nicely with radiographic hand OA, cumulative K-L grade, and the number of OA joints. These were statistically significant correlations. Interestingly also is that the correlation of age with the assessments of OA just described was significantly higher. We also did simple linear regression to assess the potential relationship between PWV and the markers of OA, including radiographic hand OA, the number of OA joints, and the cumulative K-L grade. Upon the univariate analysis, they were all significantly associated with PWV. Just by adjustment for age itself, these associations were no longer valid. Again, doing a multivariate analysis, these associations were no longer observed.
Pulse pressure is another very good predictor of cardiovascular disease, with increase in quartiles of PP that is increased in the hazard ratios of cardiovascular disease, similarly to what was described with PWV.
We looked at 841 BLSA participants, 40 years and older, with hand X-rays available. They had serial blood pressure measurements over time as well as serial assessment of cardiac risk factors. Once again, 20 joints across 3 joint groups (10 DIPs, 8 PIPs, and 2 first CMCs) were each assigned a K-L grade. OA was defined in a very similar fashion as well: OA of the joint if K-L ≥ 2; OA of the hand group if at least 1 joint at a particular joint group had OA; and OA of the hand if OA changes were present in at least 2 of the 3 anatomic hand groups (DIP, PIP, CMC). We also looked at the total number of joints with a K-L grade ≥ 2, and at the sum of all K-L grades across the 3 joint groups. The results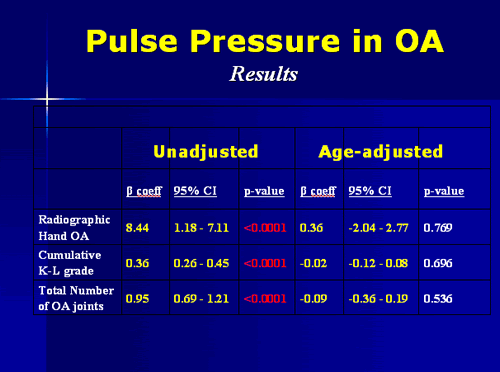 Pulse Pressure in OA
of generalized estimate in equation analysis indicated that, over time, radiographic hand OA cumulative K-L grade and the total of OA joints are predictive of increased PP. This is significant in the end adjustment analysis. And once again, just by adjusting for age alone, this association was no longer observed and was no longer statistically significant.
From this analysis, we can conclude that vascular stiffness, measured by both pre-PWV and PP, was related to the presence and burden of radiographic hand OA. However, in these analyses of the BLSA, this relationship was found to be principally attributable to the confounding effect of age.
We then turned out attention to BMD. There is evidence that reduced BMD and bone fractures have been independently correlated with vascular disease and cardiovascular mortality and that common pathophysiological links have been postulated to underlie this relationship. Type 1 collagen, proteoglycan, osteopontin, and osteonectin all have been found in both bone and vasculature. Accumulating evidence suggests an inverse correlation between radius bone marrow density and hand OA. In a study published two years ago, individuals with radiographic OA of the hand had a significantly greater adjusted rate of bone loss at the radius than those with normal hand radiographs. In another study, a direct relationship was found between severity of radiographic hand OA and reduced cortical bone mineral mass. The presence of symmetric DIP OA, which is a possible indicator of generalized diseases, suggests an increased risk of osteoporosis over time. Moreover, in a recent study of bone mass and PWV in about 95 post-menopausal women, 38 of them had normal spinal BMD, 35 had osteopenia, and 25 had osteoporosis. This study showed that those with osteoporosis had a higher PWV than those with normal BMD, a finding that was statistically significant. Adjusting for age and years since menopause, they showed that women with osteoporosis had a significantly higher PWV. Their conclusion was that low bone mass may be an independent risk factor for cardiovascular disease in post-menopausal women.
What is our hypothesis at this point?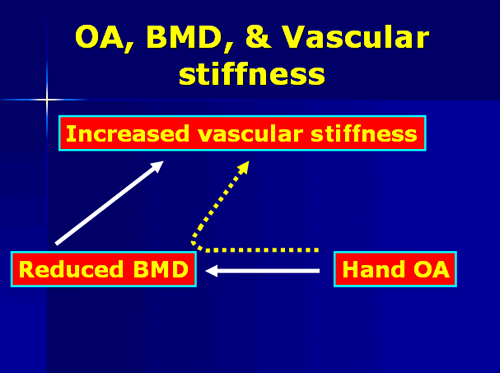 OA, BMD & Vascular Stiffness
Reduced BMD is associated with increased vascular stiffness. From what has been described, hand OA is associated with reduced BMD.  Therefore, this could be a link.
We looked at 662 BLSA participants who had serial measures of single-photon BMD of the forearm and concurrent measurements of blood pressure and cardiovascular variables. Hand radiographs were available on 259 of these patients. The mean age at their first BMD visit was almost 57 years, and nearly 90 percent of them were men. The average follow-up time was 3.2 years. The results showed that, over time, BMD is inversely related to PP.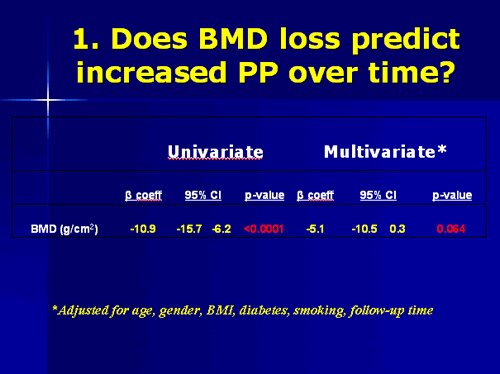 BMD Loss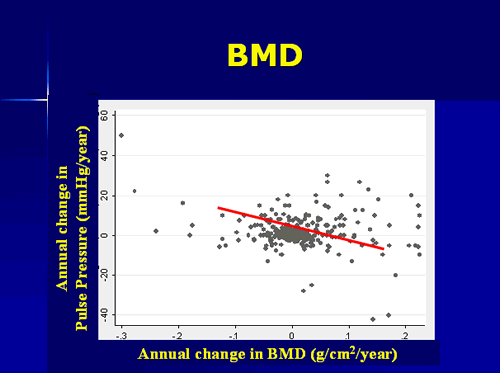 BMD
That was from univariate analysis; in the multivariate analysis, there was a trend to our signature, which I am going to call significant. Does this relationship differ by hand OA status?
HOA Status
Upon univariate analysis, we saw that, over time, BMD is not really a predictor of elevated PP in those without hand OA, yet it is a predictor in those with hand OA. Adjusting for cardiovascular risk factors, however, the relationship was still there, but it was no longer significant.
Our conclusions were that bone mineral loss over time predicts increased vascular stiffness and that hand OA does not appear to play a part in this relationship.
In summary:
Hand OA is associated with increased arterial stiffness, but this effect is attributable to the aging process.
Loss of BMD over time is a predictor of increased vascular stiffness, but this relationship is independent of the presence or absence of radiographic hand OA.