By John A. Carrino, M.D., M.P.H.
Dr. Carrino has no significant financial interest or relationships to disclose.
This is the bone-and-joint decade, and it certainly could be considered the bone-and-joint imaging decade as well because there have been many advances and changes in imaging — diagnostic and therapeutic imaging — that are directly relevant to musculoskeletal. While there are exciting things going on in radiography, ultrasound, CT, etc., I will focus today on MRI. Functional imaging cuts across all of these modalities. Flexion-extension radiographs, dynamic ultrasound, and kinematic MRI should all be considered part of functional imaging in the broad sense.  We'll talk about what clinicians need to know when they are looking at MRI imaging to evaluate patients with rheumatologic conditions.
There are several medical imaging objectives:
To extract information from the living organisms, rather than having to wait until autopsy or pathology to get the information.
To provide spatially discreet mapping so there is a special resolution component.
To provide, through image, a surrogate record of morphology changes, and in many instances, changes in physiology or biochemistry.
To have imaging serve as a guidance for procedures.
A radiologist takes different forms of energy and tries to exploit them to interrogate the tissues and produce useful signals, non-invasively and non-destructively.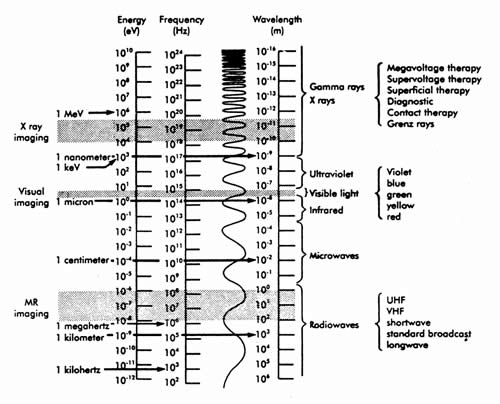 Imaging Types
MRI is a radiofrequency technique. It uses radio waves. Part of the reason we shield the MRI devices is because the magnetic field that we use is many times stronger than the earth's field so there is metal that can be attracted into the magnet.
What I think is useful for MRI when looking at an image is to decide what the contrast is.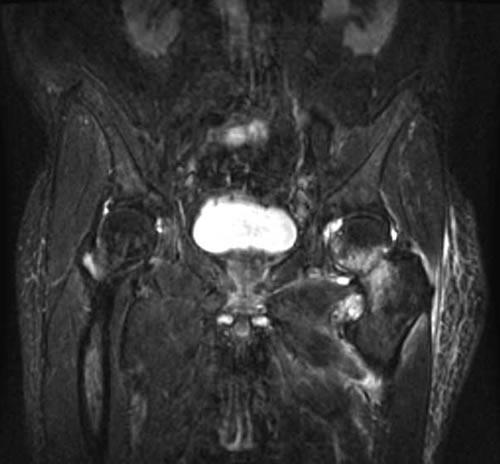 MRI
MRI exploits the different contrast properties of tissue — basically fat and water, which are plentiful in our bodies — and we use those signals to create the majority of the contrast in MRI. These contrast properties can be T1-weighted, T2-weighted, STIR, and proton density. Each of these will look a little bit different with regards to fluid and fat.
The other main musculoskeletal structure that is usually of interest is hyaline cartilage and fibrocartilage, cortical bone, normal tendons. These are basically signal voids on all pulse sequences. They do not really have free protons; there's not a lot of water associated with them. Therefore, a normal tendon ligament, cortical bone, should be dark in all pulse sequences. That is pretty easy to remember.
The image of a wrist — the appendicular skeleton in an adult — shows mostly fat in the marrow. The bright signal is the fat; the fluid is dark. Contrast can be added to identify the synovitis.  To identify a T1-weighted image, you have to look for the little +C-sign contrast material or +G for gadolinium. It is often the last series done in image acquisition; therefore, if you have a sheet of films or a CD, it will be at the end.
In a sagittal image through the knee, lateral femoral compartment, fluid is bright in a T2-weighted image. If the fat is relatively bright, that means we have not fat-suppressed it. For a lot of internal derangement and degenerative conditions, we like to have the fat as the contrast. It is more difficult to see the bone contusion without the fat suppression. In someone with an anterior crucial ligament tear, the ACL defect shows as a fluid-filled gap. Bone marrow edema is much more conspicuous. Think of STIR in T2-weighted fats at images as fluid-sensitive sequences. They are akin to bone scans — meaning that most things are dark, fluid is bright. Therefore, you pick a structure that you know has fluid, such as urinary bladder, gall bladder, CSF if you are working around the spine, etc.
STIR is similar to T2-weighted fatsat, but we use it in different circumstances because STIR is a little more robust for large fields of view. It is a little less susceptible for some of the artifacts that we get with T2; however, they look very similar. With STIR, you may not appreciate the background as much or see as much of the background architecture. T2-weighted images in general have a better spatial resolution, which is why we prefer them when we can get them.
Basically, MRI is proton imaging. Protons are plentiful, again, in the water and fat that we have in our bodies. If we minimize the T1 and T2 contrast elements, we are left with the proton density.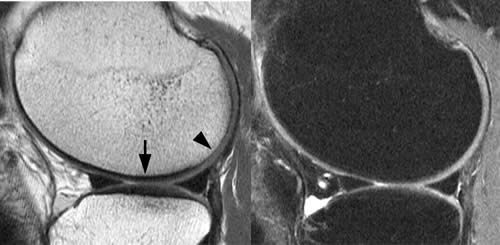 MRI Split
In an image without fat suppression, (See left image in above slide) you will see that, again, in the lateral femoral tibial compartment, marrow is fat; the intrapatellar fat pad has fat. Muscle is usually intermediate. We use skeletal muscle as a type of internal reference standard. When people say something is iso-intense or hypo-intense or hyper-intense, that is really an incomplete statement without a reference standard. In general, we are using skeletal muscle because, in most pulse sequences, it is intermediate in signal intensity and it is usually next to something else. From a musculoskeletal perspective, it is a muscle.
(See right image in above slide) Applying fat suppression takes away the signal contribution from the fat. What does that do? Because we have a certain display, usually a 256-gray scale, we do not have the fat signal taking up a lot of the gray scale. We can then re-scale the other materials that are left there. What happens is that the hyaline cartilage becomes intermediate and more conspicuous than on an image that is not fat-suppressed.
Intermediate-weighted images, or proton-dense weighted images, have become real workhorses for musculoskeletal, for internal derangement, and cartilage. The reason is that with this type of pulse sequence, we can get very good discrimination between marrow, hyaline cartilage, fibrocartilage (which is present within the menisci), and then fluid, so there is very good fluid conspicuity even though it is not a fully T2 image or STIR images, which are considered our fluid-sensitive sequences.
In cartilage, there generally are two approaches: the morphologic versus the functional or physiologic. In the morphologic approach, we are looking for cartilage defects, high spatial resolution often used in the surgical realm, surgical planning, or monitoring surgical therapies. The functional or physiologic approach is where we really have the hope of helping people by trying to get early intervention to identify these pre-morphologic changes. On the morphologic side, what is typically done is some kind of grading system, which often parallels the International Cartilage Repair Society grading system.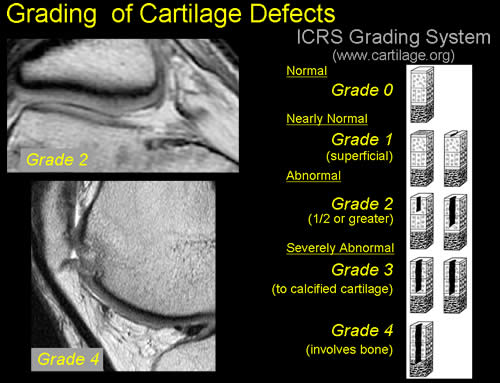 Grading of Cartilage Defects
With regards to new techniques for cartilage imaging, we are looking at improvements in contrast resolution. We want to identify cartilage-sensitive sequences so that we can get better ultra-structural depictions to look at pre-structural lesions. In addition, tied to this but yet separate is improved spatial resolution, for use when looking at the knee, which is a relatively large joint. However, if we want to look at hands, ankles and other areas where you also get osteoarthritis, we need high spatial resolution.
With regards to contrast resolution, we have a number of pulse sequences we can apply and other techniques, such as arthrography. With spatial resolution, improvements include developing high-signal, robust, 3D pulse sequences. As you may be aware, MRI is a time-intensive modality, compared with CT. With CT, the patient is put in the CT scanner (today there's multi-slide CT with less than a minute of image acquisition), then a lot is done as post-processing in the back end. MRI is very time-intensive, in that all of the pulse sequences need to be acquired separately. It is not a matter of window and leveling or changing an algorithm applied to the data that is acquired. That is really where CT has strength. With MRI, you need to interrogate the tissues differently to produce the pulse sequences. In large part, MRI is a 2D modality. The real good sequences are often 2Ds. If you want to investigate something in the coronal sagittal or oblique plane along the course of a ligament or tendon, you would then need to get a prescription specific to that course.  3D is a big advantage for MRI.
Some advances have been to look at better contrast resolution, trying to find sequences of fluctuating equilibrium,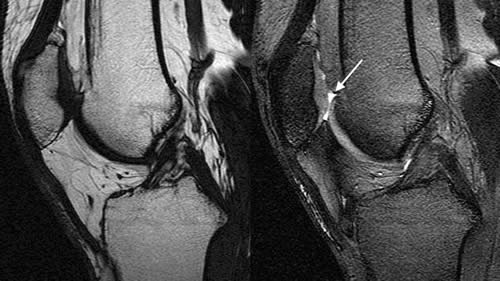 Contrast Resolution
also known as deft or femur, to see fluid conspicuity as well as produce a nice, intermediate signal from the hyaline cartilage. T2 mapping also has been done, T2 being one of the properties of tissues. When cartilage loses a proteoglycan, it loses its fixed negative charge. This can be mapped by T2 mapping. T2 mapping is not perfect because many of these variations are not only related to pathology but are also related to the distribution of the water content and the organization of the cartilage, with different zones between the surface layer and the basal layer.  Dr. Tim Moser at Penn State has done a lot of work on this.
T2 Maps
T2 maps are created with a T2-weighted pulse sequence, generating colorized images. The normal state has more greens and aquas; in someone with osteoarthritis, the T2 values are longer.
MR arthrography is a technique that we often use for sports medicine internal derangement because many important ligament structures are not adequately visualized when the joint is at rest. We often do not image people in a position of pain or in a position of stress. What MR arthrography does is distend the joint to create separation between some of these structures, providing additional contrast between the fibrocartilage or ligament structures. This allows us to use T1-weighted sequences that are usually pretty good, signal-to-noise-wise. MR arthrography can be used to improve the conspicuity of cartilage defects, but it is probably not the best option.
There are two main techniques for doing MR arthrography.
Direct MR arthrography is just an extension of conventional arthrography: Put a needle in the joint and inject the contrast material. This provides a capsular distention.
Indirect MR arthrography was developed by Dr. Carl Winalski at the Brigham and was popularized by different groups. It has been used at Beth Israel in Boston for cartilage work. Contrast material is injected to get an arthrographic effect. It's injected intravenously, as opposed to a direct MR arthrogram, where we inject a needle in the joint.
We typically do delayed imaging. Exercise helps the mixing effect and provides better joint enhancement. With indirect MR arthrography, there is a diffusion gradient between the blood and the intra-articular cavity. As you give the intravenous injection, contrast material goes into the joint. It will stay subsynovial unless you exercise — and that is the importance of exercise. Exercising helps the mixing effects, keeps the diffusion gradient up, and there is more rapid and uniform enhancement intra-articularly.
One technique to look at cartilage is known as delayed gadolinium enhancement of the cartilage, or DGEMRIC.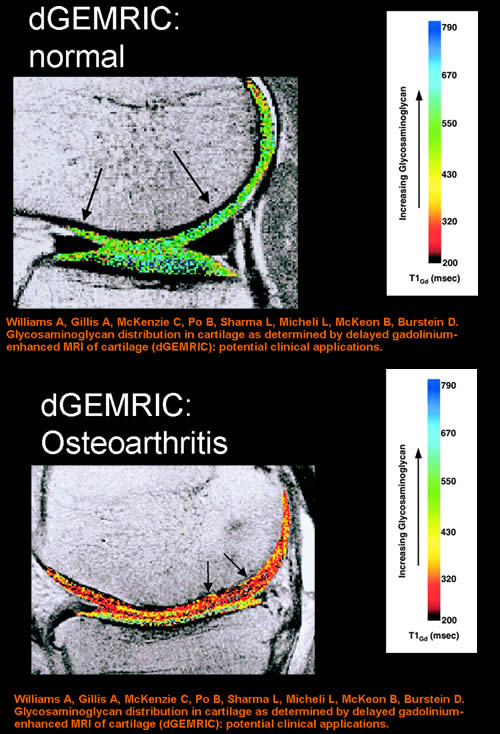 dGemric
The glycosaminoglycans (GAG) have charged side chains, and the distribution of ions reflects the GAG concentration. Certain forms of gadolinium are negative; therefore, you have to make sure you are using the right contrast material. Not all of them have a negative. The ones that have a negative charge will go to areas where there is low GAG depletion to be attracted to the positive charge. Then you can create an index and a colorized map. This has been done in basic science and used in clinical studies for cartilage.
Those are the contrast resolution issues in looking at cartilage. The spatial resolution issue is that cartilage in general is thin. The patella is up to 1 centimeter, but most of the surfaces we look at are only a few millimeters. And it is often a curved surface, which is not great imaging. You need to find an orthogonal plane to the curve surface of interest to depict it the best. In addition, you want to get a high spatial resolution technique.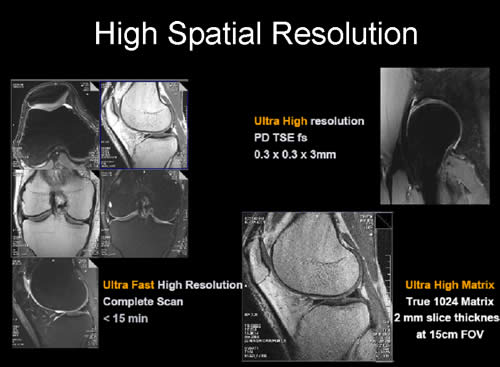 High Spatial Resolution
(Courtesy of Siemens Medical Systems)
Of all the modalities mentioned, MR is perhaps on the lower end of spatial resolution; radiography and CT have much higher spatial resolution. We are trying to make MR competitive in terms of getting down to sub-millimeter resolution. One way to do that is to take a high signal-to-noise and contrast-to-noise sequence, like a fast-spin echo or turbo-spin echo that can produce good contrast resolution for cartilage, and then make it better on the spatial resolution side.
With that in mind, the new higher field strength magnets, 3 Teslas, have higher signal-to-noise so we can use that to create sequences that have more spatial resolution with either the same time or with less time.  In addition to higher field strength, we have new coils with a function known as parallel imaging. Therefore, we are acquiring parallel data from the images and reconstructing that. The combination of the two makes for time-effective protocols with high spatial resolution.
As I mentioned, MRI is mostly a 2D modality. Doing 3-dimensional work with the types of pulse sequences that we would like for cartilage contrast resolution has been a challenge.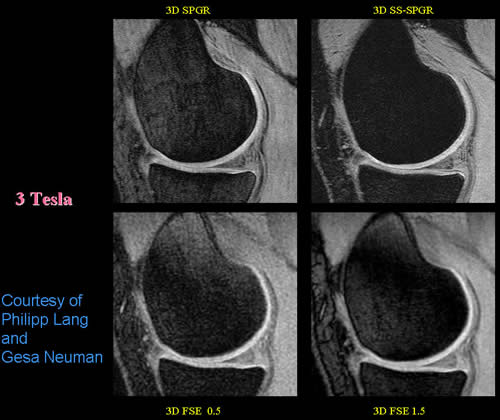 3 Tesla
When looking at images, spoiled gradient echo is the standard cartilage-sensitive sequence; SS-SPGR refers to a steady state modification of it, which is a little quicker. Fast-spin echo (FSE) is a sequence we like because it is very robust for internal derangement as well as cartilage. There is a little better depiction of the cartilage defects on the cartilage surface with the 3D fast-spin echo.
What radiologists do is try to make better images. First, we look at it as a beauty contest: Does it look nice? OK, it looks beautiful — but does it work well? Then we need to test it with other methodologies. As for such things as minimizing interpretive error, observor performance studies come in.  The importance of 3D is that we make a single isotropic acquisition and then display it interactively in the planes that we want. With 3D and 3 Tesla combined, there's a single acquisition instead of three separate acquisitions.

Cartilage MRI
We then can look at the cartilage in the traditional sagittal view. We create a coronal oblique to identify the anterior cruciate ligament graft to see if there is impingement or tear of the graft.  And, if you want to look at the menisci, we often do it in sagittal and coronal, but sometimes axial is very nice to show the C-shape.
Using the high spatial resolution and high contrast resolution images, we want to segment the cartilage to look at the total volume.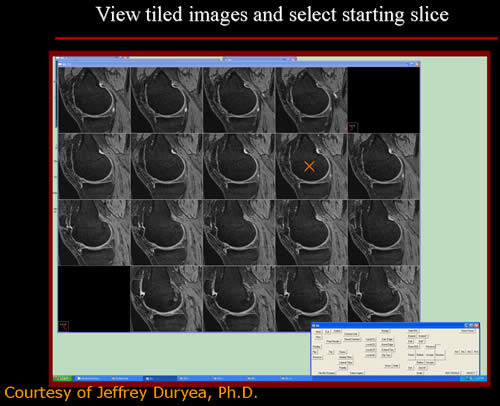 View of Images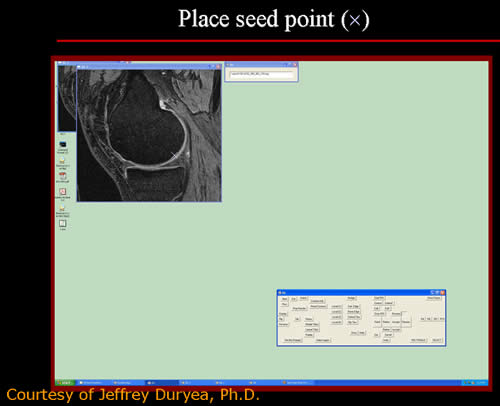 Place seed point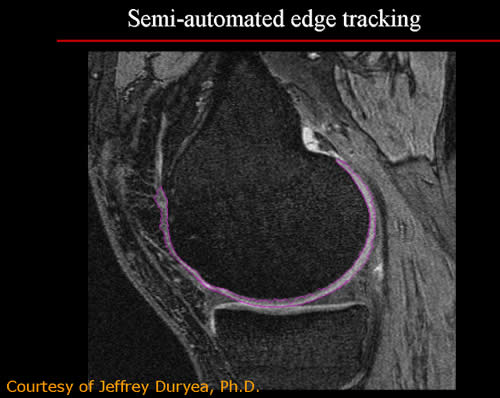 Semi-automated edge tracking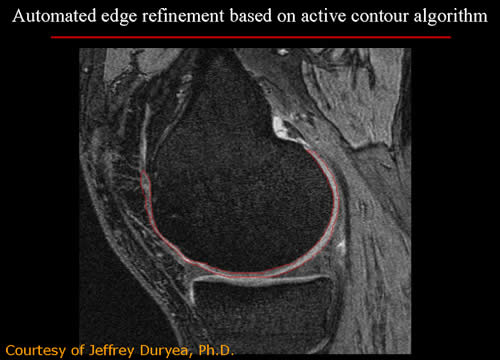 Automated Edge Refinement based on active contour algorithm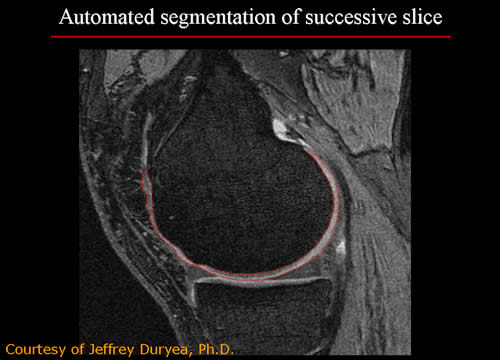 Automated Segmentation of Successive Slice
We pick an area in an image where we are going to start, and place a C point. Then there is semi-automated edge tracking, so you let the machine do some work. Once we refine and identify that this is the cartilage signal we want and these are the boundaries, then we propagate it. It propagates along the successive slices that were done in the 3D acquisition. Then we create volumes, and you can truly measure the volumes. Radiology is currently measuring defects, and we are often undersizing the defect. Because it is a curved surface, it is hard for us to really measure the whole volume unless we use a technique like this.
However, cartilage is not the only story in osteoarthritis. In marrow imaging, marrow normally has a red and yellow component; the hematopoietic and the fatty components. Most marrow — even hematopoietic marrow — still has a substantial proportion of fat. In the axial skeleton of young people you still see about 40% fat, and that is useful as a contrast agent. In the appendicular or axial skeleton of older people, you could see up to 80% fat.
When looking at images, you can tell it is T1-weighted if the fluid is dark. The marrow will be bright, though not as bright as the epidural fat or the retroperitoneal fat because it is 40% to 80% fat and not 100% fat.  In a T2-weighted image, or fluid-sensitive sequence, the cerebrospinal fluid is bright. A dark background indicates either a T2 fat sat or STIR. We can see the architecture a little better with a T2 fat sat; STIR is a little grainier. The bone is dark when the fat has been suppressed. Bone marrow edema, or BME, is not only edema. In radiology literature, we are moving toward calling it bone marrow edema-like signal. This is in part because the knee bones of people with osteoarthritis who have this bone marrow edema-like signal show other things going on, such as granulation tissue and trabecular reorientation, not simply water. It is a non-specific finding on MRI, so you have to put it in the context of the disease and the history. It can represent edema or hemorrhage, hypervascularity, hyperperfusion, inflammatory infiltrates, i.e., osteomyelitis, granulation of fibrovascular tissue in the fractures or in the post-operative state, even adaptive phenomena. In some instances, this is the MRI manifestation of Wolf's law, so trabecular reorientation occurs, especially in stress fractures. For a bone to respond, it has to have osteoclastic resorption before the osteoblasts are laid down. We see that as part of a stress reaction of stress fractures, which end up as bone marrow edema-like signals. The contrast does not help too much because, basically, it is leaky fluid — fluid that is leaking to the bone somehow, and the contrast just follows that fluid. Giving contrast does not help us distinguish whether it is neoplastic, inflammatory, infectious, or mechanical. The reason we get contrast is because, if we are doing it because of infection or tumor, we are looking for necrosis. We are hoping to identify devitalized areas to tell a surgeon that this is an abscess, or to tell a tumor surgeon that chemotherapy has worked.
With bone marrow edema, we have a bright signal in the marrow.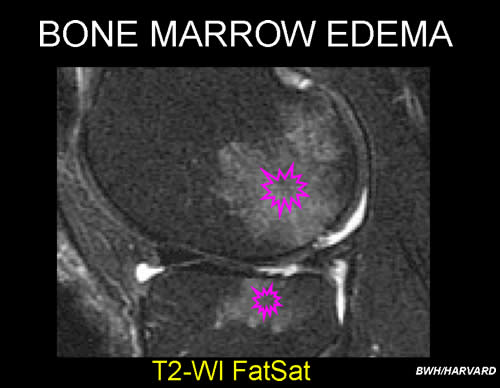 Bone Marrow Edema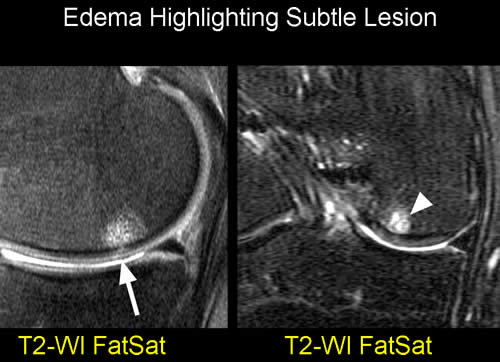 Edema Highlighting Subtle Lesion
In some cases, it is related to cartilage defects. The defects can be very subtle, so the bone marrow edema can be a clue to the cartilage defect that is present. The spatial resolution of MRI is low, so there may be a fissure that is communicating from the intra-articular cavity to the subchondral bone that we are not appreciating.
Although we're focusing mostly on the traditional sequences, T1 and the fluid-sensitive sequences, there are newer pulse sequences as well.
Chemical shift imaging, what is known as "in and out of phase," is useful for marrow pathology when we are trying to distinguish malignant from benign processes.
In diffusion-weighted imaging, we are looking at the amount of diffusion present in water. Typically between malignant and benign lesions, benign lesions have lots of free water, so water diffuses much more. Malignancies that are infiltrative can look similar in that they have bone marrow edema; however, their diffusion is restricted, i.e., the water is not as free to move around because it is related to the tumor infiltrate.
MR spectroscopy is a biochemical profile of what is going on, again, looking at choline and using it for tumors.
One of the things we would like to do is produce an MR protocol that provides all of this information with imaging, and provides it at the consult. We would integrate the process so that by the time the technology is finished, you would get images that have the morphologic assessment as well as the biochemical assessment.
Shifting to rheumatoid arthritis, soft tissue imaging is what's of value.  You can either use it for symptomatic body areas or, if there is an indeterminate clinical examination — you're not sure if it is inflammatory — then you can do a targeted MRI. It can also be used for monitoring therapy, for a more global assessment.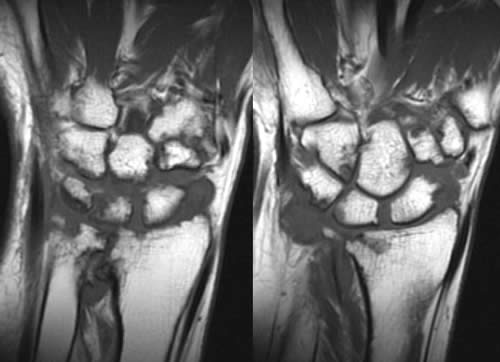 Rheumatoid Arthritis
In a person with rheumatoid arthritis, the fluid is not completely dark.  Normal clean fluid or synovial fluid should be darker than muscle. If it's a little brighter you have a more complicated fluid that is a manifestation of synovitis. With rheumatoid arthritis, the potential use is to track response to drug therapies and provide additional objective evidence of response with regard to looking at the degree of joint effusion, synovial proliferation, erosions, bone marrow edema, and associated internal derangements of people who get extensor tendon tears in rheumatoid arthritis, or get ligament tears and end up with a SLAC wrist.
High-field or low-field? It's a tradeoff. The emphasis has been on high-field high spatial resolution images, and that is great for spatial resolution. However, if you are trying to do a large field-of-view monitoring assessment — both hands, for instance — you may want to use a lower-field magnet; it gets a larger field of view. You do not get as much spatial resolution, but what you are really looking for is what is going on with the joint fluid and the bone marrow edema.
Turning to muscles: There are many anatomic variants, and a lot of things that go on in the muscles are not necessarily rheumatology related; instead, they are often trauma-related, sports medicine-related, or infection. With regards to rheumatology, things like polymyositis and dermatomyositis often have diffuse involvement. They are usually symmetric, and they involve the large muscle groups. MRI is a good way to identify the active component of either fascial or muscle edema. It is also an area you can use to direct the biopsy of the involved muscle. With polymyositis or dermatomyositis, you have an inflammatory myopathy, autoimmune disorder. MRI can show whether there is active inflammation and can be used to direct biopsy either for surgical biopsy or, down the road, for doing MRI-guided biopsy to make sure you get the muscle that is involved.
In a classic case of dermatomyositis, all the rotator cuff muscles are hyperintense. There is active inflammation and, near the hips, proximal thigh, the adductor muscles show a feathery edema pattern.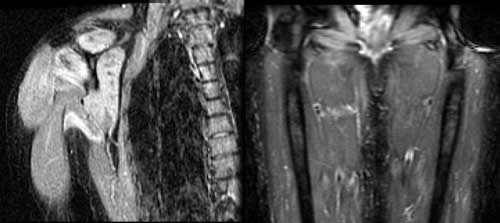 Diffuse Myositis
That would be diffuse myositis — something that you might see early or mid-stage; at late stage, you would see atrophy. However, other disorders — peripheral nerve injuries, muscular dystrophies, post-traumatic muscle tears — involve myopathy as well. So what we look for in the muscle early is edema and maybe some decreased bulk. However, what we see often is just feathery edema along the muscle fibers. Late, we look for a fatty replacement or fatty atrophy.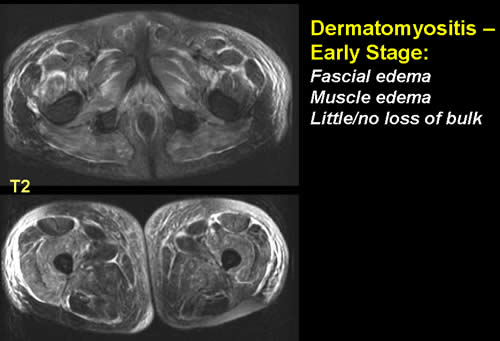 Dermatomyositis
In a person with dermatomyositis, if it is very early, we usually see edema in the fascia first. Therefore, we look for areas of interfascial fluid, and we tend to get the myositis on MRI.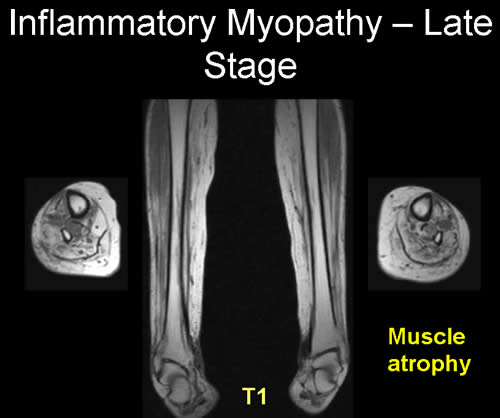 Inflammatory Myopathy
In late stage, there may be no more inflammation, but there is no more muscle. The differential for this could include muscular dystrophies or neurogenic disorders; we differentiate by the clinical information, sometimes imaging. In muscular dystrophies, we tend to get more of a fatty replacement, meaning that it will look as if there is a ghost of a muscle there, but the fat fills in where the muscle signal used to be. In disorders where you have a muscle tear or loss of a muscle bulk, there would be more of a fatty atrophy. We would not see that ghost where the muscle should be; we just see decrease in the volume.
Vasculitides can affect the muscle as well, not really through myonecrosis. There may be normal laboratory and electrodiagnostic tests, in which case MRI can be used as a marker for the disease activity, or to guide the site for muscle biopsy. In someone with lupus and vasculitis,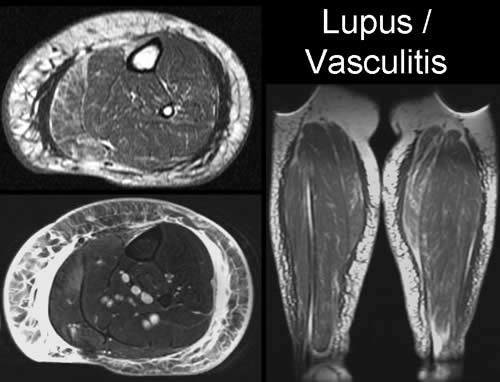 Lupus / Vasculitis
we again would see subcutaneous fluid as well as muscle fluid present within the gastrocnemius related to the vasculitis. Sometimes it can be very severe and look almost as severe as a dermatomyositis. It can sometimes be diffused as well.
What are some new ways for looking at muscle or quantifying it?
In diffusion tensor imaging, we can look at the different aspects of diffusion. This method was developed at Hopkins by an MRI physicist to look mostly at the brain — at the neuronal structures and the course of the nerves in the brain and the spinal cord. We look at the diffusion of the water molecules. We try to get directionality out of it. There are a number of technical challenges in the extremities. However, we have a group of hard-working researchers working on this. With regards to the muscle, we acquire the information and then try to characterize which way the muscle bundles are going.
Entheses is another area that is very exciting to look at in terms of imaging. And it is an area that I know is becoming very popular in the rheumatology world.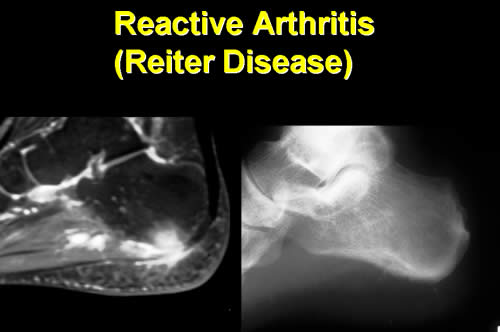 Reactive Arthritis
Plantar fasciitis is a common mechanical problem. You can have a micro or bony evulsion related to the plantar fascia attachment. Usually you do not have much edema, but rather a kind of flame-shaped or erosive-looking edema. In addition, when you look at the radiograph, the spur tends to be more formed in terms of having a nice cortical and medullar structure. When it is kind of fluffy and distinct, and there is erosion, you may have someone with reactive arthritis.
In the spine, an area that is hard to evaluate is the sacroiliac joint.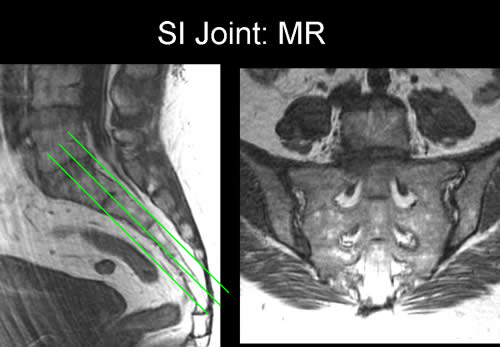 SI Joint
If you are going to do radiography, I prefer to do a single view, a modified Ferguson view, because the sacrum is curved; in some people it is very curved, in others it is a little curved. So, you angle the beam toward the sacrum; get an AP view. If you can evaluate the joint in that view — or if it is indeterminate in that view — turn to advanced imaging modality.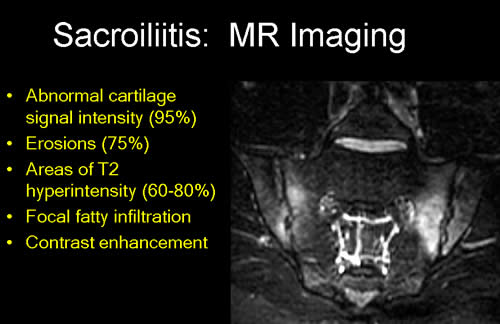 Sacroilitis
With MRI we get coronal oblique images from the sagittals. The sacroiliac joint has a synovial component antero-inferiorly; it also has a fibrous component. The fibrous component has a little bit of fat between the two, so you can see some fibers and some fibrous fatty tissue.
In someone with ankylosing spondylitis, inflammatory spondyloarthropathy, the pattern is not what we see with degeneration.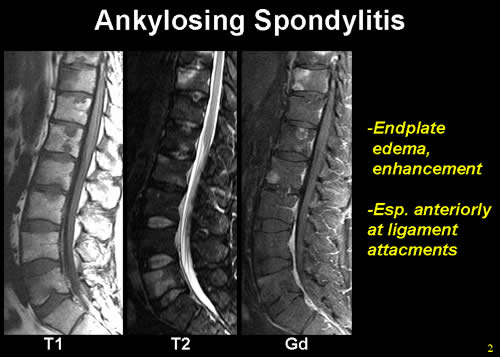 Ankylosing Spondylitis
It's also not a pattern necessarily seen with neoplasm or fracture. As with rheumatoid arthritis, MR has been used in a number of spondyloarthropathy drug trials, looking for monitoring therapy. When it heals, it does so with fatty infiltration — and the fat is brighter than the marrow fat; it is closer to 100% fat.
Interventional MRI is another area warranting attention. So, why would we want to use MRI for guidance? It has flexible image contrast. It is a great cross-sectional technique; you can have an adjustable imaging plane. And there is absence of ionizing radiation — which is good for those of us who do procedures as you do not have to wear lead.
As an example, the sacroiliac joint can be injected with gadolinium — a technique we anticipate using for biopsies and other procedures.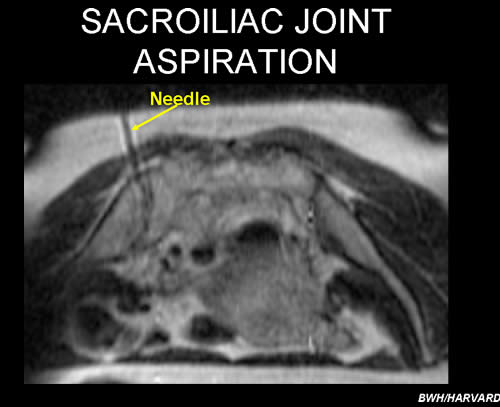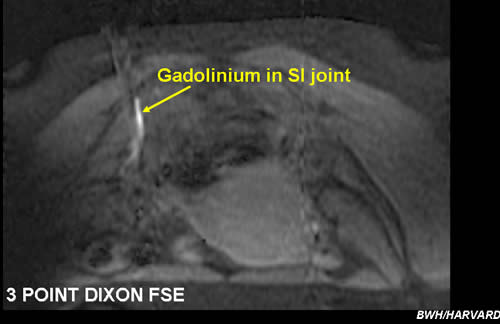 Sacroiliac Joint Aspriration
However, there may be advantages regarding injections of joints, especially around the spine and other parts of the axial skeleton. Something we are working on is an augmented reality system.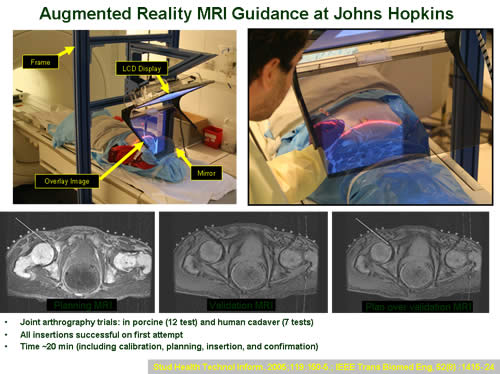 Augmented Reality MRI Guidance
We use a high-field strength MRI unit, but open board. We're able to image larger patients, but not at 3T; therefore, we have a new 1.5T, which has a much larger bore, specifically made for larger patients. We are using it for interventional imaging as well because it can fit a needle, and the needle is sticking out of the patient as you put him into the bore. We place the needle on the outside of the bore, but we use the MRI images that are required and we overlay them (which is the name of the system) on the patient. So, we are using our MRI vision rather than our X-ray vision to place the needle.
We have also done MRI-guided biopsies for synovial lesions.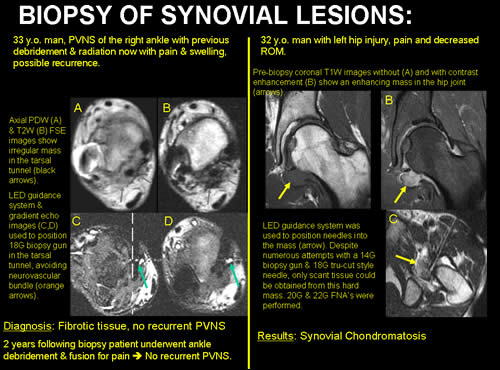 Caption Here
We were able to access the ankle joint area, finding only fibrotic tissue; no recurrent pigment villonochular synovitis, which was the arthroscopic diagnosis two years later. In someone else, we were able to safely get the needle deep into the hip joint area; it was intra-articular, and showed chondromatosis.
In conclusion, many recent advances in imaging have improved our understanding of the pathogenesis and treatment of people with rheumatologic conditions. All the modalities can be important, though MRI is the one I focused on today. In terms of talking about some of the methodologies, obviously for treatments, randomized controlled trials have been the gold standard; however, on the diagnostic imaging side, randomized trials are difficult to implement. The goal is a diagnostic modality. Diagnostic modalities have different methodologies for looking at things. One of the paradigms is to look at technical development implemented assessment, research or working conferences, and then look at what the outcomes are in terms of what the referring providers are doing. Are they ordering more MRI instead of radiograph, or just ordering more MRI and using that information to make their decisions? These are the kinds of things that we can do together.