Is there a role for bronchoalveolar lavage in scleroderma patients who may be suspected to have fibrosing alveolitis?
By Shikha Mittoo, M.D.
Dr. Mittoo has no significant financial interest or relationships to disclose.
For CME credit,TAKE POST-TEST & EVALUATION
I would like to begin with a case. Ms. KK is a 36-year-old, previously healthy woman. She was referred to the Rheumatology Clinic in February 2005 to determine whether she had an autoimmune disease. In August 2004, Ms. KK noticed skin thickening around her fingers and her face.  In following months, the skin changes progressed to involved her entire extremities. She also developed pleuritic, anterior chest pain.  She noted no shortness of breath at that time but did have low grade fevers.  Physical examination was notable for scleroderma skin changes involving her fingers, hands, arms, feet, legs, thighs, and abdomen.  She had friction rubs in her knees and ankles.
Serologic work-up for her symptoms revealed a positive anti-nuclear antibody at a titer of 1:80 with a speckled pattern.  Tests for anti- topoisomerase I antibody and extractable nuclear antigens were negative.  Radiographic work-up from August 2004, which included a chest X-ray and a high-resolution chest computed tomography (HRCT) scan, were unremarkable.
Pulmonary function tests (PFTs) from February 2005 revealed a severe restrictive pattern.  She had an forced vital capacity (FVC) of 56%, total lung capacity (TLC) of 51%, and a diffusing capacity for carbon monoxide (DLCO) of 63%.  She had an echocardiogram that noted a normal ejection fraction, a normal right ventricular systolic pressure (RVSP), and a mild pericardial effusion.  Ms KK. brought  images of her most recent chest HRCT scan to clinic.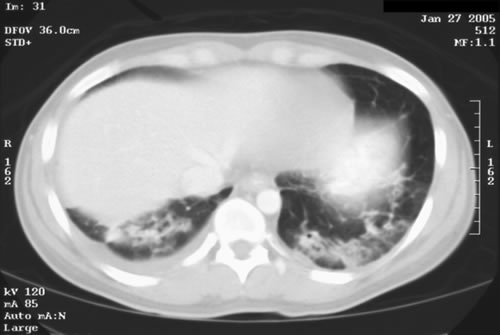 The scan was notable for interstitial infiltrates
and a pleural effusion.
Mrs. KK wanted to know what her diagnosis was and why her CT scan was abnormal.  We felt her diagnosis was diffuse scleroderma complicated by interstitial lung disease (ILD), also known as fibrosing alveolitis (FA).  At this point, I would like to address certain issues related to FA and then return to Ms. KK's case.
Keep this in mind:
Sir William Osler once said, "Every patient you see is a lesson in much more than the malady from which he suffers."
We will discuss fibrosing alveolitis as a complication of scleroderma and examine the following points:
The epidemiology of FA.
How do we arrive at the diagnosis of FA?
Is there is a role for bronchoalveolar lavage (BAL) in making a diagnosis of FA?
Is there a role for BAL in predicting end-stage lung disease (ESLD)?
How common is FA?  It depends on our method of diagnosis and/or definition of FA.  In a study by Owens et al., 33% of patients with limited scleroderma were found to have FA by interstitial infiltrates on chest X-rays (Owens et al. 1983).   Scully et al. found that 80% of scleroderma patients had lung involvement post-mortem.  Interstitial lung disease may be seen in 72% of patients with limited scleroderma (Owens et al 1983) who have an isolated reduction in DLCO on their PFTs.
A more important question may be: how common is clinically significant FA? Clements et al. (Arthritis & Rheumatism 2004) noted that the % predicted FVC of less than 75%, in the absence of air flow obstruction, is observed in around 40% of scleroderma patients. Moreover, severe restrictive lung disease, defined as a % predicted FVC of less than 55%  in addition to an abnormal chest X-ray can be seen in 16% of nearly 1,000 patients with diffused scleroderma (Steen, Arthritis & Rheumatism 2000).  A study of 1,000 scleroderma patients (Ferri et all 2002) demonstrated a 70% 10-year survival with the leading cause of mortality being lung diseases (affecting 33% of patients).  These studies indicate that FA is common and clinically significant.
What are the risk factors for FA? We know that being male, African American, having a shorter disease duration, the presence of an anti-topoisomerase I antibody, early or progressive reduction in FVC (as seen in our patient), presence of cardiac or skeletal muscle involvement, and a raised erythrocyte sedimentation rate (ESR) are all risk factors. Although FA can occur in both limited and diffuse scleroderma subtypes, it usually occurs earlier and can progress more rapidly in the diffuse subtype.
How do we diagnose FA? The gold standard to diagnose FA is with a lung biopsy.  Other less invasive approaches have been used to diagnose FA, however, these approaches also have their limitations.  Pulmonary symptoms are present in about 50% of patients with FA, but these symptoms are non-specific and may not be present in the early stages of the disease.  PFTs may be sensitive but not specific at diagnosing FA.  Chest X-rays are not sensitive at diagnosing FA.
Chest HRCT scans are very sensitive in the evaluation of ILD (90% to 100% of patients). The presence of "ground-glass opacities" on HRCT reflects early active ILD, a stage when the disease may be more treatment-responsive.   CT scans also have certain limitations in diagnosing FA.  The presence of fibrosis may not be clinically meaningful or significant.  The presence of ground-glass infiltrates may not represent FA but rather be a sign of pulmonary infection, sub-resolution fibrosis or other alveolar pathologies.
Moreover, CT scans are reader-dependent and interpretations of certain nonspecific radiographic abnormalities may be variable. There is no standard way to arrive at a diagnosis of FA.  One diagnostic approach is discussed in an Australian study by Sahhar et al. (Sahhar et al 2004).  In their paper, Sahhar et al suggested that patients at risk of developing FA and who have an abnormal lung function test should get a chest CT scan. Based on patient's symptoms, chest CT scan results, and the severity of lung function abnormalities, one can consider whether further investigations with a BAL, or surgical lung biopsy are needed.
With respect to the BAL, its role in scleroderma lung disease is still experimental.  However, in the appropriate clinical context, the BAL along with other objective measures of lung involvement can support the diagnosis of FA.  A study by Clements et al. (2004) suggests a supportive role for BAL in diagnosing scleroderma FA.  In their study, 18 scleroderma patients with dyspnea were evaluated for ILD by BAL in the right middle lobe or lingula and the lower lobe.  The majority of these patients had a HRCT scan of the chest and their CT images evaluated in a blinded manner for ground-glass infiltrates (defined as any ground-glass infiltrates) and fibrosis in the corresponding lavaged lobes. An abnormal BAL was defined as the presence of ≥3% polymorphonuclear cells and/or ≥2% eosinophil. They found that there was an excellent agreement between HRCT ground-glass opacities in the right middle lobe and lingula and an abnormal BAL performed in the same middle lung region.  There was less agreement found between HRCT ground-glass opacities in the lower lobe and an abnormal BAL performed in the same lower lobe region.  While there was a significant agreement between HRCT fibrosis in lower lobes and an abnormal BAL performed in lower lobes, fibrosis on HRCT in the middle lung lobes did not correlate well with an abnormal BAL performed at the same middle lung region.  They concluded that while a BAL may underestimate active alveolitis in certain lung regions (middle lobe), a HRCT scan may also miss signs of active interstitial lung disease.
The following points should be considered when using an abnormal BAL to define FA:
The number of lobes lavaged. Most studies have looked only at a single-lobe BAL, most commonly the right middle lobe or lingula. The rationale has been that the middle lobe/lingula is easily accessible and can provide a greater cellular yield compared with other lobes.  The work by Silver et al. supports the suitability of a single lobe.  Clements et al., however, showed that the BAL of two lobes compared with one lobe will increase the frequency of diagnosis of FA by 23%, suggesting that more than one lavaged lobe may be useful to diagnose FA.
The amount of saline used for lavage.  Higher amounts of saline may yield more cells.
How the fluid is analyzed. Clements et al. showed that while the reproducibility of the counts is good, deciding if FA is present may lead to errors when counts are very close to the cellular cutoffs.
How an abnormal BAL is defined.   There are different cellular cutoffs on BAL analysis that are used to define active interstitial lung disease. The definition of >3% polymorphonuclear neutrophils and ≥2% eosinophils on BAL fluid is the definition of alveolitis used at our center. These cutoffs were derived from normal BALs. This is also the definition used in the first randomized clinical trial in scleroderma lung disease (Scleroderma Lung Study).
While it may be controversial to only use a BAL to diagnose FA, there may be a role for BAL in predicting ESLD.  In scleroderma, BAL has been shown to predict progressive-restrictive lung disease as assessed through PFTs and chest imaging.  An abnormal BAL has also been shown to predict mortality (White et al.).
Four pivotal studies demonstrate these findings.
The first of these studies is by Silver et al., published in 1990 (Am J Med).  Silver et al. looked at the relationship between BAL findings and pulmonary function in scleroderma patients. They evaluated 43 patients who met the criteria for scleroderma by American College of Rheumatology (formerly American Rheumatism Association, ARA) and 14 non-smoking healthy controls. The study excluded smokers and patients diagnosed as having an upper respiratory illness, pulmonary hypertension, or bronchitis. Every patient underwent PFTs and a single-lobe BAL of the right middle lobe. They noted that there was a trend to increase in the percentage of polymorphonuclear neutrophils and eosinophils in scleroderma patients compared with the controls. They also found that the absolute number of granulocytes of these two subtypes and the percentage of granulocytes by BAL significantly differed between the two groups. They further subdivided the scleroderma patients into abnormal BAL and normal BAL. They defined an abnormal BAL as: >2 standard deviations (SD) above the mean values of cells from the healthy controls.  Comparing scleroderma patients who had an abnormal BAL with those with a normal BAL, there was a significant increase in total cells.  There was no difference in terms of BAL fluid recovery between the scleroderma and normal groups, suggesting that this difference in cellularity was not due to a differential fluid recovery.  Of the entire scleroderma group, there were 10 patients who had multiple BALs: 5 from the abnormal group and 5 from the normal group, representing about 23% of the study population. These 10 patients underwent 2 to 4 BALs during a mean follow-up period of 1.4 years. In the scleroderma group with a normal baseline BAL, 4 of the 5 patients remained normal on the follow-up BAL studies. In the scleroderma group with an abnormal baseline BAL, all had abnormal subsequent BALs. The subset of patients with abnormal follow-up BALs ended up being treated because of declining lung function; 4 of the 5 were given Cytoxan and low-dose prednisone, and 1 was given high-dose prednisone. Despite treatment, there was no significant change in the percentage of granulocytes by BAL over time in this group.  What they found was that patients who had an abnormal baseline BAL would have experience a significant decline in absolute FVC and absolute levels of DLCO at follow-up compared to the group with a normal baseline BAL.  The conclusion from this paper was that a BAL may be useful in identifying patients at risk of further decline in pulmonary function.
In 1996 (Am J Crit Care Med), Behr et al studied a larger number of scleroderma patients. The aim was to evaluate the relationship between BAL findings and the clinical course of scleroderma patients with associated FA. This study involved 79 patients fulfilling ARA criteria for scleroderma who were referred for suspicion of lung involvement based on symptoms and radiologic signs of ILD and who had abnormal PFTs. They were non-smokers or had stopped smoking at least 2 years earlier. Those with hypersensitivity pneumonitis, exposure to dust, were excluded.  They all underwent PFTs and BAL at baseline, and they had a PFT at a mean follow-up interval of 1.1 years. The BAL was a single-lobe BAL in the right middle lobe or lingula.  An abnormal BAL was defined as >5% polymorphonucleocytes and lymphocytes as >15%.   All patients were offered treatment at a dose of 1 mg/kg of prednisolone for 8 to 12 weeks. Depending on the stability of pulmonary function tests, prednisolone was either tapered down or, for those whose lung function got worse, cyclophosphamide was added to the regimen. The 79 scleroderma patients were divided into groups.  First they were divided based on a normal or abnormal BAL.  The groups were further sub-divided into those who received therapy and those who did not. They found that untreated patients with an abnormal BAL compared to untreated patients with a normal BAL had a significant decline in lung function (by all parameters measured) at follow-up.  Treated patients with an abnormal BAL had significantly improved their lung function at follow up compared to untreated patients with an abnormal BAL.  Their main conclusion was that an abnormal BAL is associated with progressive lung function decline in scleroderma patients.
In 1999, Witt et al. published a prospective study (Am Rheum Dis) that extended the findings of Silver et al. and Behr et al.  Witt et al.'s study, however, had a longer follow-up period.  Their aim was to identify which BAL cellular differential is associated with pulmonary function decline in scleroderma patients with FA. The study enrolled 73 consecutive patients with scleroderma. Every patient had a clinical exam, chest CT chest, PFT, gallium-scanning echocardiography, and BAL. The BAL was a single-site BAL in the right middle lobe.  An abnormal BAL was defined by >3% polymorphonucleocytes,  >0.5% eosinophils,  >15% lymphocytes for non-smokers or >7% lymphocytes for smokers. Forty-nine patients were prospectively followed for up to 2 years with annual PFTs and clinical exams. Of the 49 patients, 26 had abnormal BALs, and 23 had normal BALs. The majority of patients were treated with low-dose prednisolone, and 2 who had granulocytosis on their BAL received Imuran.  With the exception of two patients, most patients with a normal BAL maintained a stable DLCO at follow-up.  Patients with an elevated granulocyte count by BAL, but not lymphocyte count, experienced a significant decline in their DLCO on follow-up compared to their baseline DLCO.  In their conclusion, Witt et al argued that BAL fluid granulocytosis actually predicts progression of FA with deterioration of lung function as evaluated by DLCO.
The last study I'd like to discuss, by White and Wigley, published in 2000 (Ann Intern Med), sought to determine if cyclophosphamide treatment is associated with improved lung function and survival in scleroderma patients with active interstitial lung disease.  The study included 103 patients with scleroderma who met ARA criteria and had PFTs and either BAL or lung biopsy as part of their work-up. They were followed until death or until at least one set of follow-up PFTs 6 months from their initial BAL or lung biopsy. The mean follow-up interval was 1.4 years. The study used a multi-lobe BAL of the right upper, right middle or lingula, and right lower lobe. An abnormal BAL was defined by ≥3% polymorphonucleocytes and ≥2% eosinophils.  Thirty-nine patients received Cytoxan and 30 were untreated. Two outcomes examined were: a medically meaningful change in the percent predicted FVC and DLCO.
A medically meaningful change in lung function was defined as an improvement in % predicted DLCO or FVC by ≥10%.  They found that patients with an untreated patients with an abnormal BAL did significantly worse in terms of lung function compared with treated patients with an abnormal BAL. Survival was the secondary endpoint. The survival rate in the study was greater among patients with a normal BAL than among untreated patients with an abnormal BAL. The major cause of death was from progressive restrictive lung disease, with or without pulmonary hypertension. The conclusion of this study was that patients with BAL-defined active lung disease experienced lung function decline and an increased mortality compared with those with normal BAL studies.  This was one of the first papers to link survival with abnormal BAL findings in scleroderma patients with active interstitial lung disease.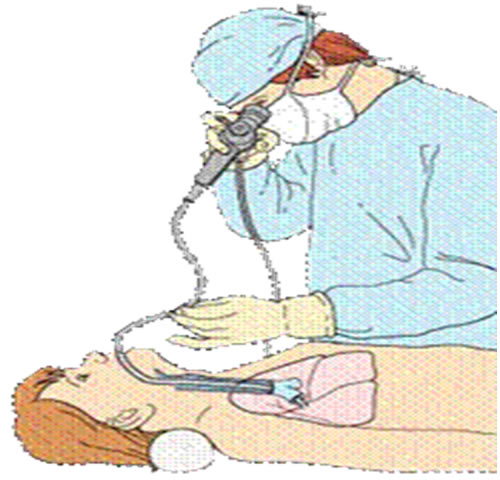 Now, in revisiting Mrs. K.K.'s case, would a BAL be useful to diagnose FA?
In summary, this is a woman with rapid-onset, diffused scleroderma of short disease duration, who had an early progressive reduction in her % predicted FVC of 56%.   In addition to an abnormal PFT, she had an abnormal HRCT of her chest.  Let's closely look at her most recent HRCT chest scan again and compare it with a CT scan from another patient who has FA.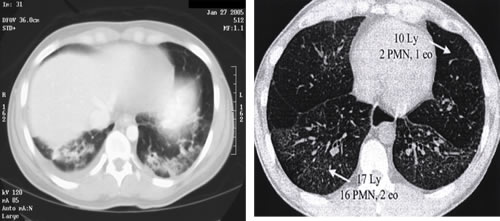 On Ms KK's high-resolution CT scan, the interstitial markings sparing the bases.
The image on the left is of Ms KK's HRCT scan and the image on the right is of a patient with FA. On the right, in this patient with FA, one can appreciate involvement of the entire lung region including at the bases. Although Ms KK's scan was read as interstitial infiltrates, this is more of an alveolar-pattern of involvement; there is a hazy pattern. In contrast, the patient with FA was a clear interstitial pattern on the HRCT scan.  In addition, if we go back to Ms KK's history, she had a history of low-grade fevers. Because of this, coupled with the atypical high-resolution CT scan findings, a BAL could have been performed to support the diagnosis of FA.  Instead, in Ms KK's case, an open-lung biopsy was performed and revealed bronchiolitis obliterans organizing pneumonia (BOOP).  She was informed that she had a good prognosis with respect to her lung disease. She was treated with Cytoxan, mainly because of her rapid skin involvement, along with prednisolone and had an excellent radiographic and symptomatic response. Her HRCT scan of her chest a year after treatment was normal.
In conclusion, arriving at a diagnosis of FA requires the use of multiple modalities, PFTs,  imaging, and BAL or lung biopsy. Understanding the limitations of our diagnostic tests in working up FA is very crucial. In Ms. K.K.'s case, picking up on the atypical features on her high-resolution CT scan was essential at determining the need for BAL or lung biopsy.
For CME credit,TAKE POST-TEST & EVALUATION