Clinical History
55 y.o. woman over the past 3 months has developed severe bilateral morning stiffness and soft tissue swelling in her hands and feet that lasts up to 1 hour.
Radiographic Films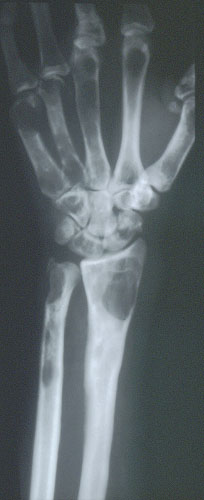 Film 1
Radiographic Findings
Radiographs of the hands and feet reveal multiple lytic lesions (red arrows). Pathologic fractures of varying ages are noted in several lesions as well (yellow arrow). A chest radiograph (not shown) reveals bilateral hilar adenopathy and scattered pulmonary infiltrates.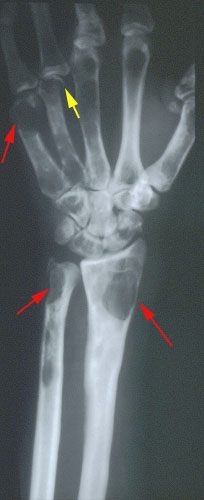 Film 1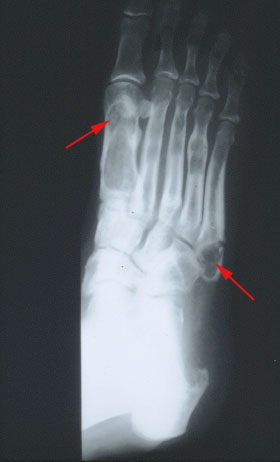 Film 2
Diagnosis and Discussion
Correct Diagnosis: Bone Sarcoidosis
Discussion:
Sarcoidosis, a systemic disorder of unkown etiology characterized by non-caseating granulomatous inflammation of affected tissues, is renowned among clinicians for its protean manifestations and myriad clinical presentations. Though classically affecting the lung, skin, and eyes, musculoskeletal involvement is not uncommon. Osseous involvement occurs in approximately 5% of cases, and occurs more frequently in African American women between 40 and 60 years of age. Patients may describe chronic swelling in the affected extremities, along with other signs and symptoms of a chronic inflammatory arthritis. An acute sarcoid polyarthritis can also be seen in association with erythema nodosum and hilar lymphadenopathy. While osseous involvement is often noted in patients with cutaneous sarcoidosis, there is little anatomic correlation between the location of the lesions and the bones involved.
Radiographs of the affected extremities typically reveal periarticular osteoporosis, and multiple lytic/cystic lesions at the ends of the affected bones with preservation of the periosteum. However, extension into the articular space can occur, with resultant joint space narrowing and erosions. Nasal bony erosions can also be seen. It has been proposed that the secretion of vitamin D or an osteoclast activating factor by the sarcoid granuloma may contribute to the bone pathology seen in this disease; treatment therefore includes anti-resorptive therapy with bisphosphonates in addition to more typical anti-inflammatory medicaton regimens. Corticosteroids, while quite effective for other systemic manifestations of sarcoidosis, are not particularly effective once lytic lesions have occurred.
References
Wilcox A, Bharadwaj P, Sharma OP. Bone sarcoidosis. Curr Opin Rheumatol 12(4):321-30, 2000.
Pettersson T. Sarcoid and erythema nodosum arthropathies. Baillieres Best Pract Res Clin Rheumatol 14(3):461-76, 2000.
Resnick D, Niwayama G. Sarcoidosis. In: Resnick D, ed. Diagnosis of Bone and Joint Disorders 3rd ed. Philadelphia, London, Toronto, Montreal, Sydney, Tokyo: Saunders, 4012-4032, 1995.