Clinical History
The patient is a 44 y.o. woman who underwent renal transplantation ten years ago secondary to chronic glomerulonephritis. She now presents with progressive low back, left shoulder, hip, and knee pain. The pain has been steadily progressive over the past several months, does not radiate, is activity related, and has recently become so severe that she now has difficulty climbing stairs. She denies any other systemic symptoms except for a general feeling of "weakness", and the remainder of her past history is unremarkable.
Her current medications include Imuran, cyclosporine, and low dose prednisone. There are no obvious abnormalities on physical examination, but lower extremity neurological examination is difficult to perform due to pain. Laboratory examination reveals a serum creatinine of 3.5, calcium 10.2, phosphate 5.8, and a markedly elevated intact parathyroid hormone level at 1297 (nl range 10-65). Radiographs were obtained.
Radiographic Films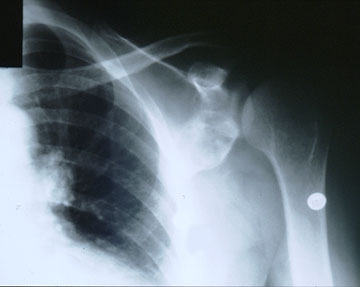 Film 1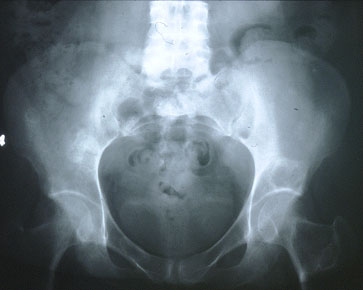 Film 2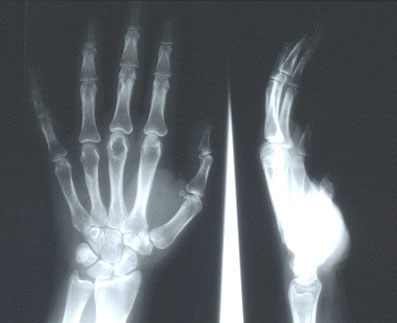 Film 3
Radiographic Findings
Film 1 Radiographs of the left shoulder reveal a 4 x 3 cm expansile lesion (red arrow)with a sclerotic rim in the lateral margin of the scapula.
Film 2 There is a large lytic lesion (red arrow) in the proximal left femur, and multiple lesions (yellow arrows) of varying sizes are seen throughout the pelvis as well. The pelvic lesions show varying amounts of surrounding sclerosis, with some showing sclerosis within the lesion.
Film 3 Radiographs of the left hand reveal a 1 cm lytic lesion (red arrow) in the third metacarpal head, an eccentrically located sclerotic lesion in the midportion of the 4th metacarpal bone, and a smaller radiolucent defect (yellow arrow) in the proximal phalanx of the middle finger.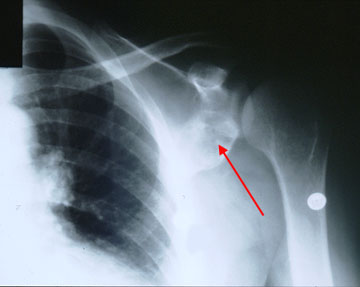 Film 1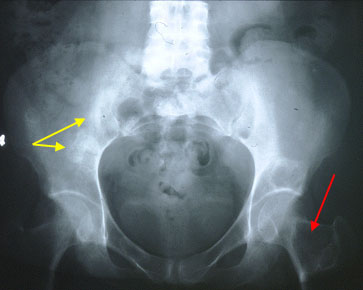 Film 2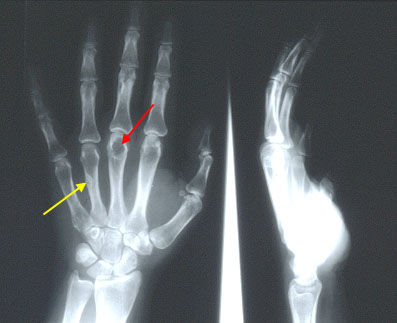 Film 3
Diagnosis and Discussion
Correct Diagnosis: Brown Tumor (osteoclastoma) associated with secondary hyperparathyroidism
Discussion:
Brown Tumors, or osteoclastomas, are rarely seen complications of longstanding hyperparathyroidism (HPT). They occur most commonly in primary HPT, but can also be seen as a consequence of untreated renal osteodystrophy. These lesions are benign, and represent localized accumulations of osteoclasts, fibrous tissue, and blood; their high hemosiderin content gives them their characteristic brown color. They occur as single or multiple lesions, and can be found both within bone and in the adjacent soft tissues. When left untreated, they can undergo central necrosis and cyst formation. Other radiographic manifestations of HPT, including subperiosteal, subchondral, and subligamentous bone resorption (especially of the middle phalanges of the hand), are often seen in association with these lesions. Because they are benign, they must be distinguished from metastatic carcinoma and multiple myeloma in the right clinical setting. Treatment of secondary HPT includes aggressive hemodialysis, judicious use of phosphate binders and calcitriol, and if necessary, parathyroidectomy.
References
Pecovnik Balon B, Kavalar R. Brown tumor in association with secondary hyperparathyroidism. A case report and review of the literature. Am J Nephrol 18(5):460-3, 1998.
Gupta A, Horattas MC, Moattari AR, Shorten SD. Disseminated brown tumors from hyperparathyroidism masquerading as metastatic cancer: a complication of parathyroid carcinoma. Am Surg 67(10):951-5, 2001.
Agarwal G, Mishra SK, Kar DK, Singh AK, Arya V, Gupta SK, Mithal A. Recovery pattern of patients with osteitis fibrosa cystica in primary hyperparathyroidism after successful parathyroidectomy. Surgery 132(6):1075-83, 2002.