Clinical History
The patient is a 50 year old woman who was dignosed with systemic lupus erythematosus (SLE) at the age of 16 when she presented with an inflammatory polyarthritis, skin rash, a positive ANA, malaise, and multiple hard subcutaneous nodules. Her clinical course has been complicated over the years by recurrent infections, including cellulitis, osteomyelitis, and endocarditis, and the development of diffuse lymphadenopathy. She has been treated with corticosteroids with good effect. Recent routine radiographs were obtained at a recent office visit.
Radiographic Films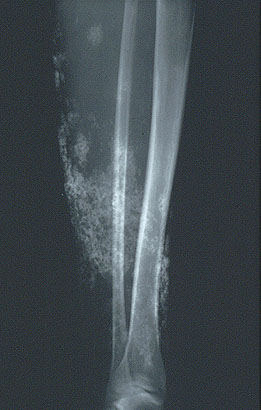 Film 1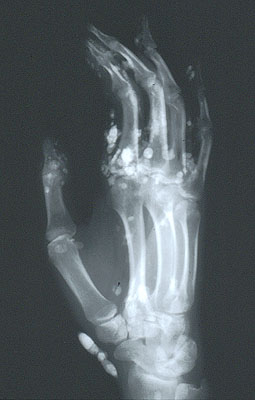 Film 2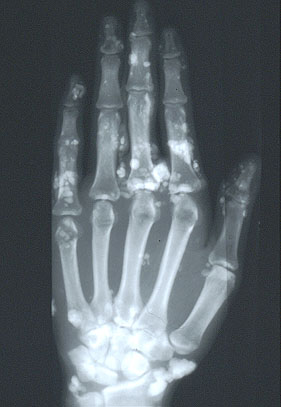 Film 3
Radiographic Findings
Radiographs of the hands reveal mild lateral subluxation of the 5th metacarpaophalangeal joint with minimal soft tissue swelling in the 1st and 2nd digits. There is no evidence of erosions. Diffuse soft tissue and periarticular calcification is noted in both the upper and lower extremity radiographs. (red arrows)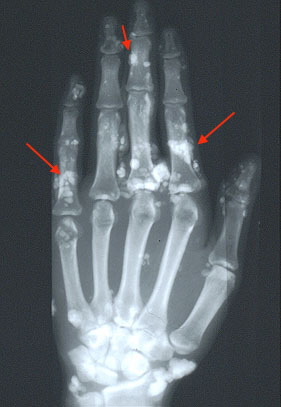 Film 1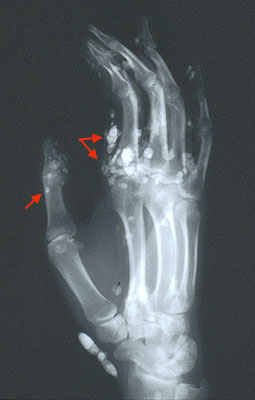 Film 2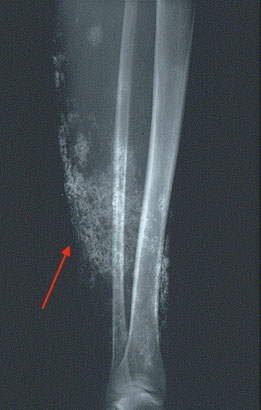 Film 3
Diagnosis and Discussion
Correct Diagnosis: Systemic Lupus Erythematosus with Diffuse Idiopathic Calcinosis (calcinosis cutis)
Discussion:
Diffuse soft tissue calcification (calcinosis cutis) is a rare complication of systemic lupus erythematosus, and resembles the calcification that is more commonly noted in systemic sclerosis and dermatomyositis. It tends to develop in patients diagnosed with SLE at a young age. The calcification in SLE has a predilection for the lower extremities, and can cause both diffuse and nodular densities in the soft tissues. These calcific densities are prone to ulceration and infection. The cause of calcinosis cutis is unknown, and treatment is largely aimed at controlling local symptoms and infections. Drug therapy with bisphosphonates, and surgical excision for localized lesions, have been attempted with varying degrees of success.
References
Quismorio FP, Dubois EL, Chandor SB. Soft-tissue calcification in systemic lupus erythematosus. Arch Dermatol 111(3):352-6, 1975
Rothe MJ, Grant-Kels JM, Rothfield NF. Extensive calcinosis cutis with systemic lupus erythematosus. Arch Dermatol 126(8):1060-3, 1990.
Cousins MA, Jones DB, Whyte MP, Monafo WW. Surgical management of calcinosis cutis universalis in systemic lupus erythematosus. Arthritis Rheum 40(3):570-2, 1997.
Resnick D. Systemic Lupus Erythematosus. In: Resnick D, ed. Diagnosis of bone and joint disorders 3rd ed. Philadelphia, London, Toronto, Montreal, Sydney, Tokyo: Saunders, 1276-1279, 1995.