Clinical History
The patient is a 56 year old woman who was diagnosed with SLE at the age of 20 when she presented with a symmetric inflammatory polyarthritis, skin rash, and a high titer ANA following the birth of her first child. Her only other lupus-related symptom has been intermittent oral ulcers. She has been treated with low to intermediate dose corticosteroids over the past several years, and despite this treatment continues to have significant stiffness and low-grade synovitis. Joint examination reveals synovitis of the MCP joints bilaterally, with significant reducible volar subluxation and ulnar deviation. Radiographs of the hands were promptly obtained.
Radiographic Films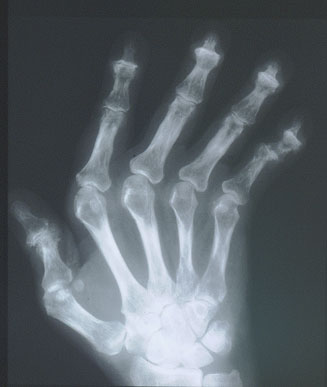 Film 1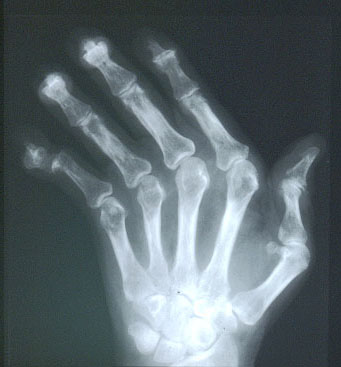 Film 2
Radiographic Findings
Plain X-rays of the hands reveal periarticular osteoporosis with marked alignment abnormalities at the 2nd-5th MCP joints. There is significant ulnar deviation, with hyperextension of the 2nd-5th PIP joints bilaterally. In addition, degenerative changes are seen at the DIP joints with marked flexion deformities as well. The carpal joints are well-maintained, and there is no significant erosive change noted.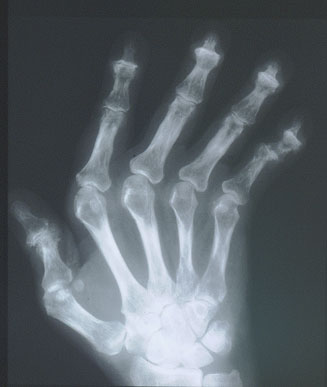 Film 1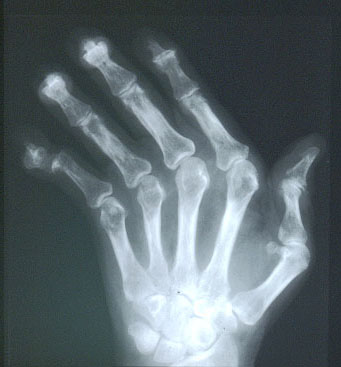 Film 2
Diagnosis and Discussion
Correct Diagnosis: Deforming Non-erosive Arthropathy Associated with SLE
Discussion:
Deforming non-erosive arthropathy was first described by Jaccoud in patients with rheumatic fever and recurrent bouts of arthritis. A similar arthropathy is commonly seen in patients with SLE, being found in up to 40% of lupus patients with musculoskeletal manifestations of the disease. The hallmarks of Jaccouds arthropathy include prominent periarticular osteoporosis, ulnar deviation, marked reducible flexion deformities, and rarely, characteristic "hook" erosions on the radial and palmar aspects of the MCP heads. Jaccouds arthropathy can be differentiated from rheumatoid arthritis by its reversibility, lack of marginal erosions, carpal bone involvement or global joint space narrowing. A similar non-erosive arthropathy can occur in Ehlers-Danlos syndrome, although it usually less severe, and often only affects the CMC joint causing 1st digit subluxation.
The etiology of this condition is thought to be chronic inflammatory changes affecting the joint capsule and surrounding tendinous structures. This ultimately leads to joint laxity and the characteristic reversible changes seen both clinically and radiographically. Treatment is aimed at reducing the synovitis; methotrexate is the current mainstay of therapy.
References
Szczepanski L, Targonska B, Piotrowski M. Deforming arthropathy and Jaccoud's syndrome in patients with systemic lupus erythematosus. Scand J Rheumatol 21(6):308-9, 1992.
Resnick D. Systemic Lupus Erythematosus. In: Resnick D, ed. Diagnosis of bone and joint disorders 3rd ed. Philadelphia, London, Toronto, Montreal, Sydney, Tokyo: Saunders, 1269-1291 and 1354-1360, 1995.