Clinical History
The patient is a 63 year old woman with a five year history of progressive neck pain and stiffness. She presents to clinic complaining of marked limitation of motion, and is having increasing difficulty extending her neck. She denies morning stiffness, back pain, fever, or peripheral arthritis. Her medical history is only notable for hypertension and hyperlipidemia. Physical examination reveals an obese woman with significant cervical paraspinous muscle spasm, increased occiput to wall distance, and reduced range of motion to flexion and extension of the cervical spine. An X-ray of the cervical spine was obtained.
Radiographic Films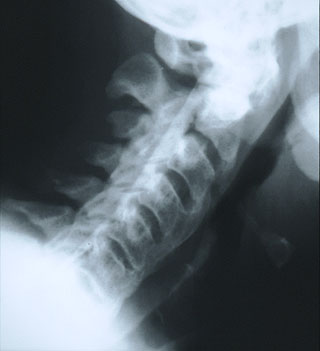 Film 1
Radiographic Findings
X-Ray of the cervical spine reveals large bridging anterior osteophytes from the level of C2 to the upper thoracic spine (yellow arrow). Additionally, a dense band of calcification is noted along the posterior aspect of the vertebral bodies. (red arrow) Mild disc space narrowing is noted at C5-6 and C6-7, with minimal narrowing at C3-4. There is no evidence of facet joint fusion or narrowing.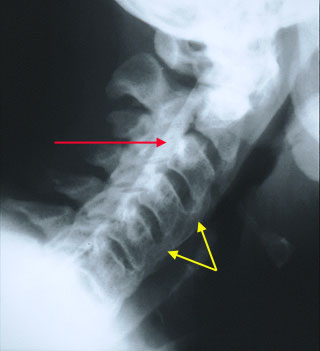 Film 1
Diagnosis and Discussion
Correct Diagnosis: Diffuse Idiopathic Skeletal Hyperostosis (DISH) with Ossification of the Posterior Longitudinal Ligament (OPLL)
Discussion:
Diffuse Idiopathic Skeletal Hyperostosis (DISH) is a common cause of regional pain syndromes in patients over the age of 40. It is more commonly seen in men than women, and reaches its peak incidence in the 6th and 7th decades of life. Patients who are obese or dyslipidemic appear to be at increased risk. DISH can affect the cervical, thoracic, or lumosacral spine, and it typically presents as localized pain and stiffness with decreased range of motion of the affected area. It is often confused radiographically with the changes seen in ankylosing spondylitis, as bridging osteophytes are seen in both conditions. However, the lack of facet joint arthritis and fusion, sacroiliitis, and syndesmophytes in DISH help to confirm the diagnosis. Treatment is conservative and involves physical therapy, stretching and range of motion exercises, and NSAIDs.
DISH of the cervical spine can often present as progressive dysphagia, due to esophageal compression by the underlying osteophytes. Ossification of the posterior longitudinal ligament (OPLL) can also be seen. While roughly 30% of patients of patients with OPLL present with cervicalgia alone, the remainder usually experience some degree of cervical myelopathy. If myelopathy is present, surgical decompression may be necessary.
References
Havelka S, Vesela M, Pavelkova A, Ruzickova S, Koga H, Maeda S, Inoue I, Halman L. Are DISH and OPLL genetically related? Ann Rheum Dis 60(9): 902-3, 2001.
Meyer PR Jr. Diffuse idiopathic skeletal hyperostosis in the cervical spine. Clin Orthop 359: 49-57, 1999.
Trojan, DA, Pouchot, J, Pokrupa, R, et al. Diagnosis and treatment of ossification of the posterior longitudinal ligament of the spine: Report of eight cases and literature review. Am J Med 92: 296, 1992.
Resnick D. Calcification and ossification of the posterior spinal ligaments and tissues. In: Resnick D, ed. Diagnosis of bone and joint disorders 3rd ed. Philadelphia, London, Toronto, Montreal, Sydney, Tokyo: Saunders, 1496-1507, 1995.