Clinical History
A 30 year-old woman complains of progressive pain and stiffness in his right hip. Her review of systems is unremarkable, and physical examination only reveals painful, and markedly diminished, internal and external rotation of the hip. Imaging studies were obtained.
Radiographic Films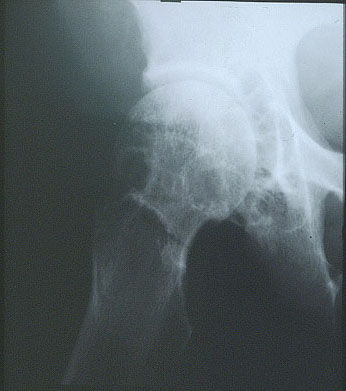 Film 1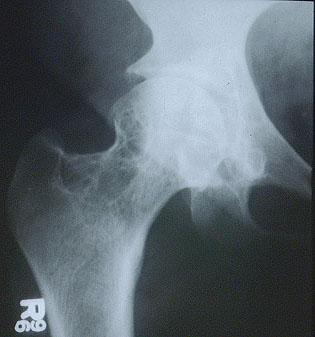 Film 2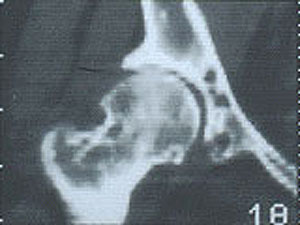 Film 3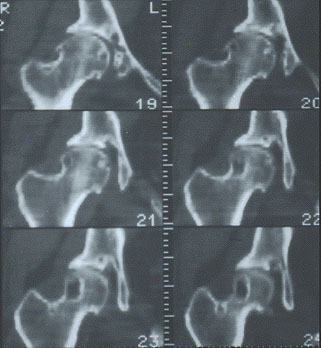 Film 4
Radiographic Findings
Plain radiographs of the hip reveal mild joint space narrowing with large cystic erosions of the intracapsular portion of the femoral neck and erosions of the acetabulum.(Film 1 & 2) CT scan confirms the presence of multiple large cystic erosions.(Film 3) T1-weighted and T2-weighted MRI images often show areas of low signal intensity representing synovial hemosiderin deposition.(Film 4)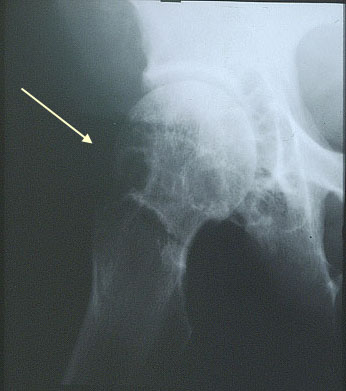 Film 1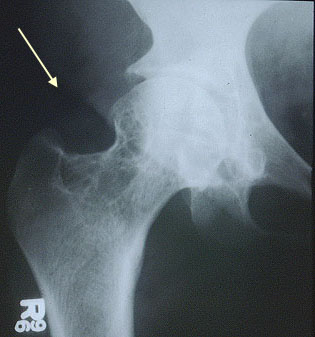 Film 2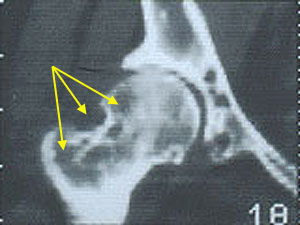 Film 3
Diagnosis and Discussion
Correct Diagnosis: Pigmented Villonodular Synovitis (PVNS)
Discussion:
Pigmented Villonodular Synovitis (PVNS) is a benign condition of unknown etiology characterized by synovial hypertrophy with hemosiderin deposition, inflammatory effusions, and rarely, bony erosions. It can occur at any age, but its peak incidence is in the third and fourth decades of life. Three clinical forms of the disease have been described: 1) Pigmented Villonodular Tenosynovitis (PVTS), or giant cell tumor of the tendon sheath, 2) Diffuse intra-articular PVNS, and 3) Localized peduncular vilonodulous synovitis.
In the diffuse articular form, the knee is the most commonly affected area, followed by the hip and ankle. Bony erosions are rarely seen, but are more common in the hip than in other areas. Erosions on both sides of the joint are expecially suggestive of PVNS, and calcifications are rarely seen. The presence of calcification, therefore, should suggest an alernative diagnosis. The effusions, when present, are bloody, due to the presence of abundant hemosiderin-laden macrophages in the hypertrophied synovium. Treatment often involves surgical debridement and synovectomy, although recurrence rates are high. PVNS of the hip may lead to secondary degenerative arthritis requiring total hip arthroplasty.
References
Bhimani MA, Wenz JF, Frassica FJ. Pigmented villonodular synovitis: keys to early diagnosis. Clin Orthop 386:197-202, 2001.
Myers BW, Masi AT, Feigenbaum SL. Pigmented Villonodular Synovitis and tenosynovitis: a clinical and epidemiologic study of 166 cases and literature review. Medicine 59: 223-38, 1980.
Cotten A, Flipo RM, Chastanet P, Desvigne-Noulet MC, Duquesnoy B, Delcambre B. Pigmented villonodular synovitis of the hip: review of radiographic features in 58 patients. Skeletal Radiol 24(1): 1-6, 1995.