Clinical History
A 78 y.o. man presents to the ER complaining of progressively debilitating bilateral groin pain. The patient describes the pain as deep and aching, and wakes him up at night. He reports that it became acutely worse in the last 3 days, making it hard for him to ambulate or bear weight. He participated in a low-impact senior aerobics class at a local community center 4 days ago. He denies any recent weight loss, fevers, chills, night sweats, or other somatic symptoms. He takes no medications. On exam, he is a thin man who appears uncomfortable. He has mild tenderness to palpation in the inguinal area bilaterally, and has normal range of hip motion. He does wince with pain on extreme internal and external rotation of the hip.
Radiographic Films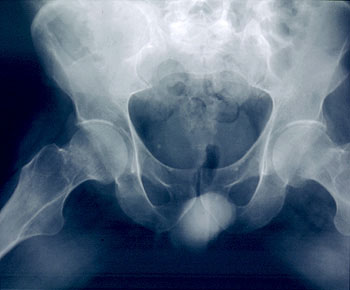 Film 1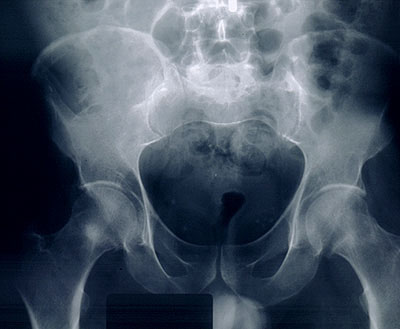 Film 2
Radiographic Findings
Pelvic radiographs show diffuse osteopenia (red arrow) of the femoral neck and head, with fracture lines (yellow arrows) manifested as cortical irregularities and sclerosis at the superior aspects of the femoral necks bilaterally. The sclerotic lines in the medial femoral necks probably result from a combination of impaction and new bone formation due to healing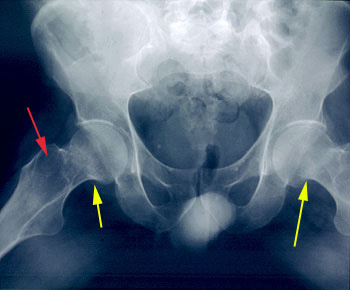 Film 1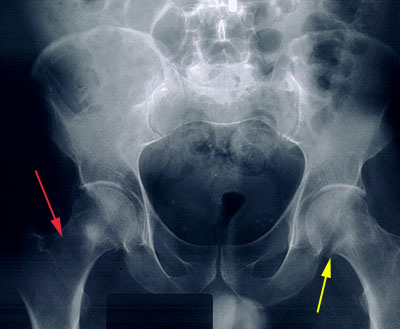 Film 2
Diagnosis and Discussion
Correct Diagnosis: Bilateral Insufficiency Fractures of the Femoral Neck
Discussion:
Although osteoporosis and trauma-related fractures are common in elderly patients, insufficiency fractures, especially of the femoral neck are relatively uncommon. More commonly affected sites include the pelvic girdle, sacrum, and tibia. This type of fracture is caused by either increased tensile or compressive forces acting at the femoral neck, and can occur in areas of weak bone during periods of normal to increased daily activity. Compressive lesions are usually found on the inferomedial aspect of the femoral neck, are more commonly seen in younger athletic patients, and are usually amenable to non-surgical treatment. This is in contrast to tension-induced lesions which predominate in the elderly, which almost always require surgical stabilization. Common risk factors in the elderly include osteoporosis, rheumatoid arthritis, steroid treatment, and hyperparathyroidism.
The clinical signs of an insufficiency fracture often come on suddenly, and are exacerbated by weight-bearing. Diagnosis is made by plain radiography, with bone scintigraphy or MRI used if the index of suspicion is high and plain films are initially negative. Treatment of osteoporosis-induced insufficiency fractures of the femoral neck almost always requires operative stabilization due to the potential instability of this lesion. However, some authors have argued that fractures visible only by bone scan may initially be treated non-operatively with reduced weightbearing and close follow-up.
References
Soubrier M, Dubost JJ, Boisgard S, Sauvezie B, Gaillard P, Michel JL, Ristori JM. Insufficiency fracture. A survey of 60 cases and review of the literature. Joint Bone Spine. 2003;70(3):209-18.
Pearce DH, White LM, Bell RS. Musculoskeletal images. Bilateral insufficiency fracture of the femoral neck. Can J Surg 44(1):11-2, 2001.
Egol KA, Koval KJ, Kummer F, Frankel VH. Stress fractures of the femoral neck. Clin Orthop 348:72-8, 1998.