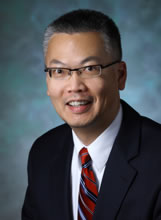 Assistant Professor of Medicine
M.D.: MCP Hahnemann University (Philadelphia, PA)
Internship and Residency: California Pacific Medical Center (San Francisco, CA) – Internal Medicine
Post–doctoral Fellowship: National Institutes of Health (Bethesda, MD) – Rheumatology
M.H.S.: Duke University School of Medicine (Durham, NC) – Clinical Investigation
Dr. Grant Louie is an Assistant Professor of Medicine in the Johns Hopkins Division of Rheumatology since 2010. He graduated medical school from MCP Hahnemann University, completed Internal Medicine residency at California Pacific Medical Center, and received his Rheumatology fellowship training at the National Institutes of Health. Upon completion of his fellowship, he pursued formal education in Clinical Investigation through a collaborative training program between the National Institutes of Health and Duke University School of Medicine where he received his MHS degree.
Dr. Louie evaluates patients at the Johns Hopkins Arthritis Center and is the Associate Director of the Spondyloarthritis Program. He has a strong research interest in the field of Axial Spondyloarthritis, but sees many patients with Psoriatic Arthritis, Rheumatoid Arthritis, and other inflammatory arthritides. Dr. Louie has established a growing cohort of patients with Axial Spondyloarthritis, some of whom have longstanding Ankylosing Spondylitis while others have early disease with nonradiographic axial spondyloarthritis.
With his ongoing and active experience in outcomes and epidemiologic research, Dr. Louie will be using the cohort to capture longitudinal data (patient self-report, clinical, and imaging) and to store biological specimens from patients with Spondyloarthritis. The data will be analyzed to more precisely phenotype patients with Spondyloarthritis, reflective of the diversity of the disease expression.  Stored biological specimens permit biochemical, genetic, and other laboratory studies to be conducted that may facilitate the understanding of the etiopathogenesis of disease and the identification of novel therapeutic targets.