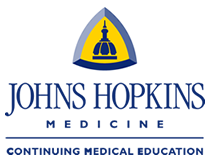 Presented by the Johns Hopkins University School of Medicine
FACULTY:
COURSE DIRECTOR
CLIFTON BINGHAM, III, MD
Associate Professor of Medicine, Division of Rheumatology,
Department of Medicine, Johns Hopkins University
Associate Director, Johns Hopkins Arthritis Center
Director, Johns Hopkins Rheumatology Clinics
Baltimore, Maryland
SUSAN BARTLETT, PhD
Associate Professor
School of Physical and Occupational Therapy
McGill University
Montreal, Quebec
LEARNING OBJECTIVES:
After completing the educational activity, learners will be better able to:
Identify those prodromal symptoms that serve as accurate predictors of disease progression in patients with RA
Recognize communication strategies to better elicit the patient's perspective on their disease, as indicated by the presence of prodromal symptoms
Select appropriate treatment options and perform clinical assessments based on the outcome of both personal and patient perspectives
INTENDED LEARNER:
This activity is designed for rheumatologists. There are no prerequisites.
ACTIVITY GOAL:
The goal of this Webcast is to provide rheumatologists with new tools so that they can communicate effectively with their patients and better analyze their patients' symptoms and disease progression.
RELEASE DATE: 04/23/2010
EXPIRATION DATE: 04/23/2011
ESTIMATED TIME TO COMPLETE THIS ACTIVITY:
1 HOUR
The Johns Hopkins University School of Medicine takes responsibility for the content, quality, and scientific integrity of this CME activity.
STATEMENT OF NEED:
The current practice of rheumatology is an exciting combination of slowly evolving changes in diagnoses and rapidly changing treatment protocols. Since the approval of the first biological therapy in 1998, these agents have led to a revolution in the treatment of several rheumatologic diseases. Now, patients and practicing physicians have more options in terms of treatment strategies, and patients are now experiencing less severe disease. For example, combination treatment with a biologic along with methotrexate can induce remissions in as many as 30% of patients.
However, the goals of RA treatment (ie, relief of symptoms, preservation of function, prevention of structural damage and deformity, and maintenance of the patient's lifestyle) will not be met if there is inadequate patient and physician communication. During a visit to their rheumatologist, patients may fail to fully express their goals and the extent of their pain or disability, while physicians fail to explain thoroughly their goals of treatment, for example risk vs benefit analyses. This lapse in communication may result in negative outcomes for the patient.
A study by Rupp et al. (2006) showed that many of the outcomes that patients with RA describe as critical, such as pain or depressive symptoms, are better predictors of their disease than radiographic progression or disease activity. The researchers concluded that rheumatologists should have a clear assessment method so they can understand disease burden from the patient's perspective. Patient focus groups have also provided insight into the matter. Ahlmen et al. (2005) have found that patients consider fatigue and pain to be the most limiting effects of their RA. In another study, which analyzed patient interviews, patients reported that their fatigue was very severe but they didn't discuss this with their physicians. Others reported than when it was discussed, their concerns were dismissed. Physicians tend to place emphasis on reducing joint damage as seen on an x-ray, while patients just want to be "less fatigued". Moreover, for patients, the understanding that thresholds for improvement are different than those for worsening is at odds with clinicians who tend to set the same thresholds for improvement and worsening.
ACCREDITATION STATEMENT:
Johns Hopkins University School of Medicine is accredited by the Accreditation Council for Continuing
Medical Education to provide continuing medical education for physicians.
CREDIT DESIGNATION STATEMENT:
The John Hopkins University School of Medicine designates this educational activity for a maximum of
1 AMA PRA Category 1 Credit(s)™. Physicians should only claim credit commensurate with the extent of their participation in the activity.
The following organizations accept AMA PRA Category 1 credit™ from organizations accredited by the ACCME:
The American Nurses Credentialing Center (ANCC)
The American Academy of Nurse Practitioners (AANP)
The American Academy of Physician Assistants (AAPA)
DISCLAIMER:
The opinions and recommendations expressed by faculty and other experts whose input is included in this program are their own.  Use of Johns Hopkins University School of Medicine name implies review of educational format design and approach.  Please review the complete prescribing information of specific drugs or combination of drugs, including indications, contraindications, warnings and adverse effects before administering pharmacologic therapy to patients.
DISCLOSURE:
As a provider accredited by the Accreditation Council for Continuing Medical Education (ACCME), it is the policy of the Johns Hopkins University School of Medicine to require the disclosure of the existence of any relevant financial interest or any other relationship a faculty member or a sponsor has with the manufacturer(s) of any commercial product(s) discussed in an educational presentation.  The presenting faculty reported the following:
SUSAN BARTLETT, PhD reports serving as a consultant for Boehringer Ingelheim.
CLIFTON BINGHAM, III, MD reports receiving grants/research support from Abbott Laboratories, Amgen Inc., Bristol-Myers Squibb Company, Centocor Ortho Biotech, Inc., Genentech, Inc., Sonosite, and UCB Inc.; and serving as a consultant for Celgene Corporation, Genentech, Inc., F. Hoffman-La Roche Ltd, sanofi-aventis U.S. Inc., and UCB Inc.
No speaker has indicated that their presentation will include information on off-label products.
Note:  Grants to investigators at The Johns Hopkins University are negotiated and administered by the institution which receives the grants, typically through the Office of Research Administration. Individual investigators who participate in the sponsored project(s) are not directly compensated by the sponsor, but may receive salary or other support from the institution to support their effort on the project(s).
This activity is produced in collaboration with M2 Communications, Inc.
This activity is supported by an educational grant from Abbott Laboratories, Bristol-Myers Squibb Company, Centocor Ortho Biotech, Inc., and UCB Inc.
PRIVACY POLICY:
The Office of Continuing Medical Education (CME) at the Johns Hopkins University School of Medicine (SOM) is committed to protect the privacy of its members and customers.  Johns Hopkins University SOM CME maintains its Internet site as an information resource and service for physicians, other health professionals and the public.  Continuing Medical Education at the Johns Hopkins University School of Medicine will keep your personal and credit information confidential when you participate in a CME Internet based program.  Your information will never be given to anyone outside of the Johns Hopkins University School of Medicine's CME program.  CME collects only the information necessary to provide you with the services that you request.
Copyright:
All rights reserved – The Johns Hopkins University School of Medicine.
Activity:
Don't have SilverLight? Get it here or watch Non-SilverLight Version here.