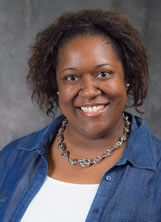 Instructor of Medicine

M.D.: University of Virginia School of Medicine
Internship and Residency: The Johns Hopkins School of Medicine
Post–doctoral Fellowship: The Johns Hopkins School of Medicine
Dr. Mizelle is board-certified in Internal Medicine. She received her bachelor's degree in biochemistry with college and departmental honors from Spelman College in Atlanta, Georgia. Dr. Mizelle attended the University of Virginia School of Medicine. Between her third and fourth years of medical school, she completed a master's degree in public health from the Johns Hopkins Bloomberg School of Public Health. Her foray into public health was based upon her desire to meld the practice of medicine with the holistic view of health embraced within public health. After completing the Osler Internal Medicine Residency Program at The Johns Hopkins Hospital, Dr. Mizelle began her fellowship in rheumatology at Johns Hopkins. Concomitantly, Dr. Mizelle has engaged in additional training in spirituality at St. Mary's Seminary and University in Baltimore, Maryland. Dr. Mizelle is currently a faculty member in rheumatology who is interested in bringing her focus on holistic approaches to medical care to bear upon the care of patients with rheumatic disease.
Dr. Mizelle concerns herself with not only the physical manifestation of rheumatic diseases, but also the spiritual aspects of disease. In the setting of chronic and sometimes unpredictable rheumatic disease, patients often struggle with their personal perception, coping, and existential questions that come to bear on their overall health. By addressing these issues, which go to the core of who the patient is, significant psychic relief can be found.
Additionally, Dr. Mizelle believes in bringing all possible modalities to bear on the mental aspects of disease. Often, a therapeutic relationship with a provider can create a safe place to discuss all aspects, including the mental and emotional aspects, of disease. In chronic rheumatic disease there can be a tremendous amount of sadness, depression, and anxiety. Some of these issues can be dealt with by physicians, but some need to be addressed by mental health care providers such as counselors, therapists, psychiatrists, chaplains, and pastoral counselors.
The three-pronged approach to the care of the patient with rheumatic disease can lead to significant improvement of not only physical health, but mental and spiritual health as well.